Why Maria Sharapova's Image Overshadows Her Game
June 5, 2012

Clive Brunskill/Getty Images
When you see, hear or say that name you likely have a multitude of images and thoughts that rise to the brink of your mind.
For some, it may be that she was engaged in 2010 to Sasha Vujacic—the former Lakers' guard whose basketball career flamed out about the same time the couple announced their engagement (not that Sasha was ever a star to begin with).
Some may go back to when she was the next big thing approximately 10 years ago at the age of 15 or 16.
Though no one would have talked about how hot she was prior to her turning 18 (yeah if you believe that you're pretty gullible and have a bad memory), there's little doubt people were excited about her future, and not just as a tennis player.
Of course Anna Kournikova was at her peak in terms of pop culture status right about the time Sharapova was coming up as a tennis player/future model/whatever the hell she wanted to be. Many assumed Sharapova's plight would resemble Kournikova's.
Few expected Sharapova to lack the on-court success of Kournikova, but clearly many were fascinated about the potential of Sharapova to win the hearts of customers in the most important target market: 18-49.
Make no mistake about it, advertisers were the ones who most anticipated Maria's rise to stardom.
With her looks, ability to swing a racket with a smooth approach and the fact she spoke great English for someone of Russian descent, she was the ultimate marketing tool.
She could sell almost anything. It took a while, but as she grew older and grew more comfortable, Maria acquiesced to the demands of her audience. She's successfully sold watches, cameras and magazines.
I admit I was stoked when she made an appearance in Sports Illustrated's swimsuit issue in 2006. I even downloaded from iTunes the video of her photo shoot. Her SI appearance was a big deal. A woman could easily be featured in commercials for watches and cameras and not be seen as selling out.
It is only when a woman starts to sell her looks intentionally that she opens herself up to scrutiny. For a girl who only wanted to play tennis, the still-beautiful and still-very-talented Russian proclaimed to the world she was no longer the innocent tennis player with no desire for a career aside from tennis.
By allowing herself to be filmed in a bikini on a luxurious beach, she was telling the world I am more than a tennis player, I am a woman who wants to be judged for more than tennis. I want to be judged for my looks and marketability. I want something more than tennis can offer me.
It may not have been a conscious decision. She may not have realized she was doing so. But that's ultimately what we all realized from the outside. Sharapova was offering herself up to so much more. In some ways it was good, as she will gain many more opportunities when her tennis career finally washes to the shore.
But it also did one other thing—similar to what happened with her Russian predecessor, Kournikova.
Now that Sharapova is more than a tennis player, it is assumed that no matter what happens—even a major shoulder injury like the one she suffered in 2009—she has sold herself to something other than tennis.
Experts gawk at her as if she is making a mistake. They'll say such things as "She should just focus on tennis" or "It's impossible to be good at tennis when you spend more time filming commercials than you spend on your game."
Call it unfair if you like, but that is the position Sharapova put herself in by placing herself in the marketing, model and pop culture world. That she has only three Grand Slam titles to her name—the last one coming in 2008—only furthers her disclaimers' argument.
Because the thing tennis experts know that many don't is that Maria is as talented a tennis player as any woman alive. If by some chance, God didn't create her with the looks and other marketable aspects she possesses, she could just play tennis.
And if all she focused on was tennis, think where she'd be. She might just be the greatest tennis player ever to play (she has that kind of talent). Even despite all the distractions and things outside of tennis, Sharapova is a French Open win away from regaining the WTA No. 1 ranking.
That's how good a tennis player she is. Of course she is so far dominating each opponent she faces at Roland Garros, despite her struggles on clay throughout the majority of her career.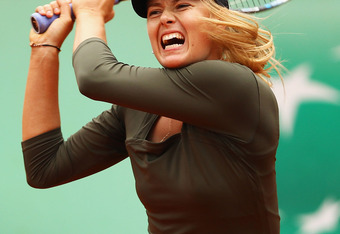 Clive Brunskill/Getty Images
As much as people are going to want to claim she should have done more as a tennis player, a win this week in Paris would give her a career Grand Slam.
Stop and think for just a second how many tennis players can stake that claim. Exactly! Not very many.
It is true that Sharapova could have perhaps dominated the women's tennis game like few women before her if she stuck to tennis. But it's not as if she's had a horrible career. Spending time as the world's No. 1 player in two different eras of her own career says something special.
It says she has the work ethic to play tennis at the elite of elite levels. It says she has longevity that most players—with less marketability and sex appeal—don't know. It says she's a darn good tennis player.
Next time you read, hear or say aloud the name Maria Sharapova, I challenge you to add this: one of the best tennis players this generation has known.