NASCAR: Danica Patrick Deserves to Be on the Circuit
June 7, 2012

Chris Graythen/Getty Images
Danica Patrick is the race car driver everyone loves to hate.
To be fair, she brings some of that heat on herself. Her marketing strategy seems to be far more about her looks than her driving, and self-objectification is not the way to win friends in competitive sports, especially if you aren't right at the very top of your game.
As a result, she is one of the best-known and most easily recognized drivers in all of racing, even though she has only won a single race in her entire career (the 2008 Indy Japan).
Her move from open wheel racing to NASCAR has been similarly unremarkable, having managed only a single top-five finish in two-and-a-half seasons of trying.
As a consequence, Patrick is frequently tarred with the "all style and no substance" label, and any number of times she has been accused of being on the circuit because of her publicity and not her driving skills.
I've even heard fairly regular accusations of her being the worst driver in racing and a person who would not even have a ride if not for all the publicity she brings to her team.
But here's the reality: not only is she not the worst driver in NASCAR, she has earned her seat and will likely continue to do so for years to come.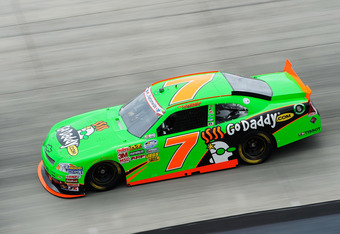 Patrick McDermott/Getty Images
After 12 races in this year's Nationwide Series, Patrick is sitting in 11th place overall out of 87 drivers who have run at least one race. Of the drivers who have run all 12 races, she still sits ahead of six people, and in that time she has picked up a top-10 finish and a pole position.
In limited action on the Sprint Cup series, she is right near the bottom at 59th, with only four drivers behind her and one of those having run more than one race. That's considerably less impressive, but the Tommy Baldwin team have been bringing her along very slowly so far and seem satisfied with the progress she has made.
Where the rubber hits the road, so to speak, is money. And this is a place where Patrick really does help her team. Although she doesn't often place high in the standings, she usually finishes, and if your car is still running at the end of the race, the team gets paid.
Patrick has earned $451,575 for the Tommy Baldwin team so far in her three Sprint Cup races. In the Nationwide Series, she has picked up $294,430 for the JR Motorsports squad.
As the 11th-highest earner so far in the Nationwide Series, she is certainly justifying her presence on the circuit. And on the Sprint Cup side, her winnings are better than 19 other drivers, including 13 who are above her in points.
And that's to say nothing of any and all sponsorship dollars her rides are getting simply for having a high-profile driver.
No doubt everyone in her corner would like to see her start moving up the standings. Finishing closer to the top equals better paydays. But if she continues to finish races this seems inevitable, as she gains invaluable experience with the cars, the courses and the other drivers.
For now, however, she is earning her keep and continuing to justify the confidence JR Motorsports and Tommy Baldwin are showing in her.
Slow and steady does not win a lot of races in the real world, but it does pay the bills, and ultimately any driver that does that will make their team happy.
Follow me on Twitter @calgaryjimbo