Tiger Woods Gets Win No. 73 at Jack's Place, Ready to Resume Major Title Hunt
June 4, 2012

Scott Halleran/Getty Images
Tiger Woods took another step into golfing immortality yesterday with career win No. 73 to tie Jack Nicklaus on the all-time PGA Tour wins list.
Jack Nicklaus did not get PGA Tour win No. 73 until the age of 46, although it was his sixth Masters win, Tiger is only 36.
Sam Snead is next on the list for Tiger with 82 official career wins. Sam would argue with you that he had a dozen or so more wins that the PGA does not recognize. 
He put the prize money in his pocket nonetheless.
If Tiger can average three wins per year he will pass "Slammin Sammy" sometime in 2015.
Can Tiger win over 100 PGA Titles before he hangs up his spikes?
Tiger was struggling coming into the 2012 Memorial.  He did have a win at the Arnold Palmer Invitational and was a runner-up at the Honda in March.
In his last three starts, however, he had missed cuts at the Wells Fargo and the Players plus he had an unspectacular T-40 at the 2012 Masters. Tiger obviously did his homework over the past few weeks at his compound in Jupiter Island. 
He played very much like the old Tiger all four days.
He struck the ball beautifully on Thursday and Friday.  Tiger made nine birdies over his first 36 holes.  The only blemishes on his cards were two double-bogeys, one on each day.
His strong play continued through the front nine on Saturday posting a near perfect two under-par 34.  Swirling winds, cool conditions and a fever of over 100 degrees took their toll physically and Tiger limped home on the back nine with four bogeys and a lone birdie at No. 13.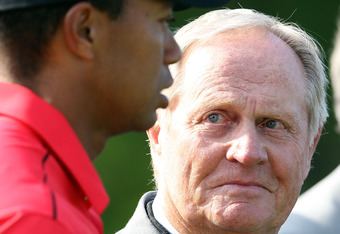 Andy Lyons/Getty Images
Saturday's round is what really won the 2012 Memorial for Woods.  Even though he was struggling physically he was able to keep the damage to a minimum and get into the house with a one over-par 73.
He was able to stay in touch with the leaders and gave himself a chance to post a good score on Sunday.
Saturday's round was the artwork of a true craftsman.
On Sunday, Tiger was paired with the ever colorful and dapper Rickie Fowler. Woods had plenty of motivation to play well on Sunday. 
First, he needed to put the young upstart Fowler, who had just picked up his first PGA Tour win at the very same Wells Fargo Championship that Tiger had missed the cut, in his place.
Second, Tiger needed to play well to dispel the bad play coming into the Memorial. Getting a win at Jack's Place to tie him at 73 career wins was a plus.
Rickie birdied his first hole on Sunday but after that was a non-factor.  He carded an forgettable 84 but did have a front row seat to Tiger's magic.
Even Rickie's all-orange wardrobe couldn't get him TV time on Sunday.  He became completely consumed inside Tiger's vortex. Take a lesson Rickie, that's how you close out a golf tournament.
Tiger hit 13 of 14 fairways on Sunday.  He led the field in greens in regulation for the week and hit 14 of 18 greens in the final round. He made birdies early and often on the front nine.  With four birdies in his first seven holes, he applied pressure on the pretenders, Spencer Levin and Rory Sabbatini.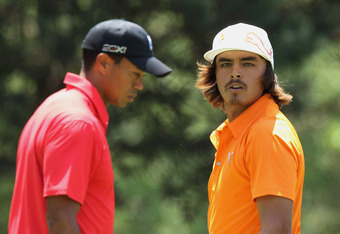 Scott Halleran/Getty Images
Although Sabbatini played well at times he eventually succumbed to the "Tiger Roar". 
Levin struggled through the entire round on Sunday and finished with a 75 good for a T-4.  It's all part of the learning process on the PGA Tour, Spencer.
Tiger birdied three of his last four holes, including an all-world chip in for birdie at 16.
His 9-iron from the fairway at the last hole to the back middle portion of the green, spinning the ball back down to 8 feet and the subsequent birdie putt to seal the deal was golfing perfection.
This win moves Tiger to the No. 3 spot on the 2012 FedEx Cup standings and to No. 4 on the Official World Golf Rankings.
Look out Rory and Luke!  The Tiger is on the prowl.
Oh and by the way, The U.S. Open will be played in two weeks at the Olympic Club in San Francisco. 
Methinks Mr. Woods is chomping at the bit to get going and collect his 15th Major Title.
Look out Jack!  Here comes Tiger.