2012 French Open Obituary: Why US Players Don't Win Any More in Paris
June 4, 2012

Al Bello/Getty Images
With top-ranked American Mary Fish electing to withdraw from Roland Garros, eight US players took their place in the first round of French Open.
Andy Roddick, Ryan Harrison, Donald Young, James Blake and Sam Querrey all suffered first round exits, with John Isner and qualifiers Jessie Levine and Brian Baker bowing out in the second round.
Now, if like myself, you're British, this relative lack of success is nothing new, so on behalf of those this side of the Atlantic—"Welcome to our world!"
A rejuvenated Andre Agassi was the last American to the "Coupe des Mousquetaires" back in 1999. Before that, Jim Courier won the title in 1991 and '92 and Michael Chang was champion in 1989.
So, for a country with the number of players, financial resources and history of the USA, last week's results were a major disappointment.
So what are the reasons for this lack of success?        
WELL FIRSTLY, A LITTLE Q & A
QUESTION: What is the best surface to grow up playing tennis on if you're male and want to make it as a professional tennis player?
ANSWER: I'm coming to that!
QUESTION: Which outdoor surface did Novak Djokovic, Rafael Nadal and Roger Federer grow up learning their tennis on?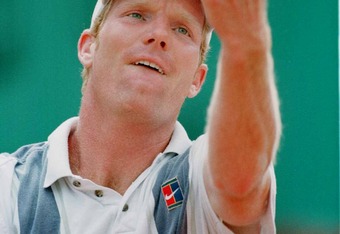 Gary M. Prior/Getty Images
ANSWER: European Red clay.
QUESTION: What's the pre-dominant outdoor surface most North American players grow up on?
ANSWER: Hard courts and the occasional Har-Tru (green or grey) clay court.
So is there a direct relationship to the type of surface male tennis players learn the game on and those who make it into the ATP Top-100 and do well at the French Open?
AROUND THE WORLD OF CLAY COURTS
SPAIN: Most Spanish men, of which there were 13 in the Top-100 at the end of 2011, learn their trade playing outdoors on red clay. There are some hard courts in Spain, but by far the most used surface in the country is red clay, on which most of its ITF Futures and all its ATP Tour events are played. (Except, of course, the Madrid Masters for which tournament owner Ion Tiriac invented BLUE clay!)
FRANCE: Home of the French Open at Roland Garros—what percentage of tennis courts in France do you think are red clay? "100 percent," I hear you thinking to yourself. Well you'd be wrong—only 14 percent. The majority of courts in France are hard courts. However, the surface on which its major championships are played, and which it regards as its national surface, is "Terre Battue"—baked earth in English, commonly known as red clay.
Most of the public courts in France, for maintenance and cost reasons, are hard courts. However, most of the private clubs, which can afford ground staff, have red clay.  And if you don't believe me, just ask anyone French, or like myself, spend years there competing.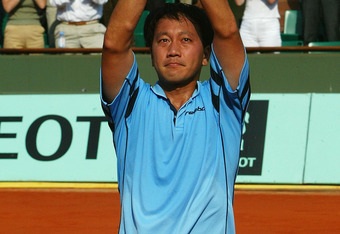 Pascal Le Segretain/Getty Images
GERMANY: Almost every outdoor tennis court in Germany, all of its extensive inter-club competitions, ITF and ATP outdoor events are played on red clay.
SOUTH AMERICA: Once again—almost every outdoor tennis court and major tournament in Argentina and Brazil is red clay.
Without wanting to bore you further with the details, it's obvious that red clay is the surface on which most of the players in the Top-100 learned to play, compete and gain their world rankings.
QUESTION: Is there a difference between red clay and Har-Tru clay courts?
ANSWER: Yes, Har-Tru courts play more like hard courts than red clay. The ball comes through faster and lower than red clay, and it's more difficult to slide on Har-Tru than it is on red clay.
AN AMERICAN PERSPECTIVE
Here's what current Florida resident Craig Edwards, who attended Pepperdine University before playing professionally in the late 1970s, and going on to coach players including myself and the Bryan Twins had to say, when I asked him which was the best surface to learn the game on.
"For a few reasons I think clay is the right answer. Probably the biggest reason at this point is that the conditions of tennis on all surfaces (due to rackets, balls, and the surfaces) now have reduced the advantages of net play.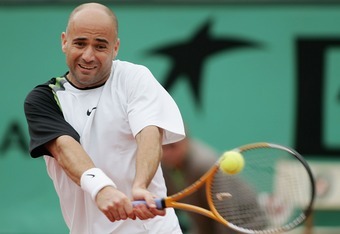 Michael Steele/Getty Images
The good old days of serve and volley, chip and charge tennis, are a thing of the past. Even Wimbledon has been turned into a baseline slug fest! On almost all surfaces now, it's a huge goundshot or serve that forces up a weak reply, which is then taken out of the air with a drive volley, that wins players the point. So you need great groundshots more than ever now, and it seems impossible to be successful at any level without that as your game's foundation.
Today around 23 main tour events are on played on clay, 37 on hard or indoor, and 5 on grass.
Also in my opinion it's much easier to learn to slide (on clay) at a young age, than to learn it later in your career. I imagine the guys who learned on clay also played on a lot of different surfaces so they learned great balance from that.  Even back in my day I always thought you were better off learning the game on clay. You had to hit the ball hard and consistently to become a great player on clay. If you filled that out with power serving and some kind of volley skills you then had the whole package. If you learned a clever counter punching, or quick attack serve volley and chip and charge hard court game, you might never develop the passing shots and power groundshots."
And here's what top British Performance coach and former professional player Andy Evans told me when I asked him what he thought was the best surface to learn the game on.
"The best surface to learn tennis on has to be clay, because on it all the technical, tactical, physical and mental parts of the game are tested to the maximum. When I lived in Germany and spent a solid 6 months playing on clay it improved my game immensely because I hit a load more balls there than playing on grass, which was predominant in the summer months playing in the Britain.
Gary M. Prior/Getty Images
In Britain we just don't have a style or way to play tennis because of all the different surfaces, unlike in most parts of Europe where in the summer clay is the only surface to play on.
The problem in Great Britain is that the clubs are driven by people who haven't played tennis, and their older members prefer playing on synthetic grass!
FINAL QUESTIONS: Why are there so few red clay courts in North America and Great Britain?
ANSWER: Because the outdoor surface they generally play on reflects that of their major championships – hard courts in North America and GRASS! - in Great Britain.
Now is that a problem for players from those countries trying to win the French Open or even making it into the world's Top-100? - you bet it is – and until the problem is addressed, and players begin learning to play the game on a level playing field, the situation is unlikely to improve.
Martin Baldridge is a Contributor for Bleacher Report. Unless otherwise noted, all quotes were obtained first-hand.