Tiger Woods Winning the Memorial Makes His U.S. Open More Impossible To Predict
June 4, 2012

Andy Lyons/Getty Images
When Tiger Woods hoisted his 73rd PGA Tour trophy into the air on Sunday—tying him with Jack Nicklaus for second all-time in career wins—the golf world took a collective deep breath, exhaled and immediately shifted focus to the 2012 U.S. Open, where once again, Tiger will be the early favorite heading into a major. 
Woods shot 67 in the final round of the Memorial, highlighted by an all-world chip-in on 16 and a perfect approach on 18 for birdie while Nicklaus sat greenside watching, with the rest of the gallery, in awe of the late-round brilliance from Woods. 
For one round, for one big weekend, the Tiger Woods we knew for all those years was back again.
Tying Jack for career wins at Jack's own tournament surely meant a lot to Woods, but regular tour wins have never been how Woods is properly compared to the Golden Bear. All we care about—all Tiger cares about—are majors.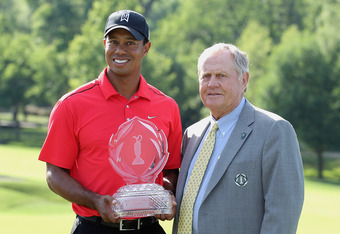 Scott Halleran/Getty Images
With that, immediately after celebrating the win and the latest comeback for the best golfer on the planet, everyone's focus shifts to the Olympic Club in two weeks for the U.S. Open. Can Tiger be this Tiger in a major? 
With other golfers, winning the Memorial would be validation of a great week of golf and a good boost of momentum heading into our national championship. With Woods—who now has wins in 2012 at both Jack and Arnold Palmer's tournaments, after winning at Bay Hill two weeks before the Masters—he sees himself atop the short list of favorites at another major yet again. 
Not only is Woods the early favorite to win at Olympic, but he's the far-and-away favorite to win at least one of the three remaining majors this season. This is the same guy who finished 40th at the Masters. This is the same guy who almost missed back-to-back cuts a month ago.
Or is this suddenly the same guy who has won 14 career majors? Is Tiger Woods, dare I say, back to his old self? Can we trust Tiger in the biggest tournaments anymore? Is Muirfield just another Bay Hill, or is it a sign of things to come at Olympic?
The answer, clearly, is both. That is precisely what makes this story so much fun to follow.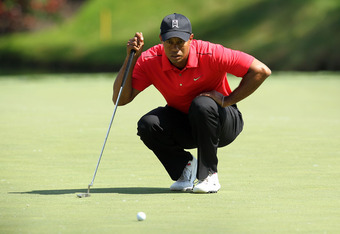 Andy Lyons/Getty Images
Betting lines aside, after this weekend's performance, it's not that far-fetched to think Woods may be a favorite to win the U.S. Open. But this isn't 1997 anymore. Heck, it's not 2007 anymore. Tiger being the favorite at a tournament doesn't mean the rest of the field should just show up and play for second.
Woods could go out and shoot two rounds at the U.S. Open that put him half a dozen shots clear of the field heading into the weekend. Or, as we have seen in recent majors, he might shoot two rounds that have him fighting to still be playing on the weekend. It could be one, the other or anything in between. 
Woods has gone from the player against whom we set the field's chances to one in a growing number of players with a legitimate chance to win, which is not a terrible thing for him. He is a favorite, not the favorite, which speaks as much about Woods as it does the deep pool of talent at the top of the game today. 
Woods has been in a prolonged slump by his standards, but the game didn't just sit there waiting for him to get good again. Golf has evolved to the point where Tiger doesn't just need to grind out good rounds to win. Like any other player, he needs to be great.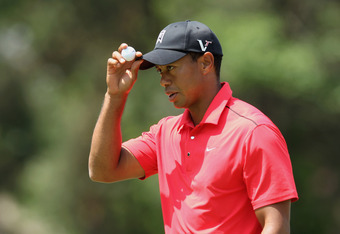 Scott Halleran/Getty Images
Woods was great on Sunday, and after winning the Memorial, he is bursting with confidence heading into the U.S. Open. Olympic is a great course for the Woods, who was on the course on Sunday, hitting fairways and greens and making putts.
Olympic is a terrible course for the guy we've seen far too often block a drive into the trees and slam his club in disgust or lip out an eight-foot putt and crumple to the ground like a broken man playing a game that has him beat. 
For golf fans, this version of Tiger Woods is the best one yet. He clearly still has the talent, but nothing is a foregone conclusion.
Woods hasn't won a major since the 2008 U.S. Open. Nobody is scared of Tiger anymore, unless he strings together a few more rounds like he shot on Sunday. We know that's possible, but nobody—not even Woods—knows how probable it is.
No matter which Woods shows up in two weeks at the U.S. Open, we've seen that Tiger still has what it takes to win. Doing it in a major cannot be far off.
Until he does, the story—and this version of Tiger—can only get better.