2012 MLB Mock Draft: Final 1st-Round Predictions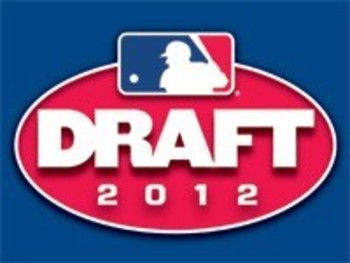 We've made it. Draft day has finally arrived.
After weeks of speculation and bold predictions, the first round will unfold before our very eyes on the MLB Network and MLB.com.
Although few of the names that will be called in first round have changed, their projected selection order certainly has. On Sunday, we learned that the Astros are locked in to select Stanford right-hander Mark Appel with the No. 1 overall pick, which offers some insight into how the first five picks will play out.
Or does it?
As the hours before the draft wind down and teams scramble to organize their big boards, plenty of picks remain up in the air and nearly impossible to predict.
With that being said, here is Prospect Pipeline's fourth and final 2012 MLB mock draft.
1. Houston Astros: Mark Appel, RHP, Stanford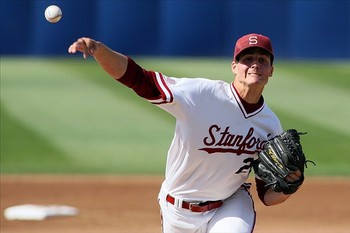 Courtesy of US Presswire
No surprises here, as Jim Bowden announced on Sunday that the Astros had decided upon the Stanford right-hander. Not the pick with the highest ceiling, but you can't blame them for playing it safe.
2. Minnesota Twins: Byron Buxton, OF, Appling County HS (Ga.)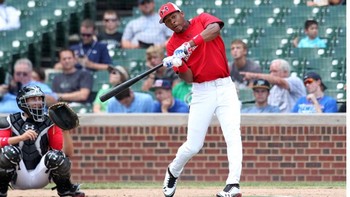 Courtesy of ESPN.com
Buxton falls into the Twins' lap at No. 2, and I'm sure they are ecstatic.
3. Seattle Mariners: Mike Zunino, C, Florida
Courtesy of GatorZone.com
Tough call here.
I've been hearing more and more suggestions this weekend that the Mariners might be in on Carlos Correa, but I'm sticking to Zunino for this projection.
4. Baltimore Orioles: Kevin Gausman, RHP, Louisiana State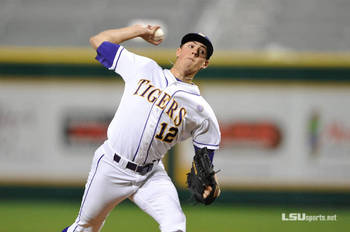 Courtesy of LSUSports.net
The Orioles get their pick of the top pitchers on the board, and Gausman has all the tools to warrant this spot. If they choose anyone else, my guess is that it's Correa.
5. Kansas City Royals: Kyle Zimmer, RHP, San Francisco
Courtesy of usfdons.com
The Royals would gladly take Gausman or Zimmer, obviously depending on the Orioles selection. I wouldn't be shocked if they go all-in on either Max Fried or Lucas Giolito, however.
6. Chicago Cubs: Albert Almora, OF, Mater Academy HS (Fla.)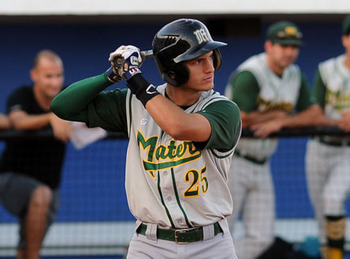 Courtesy of MaxPreps.com
The Cubs seem pretty excited at the thought of drafting Almora, and I think they will get the chance. If not Almora, then I could see them in a similar boat as the Royals and target either Fried or Giolitio, though they would obviously give heavy consideration to Zimmer if he's still on the board.
7. San Diego Padres: Carlos Correa, SS, Puerto Rico Baseball Academy (P.R.)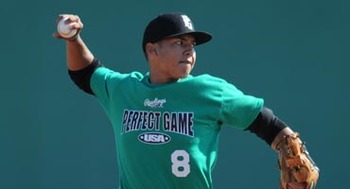 Courtesy of PerfectGame.org
The Padres get a gift if Correa makes it this far, as he possesses the present talent and upside to be the 1.1 pick. They could also take Fried and would gladly take Almora if he's still around.
8. Pittsburgh Pirates: Deven Marrero, SS, Arizona State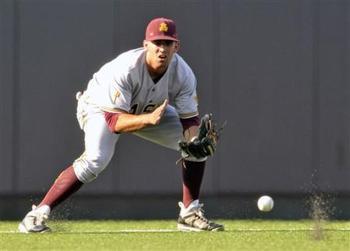 Courtesy of US Presswire
I haven't heard enough this weekend to dissuade me that the Pirates aren't in on Marrero.
In my opinion, this represents a gross overdraft.
9. Miami Marlins: Max Fried, LHP, Harvard-Westlake HS (Calif.)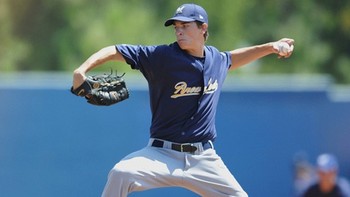 Courtesy of ESPN.com
If the Padres or Pirates pass on Fried, the Marlins will draft him in a heartbeat. If not, there's always his college counterpart, Andrew Heaney.
10. Colorado Rockies: Andrew Heaney, LHP, Oklahoma State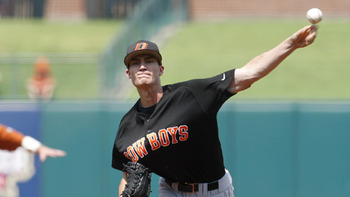 Courtesy of US Presswire
With Fried off the board, the Rockies are going to go after the next best talent—and a safe, signable one at that. Courtney Hawkins and David Dahl could also be in play here.
11. Oakland Athletics: Richie Shaffer, 3B, Clemson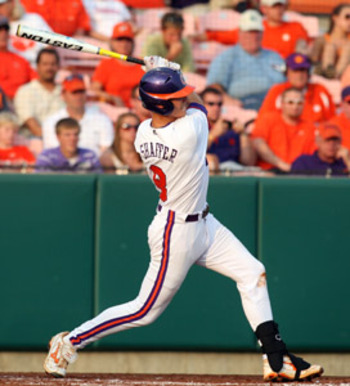 Courtesy of orangeupdate.com
I've said it all along, and I'm not caving in now: Shaffer is the type of player the A's covet.
12. New York Mets: Gavin Cecchini, SS, Barbe HS (La.)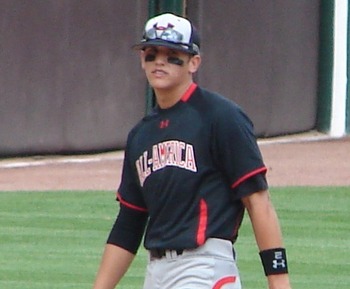 Courtesy of baseballfactory.com
The Mets are hoping that Marrero doesn't slip to them so that they can draft Cecchini. He's been linked to them for weeks now, and is a solid fit here.
If they are interested in a high school bat, they could also target Hawkins, Dahl or possibly even Tanner Rahier.
13. Chicago White Sox: Chris Stratton, RHP, Mississippi State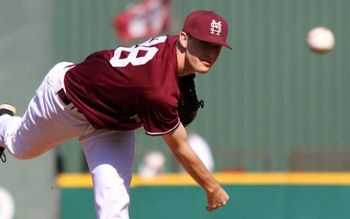 Courtesy of cdispatch.com
It appeared as though the White Sox were targeting impact bats—preferably of the prep variety—early on, but I've heard that they are now in on college arms. Stratton is the best one of the board, although they could wind up with Hawkins or Shaffer if he slips.
14. Cincinnati Reds: Michael Wacha, RHP, Texas A&M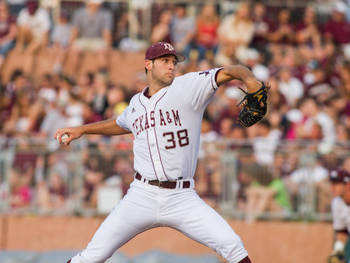 Courtesy of US Presswire
They Reds are very interested in Wacha, Stratton and Heaney, and figure to select whichever one of those players is still available. In this scenario it's Wacha.
15. Cleveland Indians: Matt Smoral, LHP, Solon HS (Ohio)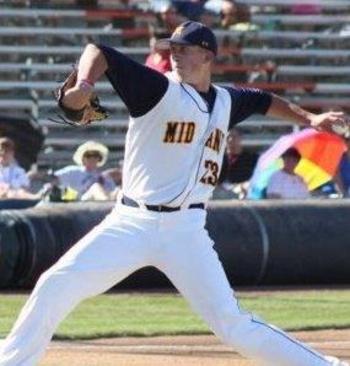 Courtesy of MaxPreps.com
Like the Reds, the Tribe would love for one of the three college arms to slide down to No. 15, but it's looking increasingly doubtful. Instead, I see them going with a solid prep alternate in Smoral. They could also look at Giolito, Lance McCullers and Ty Hensley here.
16. Washington Nationals: Courtney Hawkins, OF, Carroll HS (Texas)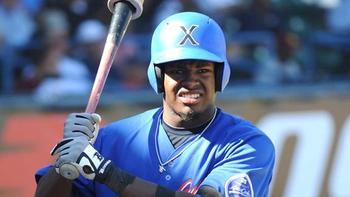 Courtesy of ESPN.com
Like every other team in the middle of the first round, the Nationals are praying that Wacha, Stratton or Heaney are still available. However, their availability is doubtful, and given how far Hawkins has slid, I think they snatch him up.
17. Toronto Blue Jays: Lucas Giolito, RHP, Harvard-Westlake (Calif.)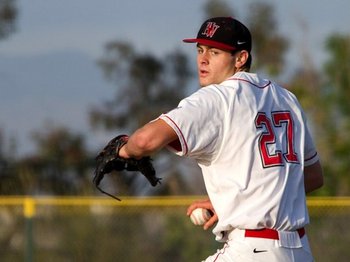 Courtesy of latimes.com
The Blue Jays are the team most likely to pull off a ballsy move and take Giolito, who, if fully healthy, I would take at 1.1. His ceiling is tremendously high, and he could end up being the steal of the draft.
18. Los Angeles Dodgers: Ty Hensley, RHP, Santa Fe HS (Okla.)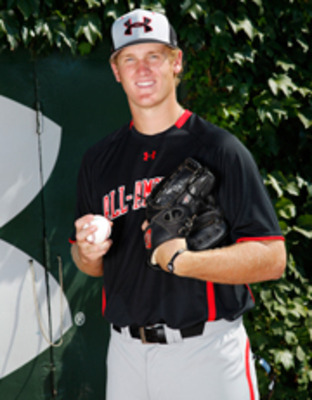 Courtesy of baseballfactory.com
Hensley is your prototypical Dodgers pitcher, and I feel confident they take him here. Though, they could also give Zach Eflin and Lance McCullers some consideration, and Giolito is he is still available.
19. St. Louis Cardinals: Stephen Piscotty, 3B/LF, Stanford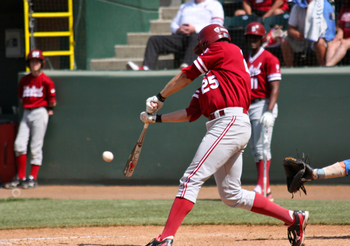 Courtesy of US Presswire
The Cardinals are going for bats—impact bats. Piscotty's above-average hit tool is intriguing here, and with a new hitting instructor, he could regain his power.
20. San Francisco Giants: Zach Eflin, RHP, Hagerty HS (Fla.)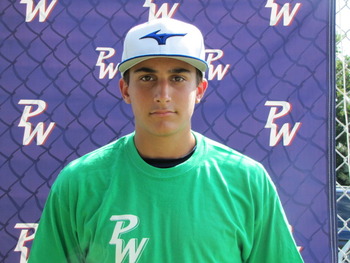 Courtesy of PerfectGame.org
They Giants have been repeatedly linked to the prep right-hander, and if they deem him signable, he could be a steal here.
21. Atlanta Braves: Tyler Naquin, OF, Texas A&M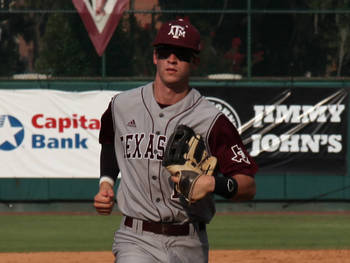 Courtesy of US Presswire
The Braves are interested in a signable college bat, and I think Naquin is their guy. If the Cardinals take Naquin at No. 19, they swap picks and end up with Piscotty.
22. Toronto Blue Jays: David Dahl, OF, Oak Mountain HS (Ala.)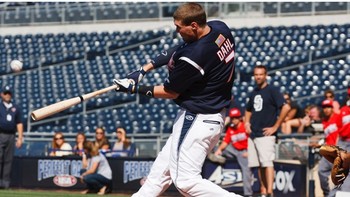 Courtesy of ESPN.com
After they grabbed Giolito at No. 17, look for the Blue Jays to target a promising prep athlete in either Dahl, Hawkins or possibly even D.J. Davis.
23. St. Louis Cardinals: Addison Russell, SS, Pace HS (Fla.)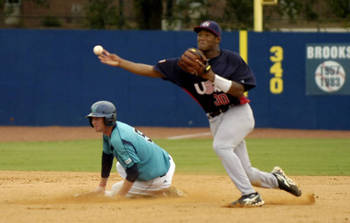 Courtesy of PerfectGame.org
Russell is climbing up everyone's draft board, and given all of the Cardinals' first-round picks, they may be able to sign him. If not Russell, they could take Tanner Rahier with this pick.
24. Boston Red Sox: Marcus Stroman, RHP, Duke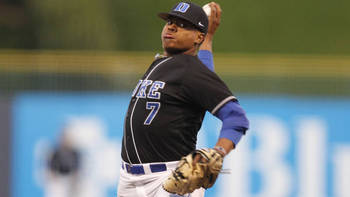 Courtesy of GoDuke.com
The Red Sox should have the opportunity to draft Stroman, who, presuming he is taken as a reliever, could offer help in their bullpen sooner rather than later.
25. Tampa Bay Rays: Lucas Sims, RHP, Brookwood HS (Ga.)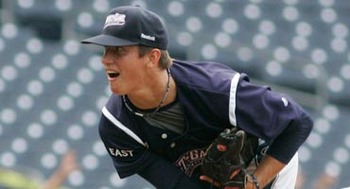 Courtesy of PerfectGame.org
Although they may still select Stryker Trahan, Sims is the type of athletic pitcher that the Rays take pride in developing. I could also see them going with Shane Watson or Mitch Gueller.
26. Arizona Diamondbacks: Tanner Rahier, SS, Palm Desert HS (Calif.)
Courtesy of mydesert.com
The Diamondbacks have to go with the best player available with their first pick in the draft, and at this point it's either Rahier or right-hander Nick Travieso. They could go either way, but my guess is that they favor the athleticism of Rahier.
27. Milwaukee Brewers: Joey Gallo, 3B/1B/RHP, Bishop Gorman HS (Nev.)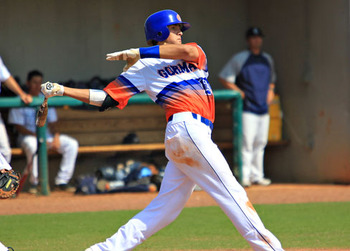 Courtesy of MaxPreps.com
The Brewers' system is devoid of high-ceiling bats as well as power. Gallo would help solve both of those deficiencies.
28. Milwaukee Brewers: Clint Coulter, C, Union HS (Wash.)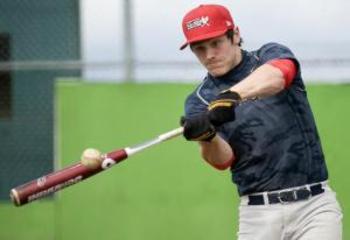 Courtesy of MaxPreps.com
Although there's never any consensus when it comes to the draft, Coulter's name has appeared in this spot in nearly every mock draft, and there's no reason to think otherwise.
29. Texas Rangers: Lance McCullers, RHP, Tampa Jesuit HS (Fla.)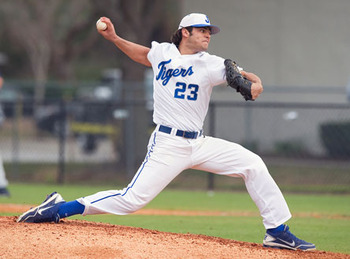 Courtesy of ESPN.com
A power pitcher with some of the best pure stuff in the draft, McCullers should interest the Rangers. They could also think about Hunter Virant, Shane Watson or Travieso if he's still available.
30. New York Yankees: Corey Seager, 3B, Northwest Cabarrus HS (N.C.)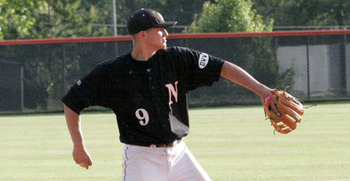 Courtesy of MaxPreps.com
The Yankees will have to wait a long time to make their first pick, which, as an avid fantasy player, is a horrible feeling. I think they try to sign Seager.
31. Boston Red Sox: D.J. Davis, OF, Stone County HS (Miss.)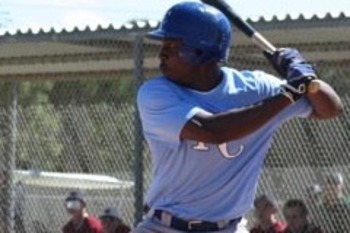 Courtesy of PerfectGame.org
The Red Sox would love for Gallo to still be available, or any other player who slips down to their pick for that matter. They could also consider D.J. Davis, Tanner Rahier and Addison Russell.
Keep Reading