The 2012 Boston Red Sox Resurgence Continues: 5 Signs of Prolonged Success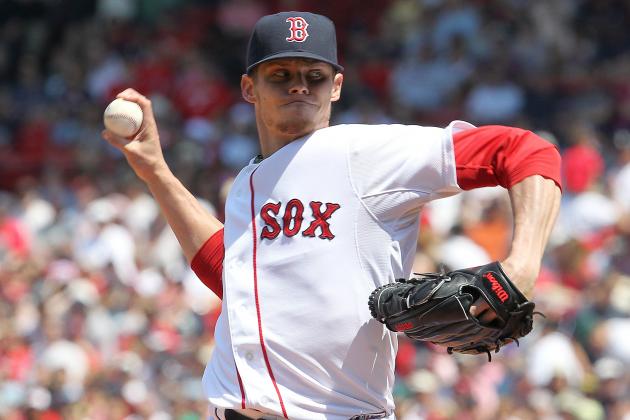 Jim Rogash/Getty Images

Although the Boston Red Sox are currently in last place in the AL East standings, they're only three games behind Tampa Bay for first place in the division. Their run differential is fourth best in the league at plus-22, and they've gone 16-7 in their past 23 games to bring their season record to 28-26.
The success of the Sox will not stop there, however. Here are five in depth reasons why Boston will continue to play winning baseball.
Begin Slideshow

»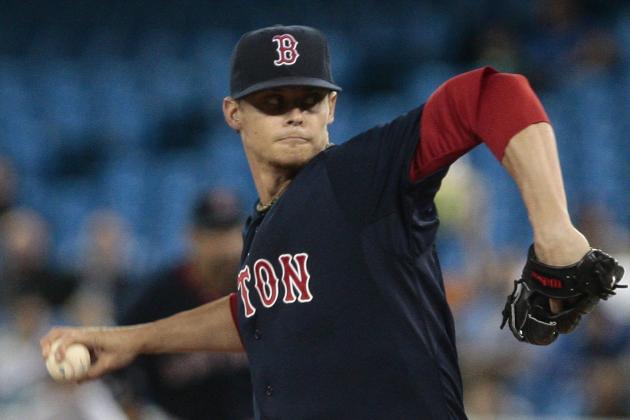 Abelimages/Getty Images

After starting the year off as the first pitcher in MLB history to allow at least five runs in his first six starts, Clay Buchholz has strung together some strong pitching performances. After his latest two starts in which he allowed only four runs in 15 innings, Buchholz lowered an ERA that was 9.09 on May 6 to his current figure of 6.58, with a 3.98 ERA in five starts during that span.
On NESN's telecast during Buchholz's most recent performance—an eight inning outing in which he allowed two runs against the Blue Jays—Jerry Remy noted that his changeup was much better than it had been in the beginning of the year.
Buchholz has also been throwing the pitch more.
In his past two starts, he threw his changeup 19.4 and 21.6 percent of the time, easily the two highest percentages of the season. Those ratios are more in line with his 2010 numbers, during which he won 17 games with a 2.33 ERA and consistently used his changeup in the 17-23 percent range.
Additionally, Buchholz's ERA has been inflated by bad luck this season. He has an unusually high BABIP of .326, which is much higher than his .287 career average and the .294 MLB average. BABIP is a statistic that pitchers don't have much control over, and it can vary from year to year. In Pedro Martinez's great campaign of 1999, for example, batters hit .323 on balls in play against him, but that figure decreased to .236 the year after.
Buchholz has also been negatively affected by a 68.5 LOB percent, which measures the ratio of runners stranded on base by the pitcher. Over the past two seasons, that figure has been at 79 percent for the Red Sox starting pitcher.
Furthermore, Buchholz has an 18.8 percent home run to fly ball ratio (HR/FB)—much higher than the league average and his career average, both at 11 percent.
Buchholz's numbers will continue to get better as these statistics regress, and as he continues to feel more confident on the mound.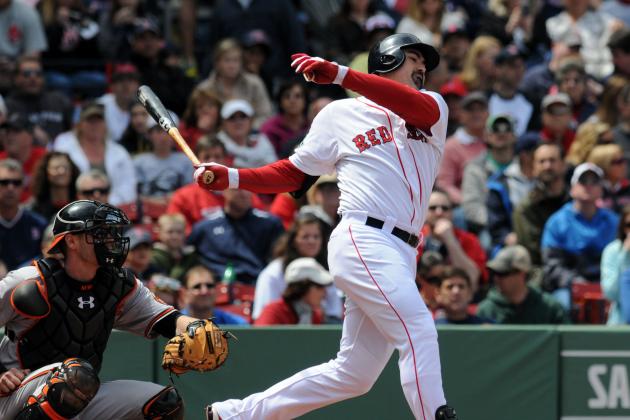 Darren McCollester/Getty Images

Adrian Gonzalez is currently hitting .269/.322/.417, which if continued through the year would be his lowest figures in all three categories in a full season. He's hit only four home runs on the year, which puts him on pace for 12—a far cry from the 40 he put up playing half his games in cavernous Petco Park with the Padres in 2009.
Yet, after early season struggles, the Sox have played well even with Gonzalez barely hitting out of either the third or cleanup spots in the Sox order.
So what happens if/when he breaks out of this funk?
For Sox fans waiting for that to happen, it may be sooner than you think. Albert Pujols has recently been hitting the cover off the ball after a terrible start to the season, and similar to Pujols, Gonzalez can be a streaky hitter, especially with his power. Last year Gonzalez had stretches of seven home runs in eight games and five in three.
It's only a matter of time before an outburst happens again.
The Sox first basemen only has a 6.3 percent HR/FB ratio, which is far below his 16.5 percent career rate. That number is bound to go up, as is his BABIP. Last year he hit .380 on balls in play, and while that number is not sustainable, his .321 figure in 2012 should increase in the coming weeks.
Gonzalez is actually hitting the ball with more authority this year, as his line drive ratio of 23.2 percent is the highest of his career. His ground ball ratio of 38.7 percent is his lowest since 2007 and his 38.1 percent fly ball ratio is a full six points better than last year.
Once those hits start falling, and his fly balls start carrying, Gonzalez should see a spike in his production.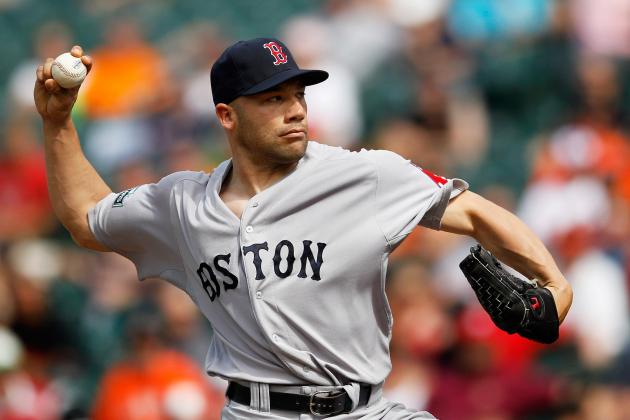 Rob Carr/Getty Images

After a rough start to the season, the Sox bullpen has been fantastic of late, and continued success in the later innings should lead to some key wins as the Sox look to climb out of last place.
A terrible first couple of weeks that saw Alfredo Aceves and Mark Melancon each get rocked in the closers role contributed to a 6.10 April ERA by Sox relievers that was the worst in the majors. They turned that around in May, as the bullpen's 2.37 ERA was third best in MLB.
Aceves has been great as the closer ever since, allowing five runs while getting no outs against the Yankees on April 21. Since then, he's converted 12 of 13 save opportunities while sporting a 2.28 ERA and striking out 25 batters in 23.2 innings.
Scott Atchison has been lights out with a 0.89 ERA, and Matt Albers and Andrew Miller both have sub-3.00 ERAs. Miller, a former first-round pick of the Detroit Tigers, may finally be delivering on the hype that made him the key prospect in the Miguel Cabrera trade, as he's striking out more than 11 batters per nine innings.
There are no signs that the success of the bullpen should slow down at all, and that's with key members missing. Andrew Bailey, whom the Sox gave up Josh Reddick for to be their closer this offseason, will eventually return, as will Mark Melancon, who has been lights out at the Sox AAA affiliate ever since being demoted. The return of those two arms will improve the bullpen even more than where it's currently at.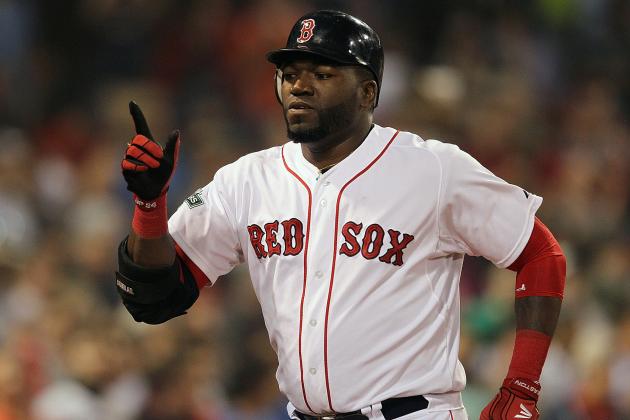 Jim Rogash/Getty Images

David Ortiz started the year off on a tear, hitting .405 in April with a .726 SLG. But those numbers masked a poor May performance in which Big Papi only hit .250. Over the course of seven games in late May, Ortiz only had one extra base hit and saw his season average fall to .305.
But Ortiz has recently picked up where he left in April, hitting at a .455 clip in his last six games, with three home runs and six total extra base hits. And advanced statistics show no signs of Ortiz slowing down his season pace.
Ortiz's .319 BABIP is right in line with his marks of .313 and .321 in 2009 and 2010, respectively. His HR/FB ratio of 19.4 percent is just a tick over his career mark of 18.6 percent, while his line drive percentage is the highest it's been since 2005. Additionally, Ortiz has cut back on his strikeouts this year, with an 11.9 percent K rate being the lowest of his career.
Ortiz is often regarded as hitting his best when he has his power to the opposite field, which he showed against Toronto this past weekend with a bomb to left center against the Jays on Friday. And Ortiz has been known to lay down the bunt this year to beat the shift, which gets him easy hits and makes teams second-guess their decision to shift.
After a few sub-par years from 2008-2010 when he couldn't hit better than .270, Ortiz is back to being a great hitter. This year is no different, and he should be able to keep up the pace of his superb season. While most of May showed signs of a drop-off, Ortiz has come back strong and looks to have another fine season as he builds his Hall of Fame resume.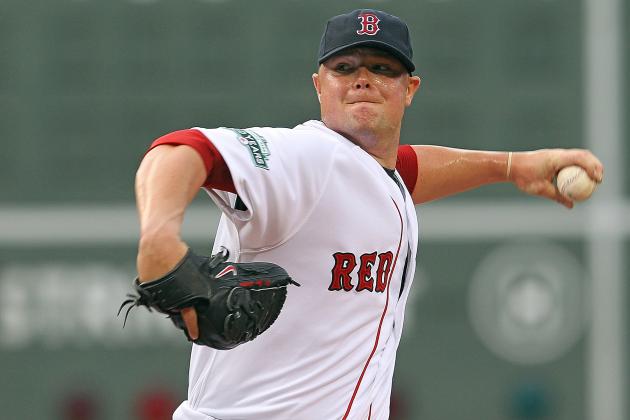 Jim Rogash/Getty Images

Before the season began, if someone told you that of the two lefties in the Sox starting rotation, one would have an ERA a full run better than the other a third of the way into the season, you would have almost certainly guessed Jon Lester would be the better of the two. But as it stands on June 4, Lester sports a 4.79 ERA, while first time rotation member Felix Doubront is at 3.75.
Lester's performance will certainly improve as the season progresses. His FIP—fielding independent pitching—is a stat that measures a pitchers success by only what he can control: home runs, walks and strikeouts. Lester's is 4.02, which is much more in line with his actual performance on the year. His xFIP, a statistic which standardizes a pitcher's HR/FB ratio to league average and is calibrated on an ERA scale similar to FIP, is 3.93.
Lester has been hurt by a 65.7 LOB percent, which is a full 10 percentage points below his career average and also far below the league average of 72 percent. His BABIP is also about 20 points higher than it has been over the past two seasons.
Once those numbers normalize, Lester should be on his way to another fine season.
Meanwhile, Felix Doubront has pitched great to begin the year, and there's no reason to expect it not to continue.
Doubront is 6-2 on the year with a 3.75 ERA, and he has thrown seven quality starts—the third highest figure in the league. He's striking out more than a batter per inning, a big reason why his strong start is sustainable. His xFIP is actually lower than his ERA at 3.51, which is best in the Sox starting rotation.
Doubront is quite possibly the best fourth starter in all of baseball, and he will certainly continue to help Boston as they look to make a playoff run.