Tiger Woods Ties Jack Nicklaus' Wins Mark, but Will He Snatch Majors Record?
June 4, 2012
Scott Halleran/Getty Images
Tiger Woods' win at the Memorial Tournament on Sunday left him in a tie with Jack Nicklaus for second place on the PGA Tour's all-time wins list, but still trailing "The Golden Bear" where it matters most.
In the majors.
Tiger has 14 major championships to his name, compared to 18 for Jack. The last time Tiger took home a title from one of golf's four most prestigious events, he was hobbling around on one leg in a remarkable 18-hole playoff with Rocco Mediate at the 2008 U.S. Open at Torrey Pines.
Woods has won eight times since then, though six of those came in 2009, after he returned from a major knee operation but before his extramarital exploits came home to roost amidst a maelstrom of fire hydrants and trees and golf clubs and angry Nordic spouses.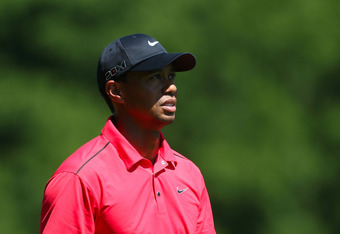 Andrew Redington/Getty Images
That same span has seen Woods register six top-10 finishes in majors, but he hasn't so much as tasted such success in his last four top-flight tournaments, with two DNPs, one missed cut and, most recently, a T-40 at the Masters this past April.
This isn't all to say that Tiger tying Jack at the event that Jack sponsors doesn't matter, especially given the dramatic fashion in which Tiger took it. He came into the final round four strokes back of the lead and emerged at nine under par after a five-under 67 on the day, two strokes ahead of Rory Sabbatini and Andres Romero.
That comeback—along with a stretch of three birdies in four holes to finish the round that included this incredible shot on the 16th hole—made Woods' win at the Memorial (his fifth in the event) seem that much more monumental.
As did the thought of equaling Nicklaus in any capacity, and moving within nine PGA wins of tying Sam Snead's all-time total.
And it's not as though Tiger isn't well within striking distance of Jack's major championships record. At 36, Woods is still 10 years younger than Nicklaus was when he capped his illustrious career with a sixth Green Jacket at the Masters in '86.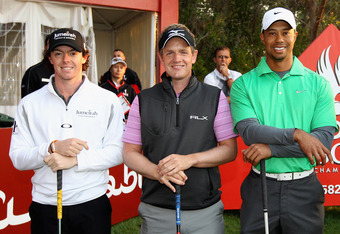 Andrew Redington/Getty Images
Tiger may not be the dominant force on the course that he once was, but it's not as though the rest of the field has proven itself capable of shutting him out, either. The eight players currently ahead of Woods in the World Golf Rankings have combined for all of two major wins, including the diddly squat contributed by Luke Donald at No. 1.
The titles are there for Tiger's taking. The issue, then, is whether Woods will seize them himself, or if he'll continue to allow the competition to take turns on golf's throne while he toys, tweaks and tinkers with his swing mechanics and his mental approach.
Can Tiger win four more majors to tie Jack, or even five to surpass him, over the next 10 years? Of course he can. Nicklaus won four of his after his 36th birthday.
Will he, after the wear and tear he's put his body through and the emotional toll that his own misdeeds have wrought?
Only time will tell whether Tiger's mind and body will heal well enough to win tournaments at the highest level like he once did.
But, if he's still able to drive the ball into the blue yonder and hit impossible chip shots with remarkable ease at times, why not?