French Open: Maria Sharapova's Hot Start Bodes Well for Olympic Gold-Medal Hopes
June 3, 2012

Clive Brunskill/Getty Images
Maria Sharapova is on fire—and playing some remarkable tennis at the moment. Leading into the London 2012 Olympic Games the timing is just perfect for the Russian world No. 2.
After yesterday, seeing her path to the title at Roland Garros became much easier with the early, disappointing departure of Victoria Azarenka. Sharapova should be able to claim a much-needed Major title and be able to bring that momentum into the Olympic Games.
So far at the French Open this year, she has been nothing less than dominant on her court.
In her first-round match against Alexandra Cadantu, she showed her dominance against the young teenager, putting together two undefeated sets of tennis. At the same time, she allowed her opponent no winners whatsoever.
After that first match, Sharapova talked about how she is feeling this year and why she is able to sport a record of 29-5 in this season's singles matches to go along with two titles thus far.
"I feel like with every year I have improved, and I enjoy it much more," Sharapova told the Associated Press. "I think I learn a lot more about the game and the point construction. I feel like I'm moving a lot better than I did years previously, which has helped me a lot in the recovery process within the point."
Facing Ayumi Morita of Japan in her second match of the French Open, Sharapova did not disappoint—proving that her previous comments about improving and moving a lot better were not just talk.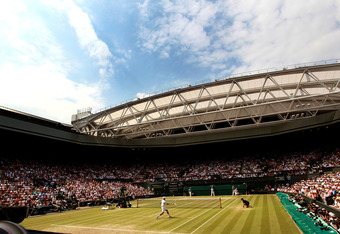 Julian Finney/Getty Images
Sharapova took the match 6-1, 6-1 for the sweep of her opponent. Again she was able to control the court, this time allowing Morita only one winner for the entire match.
Then, on Saturday, she took just over an hour to dispose of Shuai Peng, the 28th seed in the women's draw. Just like the other matches, Sharapova completely overpowered her opponent on the court. She wound up winning the match 6-2, 6-1. This match proved to be a good sign for Sharapova as she was able to limit her own unforced errors to eight (as compared to the 31 she had in the other two matches combined).
Sharapova plays her fourth-round match against Klara Zakopalova of the Czech Republic.
After Mikhail Youzhny on the men's side of the draw wrote a message to the crowd saying "sorry" in the clay at Roland Garros after an upsetting and short match against Davd Ferrer, Sharapova was asked if she ever felt any remorse for the people who paid a lot of money to come watch her play—considering she has only been on court for a grand total of two hours and 54 minutes.
Via Howard Fenrich of the Associated Press:
The last thing that's on my mind when I'm going out on court is thinking about who paid for a ticket and how long they're going to watch my match for. I mean, I'm not sure if that's selfish or not, but my job is to go out on the court and to try to win. Whether it's 6-0, 6-0, whether it's a tough three-set match, you're trying to do what you have to do.
She is focused and not worrying about any outside influences. It seems her head is in the right place, and any sort of preparation that she is having for the Olympics must be already beginning. So at this tournament it is a must for her to dominate and have a great performance, which means a trip to the finals, at the very least.
Although Sharapova is doing her part at this year's French Open to get herself into the finals, many of her opponents have not done too well. Other than just Azarenka, who lost yesterday to Dominika Cibulkova 6-2 7-6 (7-4), there was also a lot of top talent who failed to move on.
In Sharapova's side of the draw alone, there was 14th-seeded Francesca Schiavone—the 2010 French Open champion—who bowed out in the third round, Caroline Wozniacki—the former world No. 1—who also lost in the third round, and finally, Serena Williams, who was part of that early tournament upset that saw her losing in the first round to homegrown talent Virginie Razzano of France.
Although setting herself up nicely for a run at her first French Open win—and her first Major since 2008 when she won at the Australian Open—by winning her matches, Sharapova told Fenrich she is not going to get carried away with the way the draw has turned out in her favour:
I don't think it's the right way to look at things to see somebody lose and say, 'Oh, well, now the draw is open.' You can't go about playing a Grand Slam like that. You've got to be ready to face your toughest opponents from the first round, on. And if you're not ready, then you should probably not be here.
On tour right now, her biggest threat comes from the current world No. 1, Victoria Azarenka, who will also be her toughest task to get a gold medal come Olympic time. Although we know now that they will not be meeting in this year's final at the French Open, this can be a good thing for Sharapova. In their last meeting at the end of April in Stuttgart, Germany, Sharapova was able to take the match and the tournament with a convincing match, winning 6-1, 6-4, which gives her the current upper hand.
Coming into this Olympic Games in London, Sharapova will have a lot of motivation, not including the motivation she could receive from her hot play at the French Open. Although she would have been a guaranteed lock for the Russian 2008 Olympic tennis team, she had to miss the tournament because of a shoulder injury, as told by ESPN.
That would mean that this upcoming Olympics will be Sharapova's first and will also be held in a venue where she has had success—having won Wimbledon in 2004 and also making it into the finals of the tournament there last year.
Sharapova realizes just how important the Olympics are, not just to her but also to her country, Julian Shea of the British newspaper Metro reports:
For me, the Olympics are huge. Growing up in Russia, the Olympics was the only thing that I ever really watched on television. Not so much tennis ... but sports like skating, (ice) hockey and gymnastics. To now see tennis on the map in such a big way and to know the history of Russia and how important it is to be part of the Olympics, it's something I really want to experience in London.
The real key, however, comes later on in June when the top players take to Wimbledon for the third grand slam of the season. Here, the true test will come: playing on the same surface as the Olympic competition will be held on just shortly after.
Sharapova went on to say in the Metro article that:
It will be extremely interesting to see that transition of how it will feel coming from Wimbledon and then a few weeks later competing there in the Olympics.

I hope the grass recovers.
Sharapova sure seems to be gearing herself up for an Olympic gold medal, and a win here at Roland Garros will be the first step on that path.