Novak Djokovic: 5 Most Fun and Compelling Moments of Djoker's Career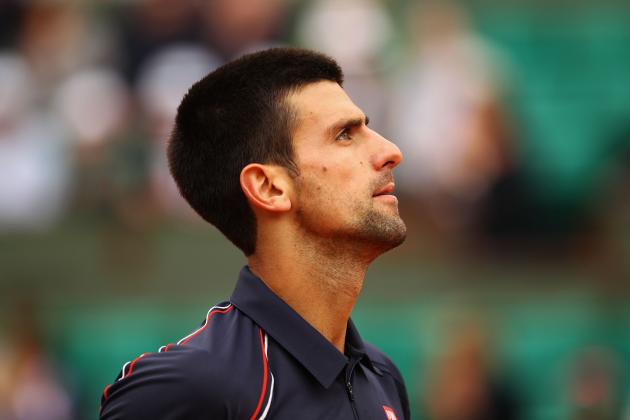 Clive Brunskill/Getty Images

After advancing to the quarterfinals of the 2012 French Open at Roland Garros with a victory over Andreas Seppi, Novak Djokovic is in position to compete for yet another grand slam title.
The 25-year-old Serb has dazzled in his still-young career; he has won five grand slam titles, with three Majors in 2011 alone, and is currently the No. 1 player in the world according to the Association of Tennis Professionals.
In his illustrious 10-year career, Djoker has played in many thrilling matches, developed several heated rivalries and, although infrequently, experienced the bitterness of defeat at the highest levels.
With that in mind, here are the five most fun and compelling moments of Novak Djokovic's career.
Begin Slideshow

»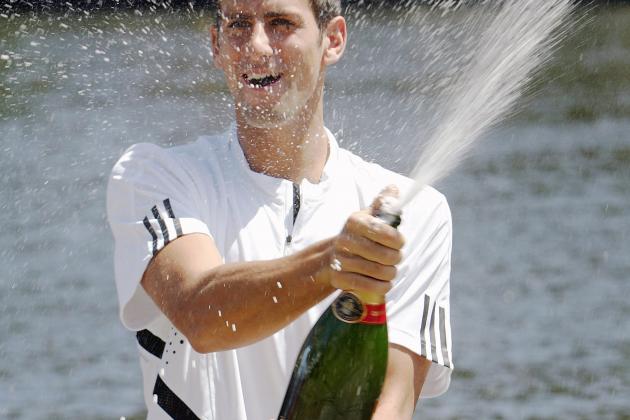 James Knowler/Getty Images

At just 20 years old, the most decorated tennis player in the history of Serbia had a chance to make history. After beating Roger Federer in the semifinals of the 2008 Australian Open, ending Federer's reign of 10 consecutive grand slam finals appearances, Djokovic advanced to the finals to face Frenchman Jo-Wilfried Tsonga.
In front of 15,000 spectators in Melbourne's Rod Laver Arena, Djokovic defeated Tsonga 4-6, 6-4, 6-3, 7-6, capturing his first grand slam title and becoming the first male Serbian to do so.
It was a glorious accomplishment for Djokovic, as it emphatically put an end to the grand slam title streaks of Roger Federer and Rafael Nadal.
The title would be the first of three for Djoko at the Australian Open, and the victory cemented his place among the best tennis players in the world.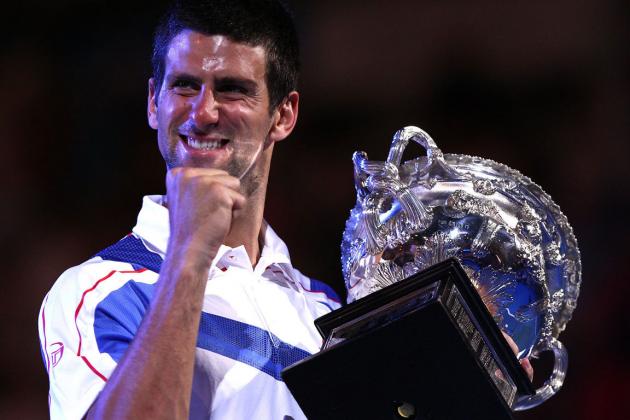 http://3.bp.blogspot.com/_SsxoEWOEV3w/TUkW22bortI/AAAAAAAAArY/FDgC3KO81vs/s1600/Australian-Open-winner-Novak-Djokovic.jpg
After entering the 2011 Australian Open seeded fifth, Djokovic beat Roger Federer in the semifinals, earning a spot in the finals against Englishman Andy Murray and a chance to capture his second Australian Open title.
And win he would, triumphantly. Falling short in only one set in seven matches, Djokovic topped his boyhood rival 6-4, 6-2, 6-3 in two hours, 39 minutes.
Especially satisfying for Djoker was that his victory snapped Murray's three-match winning streak. After first dueling officially in 2006, the two have faced each other 13 times, with Djokovic currently enjoying an 8-5 edge.
The Australian Open title was doubly enjoyable for Djokovic, as it silenced the hype surrounding Roger Federer, who would have held all four grand slam titles simultaneously with a victory, thus completing the "Rafa Slam."
Melbourne has been a fruitful venue for the Serbian, as he won the title for the third time in 2012.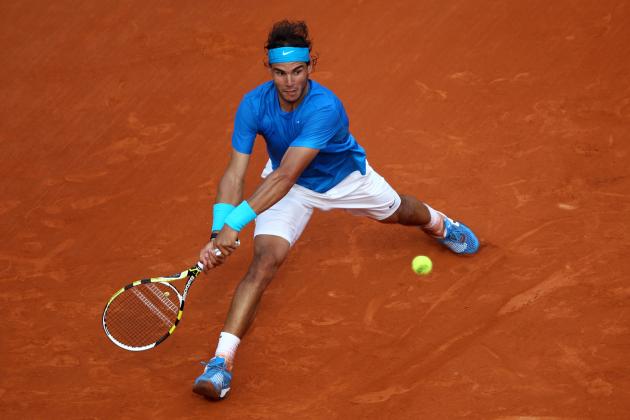 Clive Brunskill/Getty Images

Heading into the semifinals of the 2011 French Open, Djokovic was on top of his game. Riding a 43-match win streak and winning the Australian Open title earlier in the year, the only thing standing between him and a spot in the finals was Roger Federer.
In a nail-biting, back-and-forth contest, the match came down to a tiebreaker after the fourth set, where Federer jumped out to a 6-3 lead and sealed the victory with an ace, putting an exclamation point on a 7-6, 6-3, 3-6, 7-6 triumph.
The triumph over his rival was especially sweet for Federer, as it was the only Grand Slam tournament defeat of 2011 for Djokovic.
Djokovic-Federer is another compelling rivalry, with Federer currently holding a 14-11 lead. Evocative of the matchup's intensity, the two are deadlocked in finals matches at 3-3.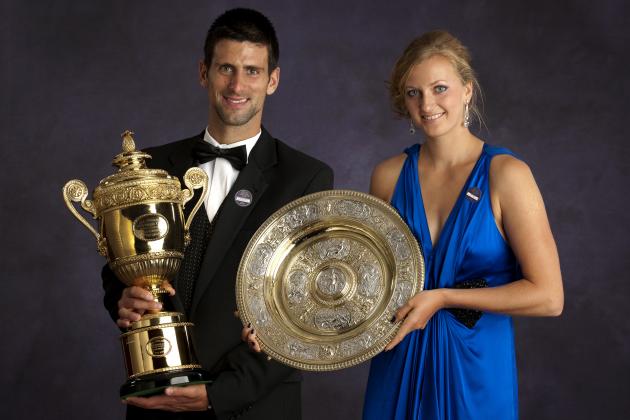 Pool/Getty Images

2011 would prove to be a crucial turning point in the Djokovic-Nadal rivalry. Enjoying a 15-8 advantage over his Serbian nemesis, Rafael Nadal's reign would end dramatically, as he went 0-6 against Djokovic in 2011.
After besting his foe 6-4, 6-1, 1-6, 6-3, it was clear to anyone watching the match what the victory meant to Djokovic; his candid, grass-eating jubilation is the type of moment we live for in sports: seeing an underdog finally triumph over a bitter rival.
The triumph at Wimbledon had to be the most satisfying for Djokovic, as it marked his first Major victory over Nadal as well as his first and only victory at Wimbledon. Interestingly, it was also Djoko's first grass-court tournament victory.
In addition to triumphing over his rival, Djokovic exploded in 2011, winning 10 tournaments, three grand slam titles, logging a 70-6 record and climbing to the top of the ATP World Tour Rankings.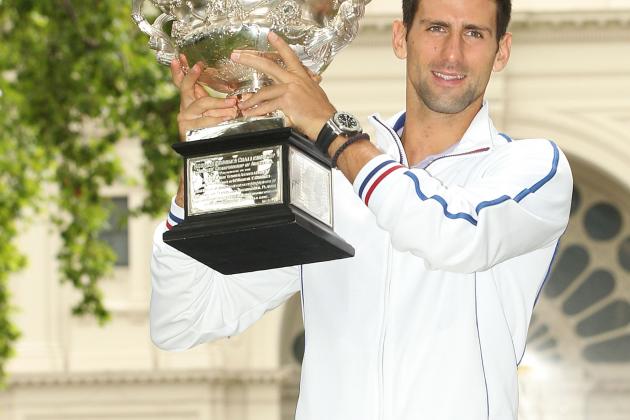 Lucas Dawson/Getty Images

Djokovic's triumph at the 2012 Australian Open was nothing less than epic. After rallying to beat Andy Murray in the semifinals in a four-hour, 50-minute match, he advanced to face bitter rival Rafael Nadal once again in the finals in a matchup that pitted the world's No. 1 and No. 2 tennis players.
The contest lived up to its billing. In a marathon five-hour, 53-minute match, Djoker rallied once again to best Nadal 5-7, 6-4, 6-2, 6-7 (5), 7-5. The match was the longest in Australian Open history, the longest final in Open Era Grand Slam history and the fifth Grand Slam title for Djokovic.
The contest was another thrilling installment in one of the world's best tennis rivalries. Currently, Nadal has an 18-14 edge, while Djokovic has a 3-1 lead in grand slam finals. Undoubtedly, this will be a compelling matchup for the foreseeable future.