French Open 2012: TK's Picks Day 8
June 2, 2012

Clive Brunskill/Getty Images
So close to perfect. I went 7-1, only losing the last match of he day in my picks for Day 7. That takes my weekly total to 42-14. From here on out I will pick every singles match.
There are plenty of great matches to come. The tournament really begins on Sunday, with so many of the best players playing over the next two days. Only two will be crowned champions by next weekend.
Here's my look at Sunday's matches.
No. 26 Svetlana Kuznetsova vs. No. 21 Sara Errani
Both players are playing some great tennis. Kuznetsova looks like the Russian who has won a few slams, while Errani is having a stellar clay-court season.

Winner: Kuznetsova in three sets
No. 1 Novak Djokovic vs. No. 22 Andreas Seppi
This will be Djokovic's first real test. Seppi has played well this spring, and could challenge the Serb. Still, the Djoker is No. 1 for a reason.

Winner: Djokovic in three sets
No. 18 Stan Wawrinka vs. No. 5 Jo-Wilfried Tsonga
Can the Swiss player halt the Frenchman's run this year? Tsonga has never fared real well here, and he certainly could be due for a loss, but I think the crowd will get him through one more time.
 
Winner: Tsonga in four sets
Sloane Stephens vs. No. 6 Sam Stosur
Stosur has played well, and probably looks to be in the best form of anyone on this side of the bracket. Stephens has had a great run, and has a lot of potential, but I think the fairy tale is over in Paris.
 
Winner: Stosur in two sets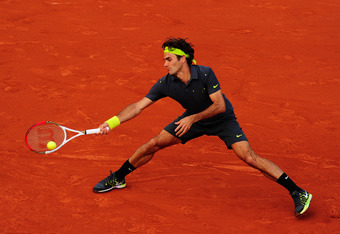 Mike Hewitt/Getty Images
No. 10 Angelique Kerber vs. Petra Martic
Kerber is looking sharp, and I still see her going all the way to the semis.

Winner: Kerber in two sets
No. 1 Victoria Azarenka vs. No. 15 Dominika Cibulkova
Azarenka has looked better after a dismal opening-round match. However, I still think she's very beatable. Domi has played great in her first two matches, and had Azarenka on the ropes when they played in Miami. This time Cibulkova finishes the deal.
 
Winner: Cibulkova in three sets
No. 3 Roger Federer vs. David Goffin
The lucky loser has run out of luck. He has to play Federer, and I think Roger is about to turn his game up a couple of notches.
 
Winner: Federer in three sets
No. 9 Juan Martin del Potro vs. No. 7 Tomas Berdych
Berdych struggled against Kevin Anderson, but still came through. Meanwhile, del Potro has looked solid in Paris. This should be the match of the day, but I like how del Potro is playing.
 
Winner: del Potro in five sets