French Open 2012 Results: Novak Djokovic Appears Headed for Another Final
June 2, 2012

Matthew Stockman/Getty Images
Novak Djokovic was impressive at Roland Garros on Friday in a dominating straight-set victory over Frenchman Nicolas Devilder.
Per the Vancouver Sun:
"Last 15 minutes was very hard," Djokovic said. "It was very important for me to finish the match today. I wouldn't like to come back tomorrow and play a few games."
Djokovic has looked quite strong on the clay courts of the French Open and appears to be headed for his first career final in Paris.
The world's No. 1 ranked player isn't the favorite to win the tournament and achieve his own version of the Grand Slam, but if he meets Spanish star Rafael Nadal in the final, don't underestimate the Serbian's chances.
Djokovic hasn't had much career success at the French Open, but that won't faze him as he progresses further in this tournament.
There's no reason why he can't make the finale with the way he's playing right now. He's serving well, he's moving well on the clay, and he hasn't had to expend a ton of energy in the early rounds.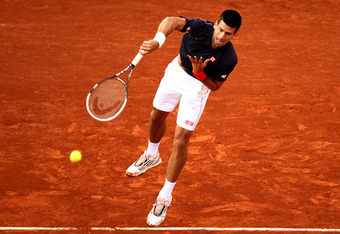 Matthew Stockman/Getty Images
Djokovic hasn't dropped a set through three rounds, and against Andreas Seppi of Italy in the fourth round, he will likely go into the quarterfinals without having lost a set.
If Djokovic meets Roger Federer in the semifinal, expect the Serbian star to get the best of his rival again and set up another dramatic Grand Slam final with Nadal.
Nadal will have to play his best to win his seventh career French Open singles title and end Djokovic's dominance if the two meet in the final.
Djokovic looks unstoppable right now, and it's unlikely that he will fail at Roland Garros again.