David Robertson in the 8th Inning Will Be the Spark That the Yanks Need
June 1, 2012

Mike Stobe/Getty Images
David Robertson is out for at least another two weeks with his rib injury, but that doesn't mean the Yankees are panicking right now when it comes to their bullpen.
Not when when current closer Rafael Soriano is converting every save opportunity thrown his way. At least for right now, the Yankees can focus a little less on that and deal with some of their other major problems, like starting pitching, offense and how to make Alex Rodriguez younger. 
Still, there's finally one less thing that fans should be concerned about in the Bronx. Soriano is officially their closer, from now until (hopefully) October.
Throwing Robertson into the role so quickly was a mistake from the start in my opinion. His first opportunity was almost a disaster, and his second one actually was one. It didn't take long to see that maybe Robertson simply wasn't ready for such a role.
You can't blame the guy, especially since he was taking the job after the greatest closer of all time went down. If that's not stressful, I'm not sure what is. 
Still, Robertson is already a former All-Star, and is still going to be the future closer for this team. For now though, let him get his experience in a spot with a little less pressure.
And to be honest, this could totally end up being a huge blessing in disguise for the Yankees.
Let's look back to 2009, when the Yanks last won the World Series. The team had it all that year, and it all came together at the right time. But a man who will never get enough respect for that championship team is Phil Hughes.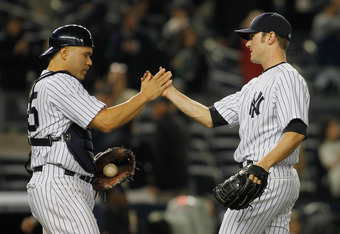 Mike Stobe/Getty Images
Phil Hughes was the ultimate 8th inning machine that year. He shined on every big stage, nailed every clutch strikeout, and was possibly the greatest bridge that the Yanks may have ever had to Rivera. 
When the Yanks were really streaking that year, you knew that if a team couldn't out duel the Yanks offense by the 7th inning, the game was as good as over. It changed the whole mentality of the game, and their season. 
Granted, Soriano is no Mo, but who is? On the other hand though, Robertson could easily be a 2009 Hughes, maybe even better. He has to feed off the motivation that he will soon be the one getting the saves, just like Hughes fed off his desire to get back into the starting rotation. 
If Soriano can keep up his hot start, and maybe lower his WHIP a little, the Yanks could finally breathe easy once Robertson returns and shakes off some rust. He's got the tools to be great, and now is the time to prove he's got what it take to be New York's next closer—possibly as early as next season. 
Who knows? By mid-June, everything else may finally start to come around for the Yankees as well. And if that happens...watch out.