Spain vs. China: Live Stream, Start Time, Predictions and More
June 1, 2012

Spain has just one friendly to play before Euro 2012, which begins next week on June 8. They will take on China PR in what will be their last tune-up match before the important ones begin. China PR, having missed out on qualifying for the 2014 World Cup, will have their hands full trying to match up against the top ranked club in the world. 
When: Sunday, June 3 at 4:00 PM ET
Where: Ramón Sánchez Pizjuán, Seville, Spain
Live Stream: ESPN3.com
Spain Unstoppable
Top-ranked Spain has had a brilliant start to 2012.
Not only are they the reigning Euro and World Cup champions, but they have outscored their opponents 11-1 in their three friendly wins so far this year. After a 5-0 drubbing of Venezuela in February, the club finished off Serbia 2-0 and South Korea 4-1 in the final week of May. All three of these countries are ranked higher than China currently is, which could mean a blowout is looming. 
China With Something to Prove
China was ousted in the third round of the Asian Football Confederation qualifying for the 2014 World Cup after failing to beat Iraq, losing 1-0 both times, and splitting their two matches against Jordan.
China has only reached the World Cup once, back in 2002. They failed to score any goals in their three matches and were quickly sent home. As the 66th ranked club by FIFA, this could be a coming-out match for China if they can stay with the top team in the world.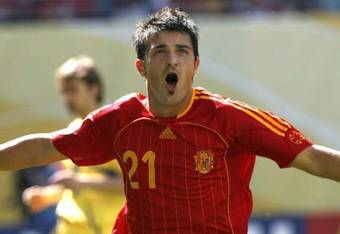 Euro 2012
Spain plays their first match of the European Championships on June 10 against an Italian team that is ranked 12th in the world.
It would be easy for players to look past the sub-par China club and instead be focusing on the championship that they are defending. This could prove to be costly if China comes out of the gates hungry for a victory.
They may catch Spain unfocused and could make this match interesting. 
Villa Remains Out
David Villa, Spain's all-time scoring leader, underwent surgery last December after fracturing his shinbone. It was hopeful that he could return in time for Euro 2012, but he was ruled out last month. This will not have a huge impact on the match against China, but will be a significant loss when Spain plays Italy to start off the European Championships.
If they want to defend their title, it will have to be without the Barcelona scorer. 
Prediction: Spain 3-0
Though Spain may be looking past China in anticipation for their match against Italy, they are still the most dominant club in the world.
China hasn't played an international match in over three months, so it will be interesting to see how they perform against the likes of a world power. Expect them to hold their own for portions of the game, but eventually be overpowered by the more talented Spain club. It will be difficult for China to score goals, and if they don't take control of the match early on, it could get out of hand quickly.