Euro 2012 Predictions: The Veterans Who Will Decide the Championships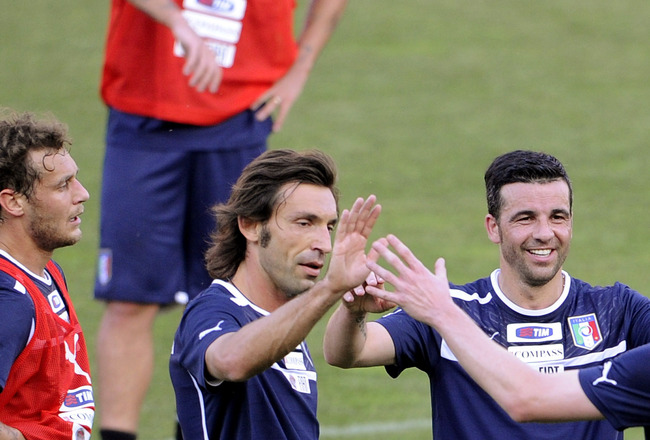 Claudio Villa/Getty Images
We are less than a week away from the kick-off to Euro 2012, or the UEFA European Football Championship, which many consider to be the most unpredictable and difficult prize international football has to offer.

Sixteen of the world's 24 best footballing nations will battle it out in an uncompromising knock-out tournament, hoping to survive five matches to reach the final, and possibly write history in the process.

And, as always, new stars will be born, heroic team feats will be accomplished, favorites will be unseated and underdogs will surprise.
National sporting rivalries will flourish, victories will be celebrated wildly and last but not least—tears will flow in streams.

All in all, we hope for compelling entertainment, for displays of sophisticated and enticing football and of course, for sporting fairness.

As we stock up on food and beverages and ready our sofas and adjust our TV sets to prepare for the three-week event, let's have a look at the players who will be decisive to the outcome for their respective sides.

Though we are always enthralled to see the refreshing flamboyance of youth shine, and though we all debate who will be able to provide the goals necessary for ultimate triumph, Euro history suggests that each team must have a spirited veteran leader, an acclaimed and experienced master whose form and acumen will determine the success or defeat of great footballing nations.


As leaders, their job is to rhythm the tempo, to organize and control the game and to design the flow of attack.

As hardened veterans, they must motivate their sides—on and off the pitch.

They are the brain and the heartbeat of each nation's game.
If they succeed, their country's hopes will grow. If they fail, their team's outlook is dim.

For some, it will be the last grand hurrah—their last chance to crown long careers and step into football's eternal hall of fame. Though all have passed their 30th year, we will be excited to see who can become a legend, and thus remain "forever young."
Mark Van Bommel: The Uncompromising Enforcer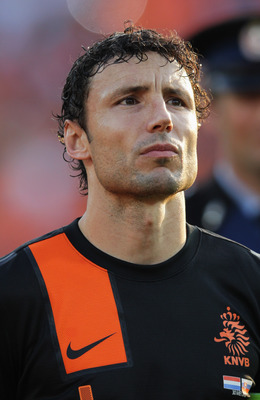 Dean Mouhtaropoulos/Getty Images
Though all eyes are focused on the magical triangle that sparks Team Netherland's creative offense—Wesley Sneijder, Robin van Persie and Arjen Robben—Oranje will again fall short in their pursuit of the European title unless their captain, Mark van Bommel, can summon a dominant performance in central midfield.

At 35 years of age, and having played at many of Europe's most prestigious clubs (FC Barcelona, FC Bayern, AC Milan and PSV Eindhoven), it seems surprising that this will be his first Euro Tournament appearance.

But the veteran of Oranje's World Cup campaigns of 2006 and 2010, who started his career for the Netherlands in 2000, still looks back on 75 international caps—less than current colleagues Dirk Kuijt, Joris Mathijsen or Rafael van der Vaart, but enough to make him "Mr. Experience" himself.

His imposing physical presence (1,87 m), his uncompromising challenges and his versatile balance of defensive and offensive skills, as well as his seasoned oversight and tactical awareness have made him Bert van Marwijk's natural extension on the field.

In fact, his role has become even more vital in recent years, as the Netherlands have lost speed in central defense and now rely heavily on their defensive midfield, captained by Mark van Bommel and re-inforced by his lieutenant, Nigel de Jong, to thwart opponent's onslaught.

If Nigel de Jong is more of a proverbial iron-foot, Mark van Bommel is the true pivot of Oranje's swift attacks. His accurate deep passes launch the speedy wings and open the routes for Wesley Sneijder, Arjen Robben or Ibrahim Affelay.

Though he isn't considered particularly agile, without his rhythm the Netherlands cannot bloom.
Konstantin Zyryanov: "Zenith's Zidane" Runs Until He Drops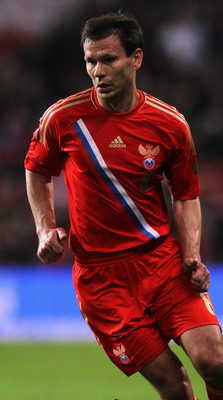 Dean Mouhtaropoulos/Getty Images
Russian football hasn't always gotten the credit it deserves.

Due to harsh winter conditions, the Russian League plays on a different schedule than most other European leagues—which has always made the national team a bit unpredictable ahead of large tournaments, because nobody could really anticipate the form and fitness its players brought.

Thus in recent tournaments we have seen Russian teams either literally run over their opponents, or falter miserably.
In a way, Russia is a moody bear—at times vicious, at times altogether in hibernation.
Consistency has always been an issue.

That certainly doesn't hold true for their midfield dynamo, however. Though Konstantin Zyryanov is currently the second oldest player on the team, the 34-year-old Zenith St. Petersburg playmaker has amassed 48 international appearances since his debut in 2006.

Alongside his St.Petersburg teammate Roman Shirokov, the veteran of many Champion and Euro League campaigns is (surprisingly) asked to provide "the legs" in the very flexible 4-1-2-3 formation Russia has perfected.
As the defensive wingers, Yuriy Zhirkov and Aleksandr Anyukov interpret their position in an extremely offensive way—racing forward at almost every occasion to join forwards Alan Dzagoev and Andrey Arshavin in attack—so coverage is often left to the two Zenith midfielders, which exacts an enormous physical toll.

Yet Konstantin Zyryanov is no simple destroyer, excelling only at running down the adversary to elegantly separate him from the ball. Constantly in motion, his dynamic pace, brilliant technical skills with the ball and deadly passing precision all remind me of another soccer great whose last name also starts with Z.

It will remain to be seen if the energy is still there to release his full creative potential, but should Konstantin Zyryanov successfully ignore the fatigue a body of 34 years of age suggests, expect him to propel the Russian "Kollektiv" to an amazing run in Poland and Ukraine.
Anatoliy Tymoshchuk: The Gifted Strategist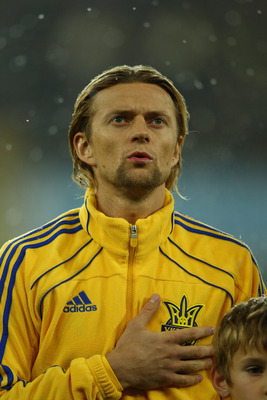 Richard Heathcote/Getty Images
At 33 years of age, Anatoliy Tymoshchuk is in fact older than his style of physical, inexhaustible play would have you believe.

Watching the multi-purpose defensive specialist coolly position himself in anticipation of the opponent's next move, and then pounce on any intruder with the timing of a leopard, is not only an extraordinary spectacle, it also shows the growing team value that only experience could add to an already formidable footballer.

Anatoliy Tymoshchuk is the key to any successful bid Oleh Blokhin's Ukraine has the intention of making at their home tournament. He will be the anchor and mentor for a talented young midfield consisting of two promising 22-year-olds, Yevhen Konoplyanka and Andrij Yarmolenko, who could both shine for Ukraine.

Oleh Blokhin's preferred strategy is the explosive counter-attack—and it will be Anatoliy Tymoshchuk's crucial job, not only to captain the defensive line, but to also actually win the balls in order to launch these strikes with cold precision. He may even be required to score the goals, as well.

It seems fair to say that not very many attacking opportunities will arise in matches against teams of the stature of France or England, which will very much complicate his mission.
Nonetheless, if anyone can fill the gargantuan role he is to take, it will certainly be Anatoliy Tymoshchuk, whose 114 international caps have already made him a veritable football hero in his native home.

If he hadn't chosen FC Bayern München as his football club, where he has basically been held in disciplined and reliable reserve, the rest of Europe would certainly be much more aware of his exceptional play-making abilities.

All of Ukraine will be relying on exactly these abilities.





Anders Svensson: Sweden's Marvelous Methusalem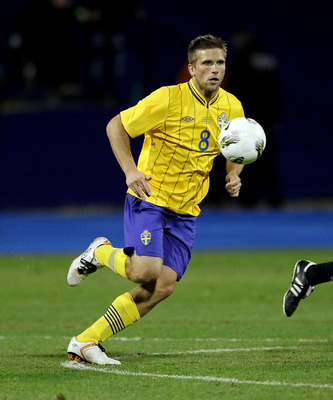 Scott Heavey/Getty Images
It was in November, 1999 when a young, ambitious forward from Göteborg first took the field for Sweden in an international contest.
For Anders Svensson (35), it was just the beginning of an extraordinary career that has seen 124 international caps, and which will be crowned by his appearance in his 5th major tournament as the omni-present midfield motor of the small Scandinavian nation—a nation known for its persistent habit of consistently over-achieving.

Sweden is the eternal underdog, but the Vikings still seem to be present at all major footballing venues—which is quite a feat, given the size of the population and the current status of its home-grown football league.

With all eyes fixed on the indisputable superstar, Zlatan Ibrahimovic, it is often forgotten that successful competition is more often conditioned much deeper on the field, and this is the space Anders Svensson incessantly roams these days.

A highly gifted footballer when it comes to his technical skills, his accurate passing and shooting are indispensable to his side.

Firmly installed as a true number six in front of his defensive line, his duty will be to control and bring rhythm to the Swedish game.

His great vision and dangerous set-kicks make Anders Svensson the linchpin to all hopes Sweden can harbor in this tournament.

The playing skills are all there, but at his age it can only be hoped for that this elegant player will still find the energy to maintain the high pace the modern-day game demands over the full match.
Because without his creativity, Sweden will have a hard time surprising the strong opponents they will face in this difficult Group D.








Xavi Hernandez: Maestro
David Ramos/Getty Images
Spain is the measure of all things football today, and their dominance over international competition through their brand of endless ball control and dizzying passing has a Catalan name: Xavi.

Though the "Furia" boasts so many blessed individual players, none are as important as the 32-year old Barcelona play-maker, who boasts over 108 appearances for his Spain (and a few for Catalonia).

He is the director of this irresistible red ballet—the true maestro leading an impressive orchestra.

So much has been said in praise of his incredible positioning, passing and finishing skills, that really nothing worthwhile is left to be added.

Having won every trophy of importance during his glorious career, Xavi already holds his legitimate seat in the Olympe of Football, and the Euro 2012 is possibly the next highlight, one which could enshrine his name in football history forever.

His important role as the experienced veteran of his team will be—beyond the accustomed artistry everyone expects of him—to focus the team's attention on the ultimate goal of bringing home a third consecutive trophy from a major international tournament.

It has never been accomplished before—an international football three-peat as world and conference champions.
This goal has proven elusive to the most dominant of sides in the past, as neither the Magyars of the 50's, nor the Brazilians of Pélé, nor the Germans of Franz Beckenbauer or even the French of Zinédine Zidane could do it.

Staying on top for six years in this highly competitive sporting environment was always unattainable.

Some attribute this to the wear and tear of body and will.
There is no more "hunger," it is said, in teams and individuals who have feasted on success.
Younger and more agile adversaries rise, armed with the better preparation that comes from lengthy study of the model the previous champions have left, and they find ways to deny and finally overcome the reigning teams.

We will now witness the next attempt at maintaining a winning reign.
Will there be enough determination and stamina left in this team of giants to go where no team has gone before?

Much will depend on the performance and leadership of Xavi—who, along with his teammates, awaits this very special rendezvous with history.




Konstantinos Katsouranis: The Modern Pelops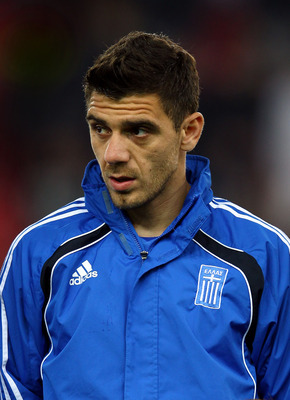 Julian Finney/Getty Images
Greece is a very troubled land these days.

Gone are the optimism and self-confidence of days past.

Today it is but a vague memory, the triumph of Greek Football in 2004, the absolutely incredible, the almost outrageous, the sensational championship won against all odds in and against mighty Portugal—a land now, like Greece, beset by woes of economic and financial turmoil.

Maybe that victory—the "Nikis"—which resonated with hundreds of thousands of Greeks who poured into the streets of Athens and Thessalonika to release their exuberant joy, maybe that totally unexpected triumph already bore the seeds of future decline—unnoticed, but slowly gnawing away at the fabric of imagined security and collective prosperity and strength—strength needed to again breed future success.

"It was a miracle... and, as is the essence of all miracles, they tend not to happen all too often", Greece's former coach, Otto Rehagel later explained.

Yet Greece is back at the sporting event that they once managed to amazingly win.

And the Hellenic kickers now have a new and important mission in Europe: to prove their resilience.

Fortunately, they can still count on Konstantinos Katsouranis (32), who embodies resilience like no other Greek player still active.

Though his teammate at Panathinaikos and co-hero of 2004, Georgios Karagounis, three years his elder, is now the captain of Team Hellas, it will be the native of rugged Peloponnisos, Katsouranis, who will have to elevate his game in defensive midfield to the highest level if Greece wants to withstand the attack of its Group A rivals Russia, Poland and the Czech Republic.

Together with Sokratis Papastathopoulos and Avraam Papadopoulos, he must marshal central defense, all the while filling his role as "stratigos" (the general) and commanding his team's forward motion if Greece is to find an advantage it can defend.

His excellent control of the game and his instinctive vision will come in very handy, as will his experience of 89 international caps.

And who knows? Boosted by an unlikely progression to the next round, Hellas could still do serious damage in this tournament—especially if they should meet rich and powerful Germany in the quarter finals.

At that point, renewed heroics would definitely be required, but they could certainly also be summoned with ease.



Tomas Rosicky: From Dusk to Dawn?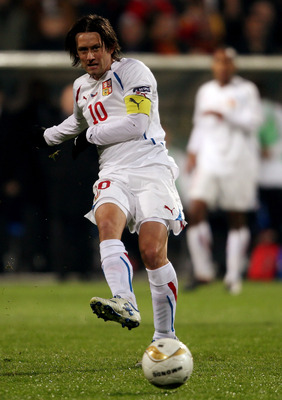 Scott Heavey/Getty Images
Group A of the Euro tournament is a bag full of potential surprises.
Here, the spectators will be treated to what can be seen as a Central and Eastern European mini-championship.

Historically, the Czech team—along with Russia—could statistically be considered the designated front-runners, having won the European Title in 1976 under the brilliant leadership of the legendary Antonin Panenka and having reached the 1996 Final with their last glorious generation of Miroslav Kadlec, Pavel Nedved and Karel Poborsky.
Victory at the Olympic tournament of 1980, and a third place finish in Europe the same year, as well as an appearance in the semi-finals of 2004 are testimony to Czech football's place as a traditional powerhouse in the European game.

On the eve of this tournament, expectations are more subdued.

Coach Michal Bilek heads into competition with a team many see as only second-tier in the hierarchy of present day European power rankings.

Despite their relatively advanced median age, only four active players have reached the threshold of 70 international caps—the most celebrated footballer of the current squad being, of course, the impeccable Petr Czech, who leads his side with all the confidence that a fresh Champions League triumph with his club Chelsea can bestow.

But success or plight in the upcoming summer adventure will be decided by the performance of the second oldest player of the venerable Fotbalova Asociace, Arsenal's creative midfielder Tomas Rosicky (31).
The veteran of 85 international caps and three major championship campaigns, including the 2004 run to the top four, is not just the dazzling organizer of his side's offensive game.
With 20 goals scored in national team competition, he is second only to Milan Baros, the journeyman forward who has managed to amass double that tally in about the same number of appearances for the Republiky.

Scoring goals has become the major issue for the proud Czechs. In qualification for these Euros, it was symptomatically the defensive winger, Michal Kadlec, who led the team's scorer list.

As for Tomas Rosicky, his splendid career which took him from Sparta Prague to BVB Dortmund to London has seen its fair share of ups and downs.

Once seen as one of the finest football prospects at his position due to his ball-handling artistry, recurrent injuries and the cruel bite of age have slowed his incredible pace.

As of late, he has been able to return to better form for Club and Country.
The red shirts are putting their outsider hopes firmly on his shoulders.
Andrea Pirlo: The Champion Is in a Class of His Own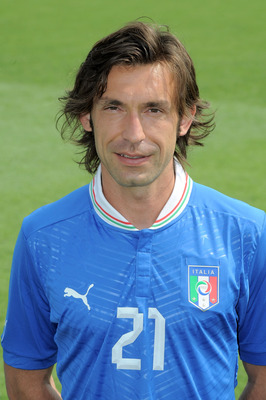 Dino Panato/Getty Images
Don't miss a single match of the Azzurri!

Caught up in the maelstrom of Calciopoli, distracted by the tales of bad temper that seem to characterize rising star Mario Balotelli, humbled by a painful loss to Russia only days ago, it would seem that temperamental Italian football fans are in for a repeat of the frustration they suffered two years ago.

Don't believe the Cassandras crowing loudly on every boulevard—Italy is still one of the finest acts to be seen in this tournament.
And there is a reason: Andrea Pirlo (33) is back—with a vengeance!

If Xavi Hernandez is the maestro of this competition, Andrea Pirlo is the undisputed "campeone." And this might well wind up as being his very special tournament.

Discarded from his great AC Milan at the end of last season for apparently being too slow and frail to satisfy the trophy hunger of Silvio Berlusconi, many thought that his move to the venerable "Old Lady" that is Juventus was an act, more of honorable grace than an investment in that club's sporting future.

After a magnificent season in black and white, leading Torino to its first Championship since being disgraced by demotion for involvement in alleged match-fixing—and sensationally ending Series A-play undefeated—the smirks and smiles in San Siro for having successfully offloaded the expensive playmaker have slowy faded to utter disbelief.

As if he had fallen into a fabled fountain of youth, Andrea Pirlo became the infatiguable "directore," orchestrating almost every splendid Juve attack with his pinpoint precision passing, energizing the abundant young talent of Claudio Marchisio, Emanuele Giaccherini and Arturo Vidal, and reading every move his opponent envisioned with his instinctive anticipation and fluid positioning.

He was simply irrepressible—the fruit of 83 appearances and four major tournaments in National Blue, which climaxed in Berlin in the summer of 2006, when Italy last held a coveted World Cup trophy.

The emphasis is on "last held."

Because Italy is always a secret favorite heading into any tournament and Cesare Prandelli's selection has all the weapons to take Poland and Ukraine 2012 by surprise.

The circumstances have been similar before. Scandal has once again engulfed his squad, leading even to rumours of precocious forfeit.

Winning the Euros is more uncertain and difficult than taking a World Cup, it is said.
It may or may not happen.

But in either case, as friends of football we will all have the tremendous pleasure of seeing one of the true artists of the sport at his creative best.
Florent Malouda: Has His Time Come at Last?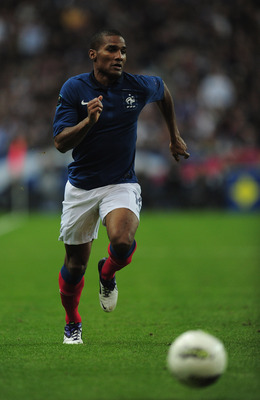 Jamie McDonald/Getty Images
One match you must definitely not miss during the upcoming Euro takes place on the June 11, when the injury depleted yet always valiant Three Lions face their special nemesis: Les Bleus.

Surprisingly, Laurent Blanc may decide to call upon an unlikely veteran of the "Equipe Tricolore," French Guayanan-born Florent Malouda, who will be only two days shy of his 32nd birthday.

Though still relatively young, the much touted Chelsea star was seen by many as a probable candidate to be readily scratched from the President's initial shortlist heading into this tournament.

For, despite all of his apparent talent, Florent Malouda has been very inconsistent in his some 75 appearances for France.

Starring alongside the legends Zinedine Zidane and Thierry Henry in the 2006 World Cup campaign, it could have then been assumed that the versatile and technically elegant midfielder Florent Malouda would be enthroned as a heir apparent to lead Les Bleus in central midfield alongside the dynamic Franck Ribery.

But disappointing Euro 2008 performances and the scandalous implosion of Raymond Domenech's 2010 squad not only disrupted the French team's status as one of Europe's stellar football powers, they also dimmed the outlook for Florent Malouda as the new potential team leader.

Instead, he seemed resigned to quietly finish his career in l'Equipe, a career tarnished by his reputation as a star that could never truly fulfill his eternal promise.

With the reconstruction of the French team now well under way, and with the exceptional class of '87—Karim Benzema, Hatem Ben Arfa, Samir Nasri, Jeremy Menez and Loic Remy finally integrated into the men's team, Laurent Blanc has again called Malouda to national duty.
It is possible that he had to realize that Yoann Gourcuff and Marvin Martin were no longer —or not quite yet —the answer to a frustrating lack of creativity in offensive midfield which has hampered Les Bleus in recent years.

It is much too early to say, but from watching the last preparatory friendly match during which a re-invigorated Florent Malouda cleverly distributed balls and successfully finished himself, there is a chance we might see one of France's finest footballers take to the field once again.

Certainly his experience, his splendid overview, and his good balance of defensive and offensive skills can help a relatively young French side re-establish former dominance on the pitch.

With shooting star Yann M'Vila at least questionable to start the tournament, Florent Malouda might well find a new position as a deep defensive midfielder, after having reliably played at most other spots during his career.

And this could prove beneficial to his matured talent, as finally he would have the game fully in front, enabling him to contribute more effectively with his accurate passing.

Needless to say, with the quality of a Franck Ribery, a Samir Nasri and a Karim Benzema to feed, this could make France a very dangerous dark-horse in the race for the Euro title.

It would also provide the deserving highlight to a great individual career.

Stay tuned.
Keep Reading