Rafael Nadal: Why a French Open 2012 Loss Would Be Devastating to Rafa's Legacy
June 1, 2012

Mike Hewitt/Getty Images
Rafael Nadal is king of the clay. It's not even a question. Nadal has won 10 major tennis titles, and is tied with Bjorn Borg for a record six French Open titles. His career record at Roland Garros is a stellar 47-1.
Oh, and he's not even 26-years-old.
Yet many wonder about Nadal's game, as well as his knees, which seem to be constantly giving him trouble. Nadal's future could be a very interesting one, and we are already talking about his legacy.
Nadal spent much of the first part of his career in the shadows of Roger Federer, who is still currently ranked third in the world and has won a record 16 major titles. Federer was ranked No. 1 in the world for a record 237 weeks.
When Federer was winning his majors, Nadal was known as the kid who kept him from winning a French Open title and giving him the career grand slam. Nadal was known for his clay court expertise, but he always seemed to fall short on the other surfaces.
It all changed in 2008 when Nadal beat Federer at Wimbledon, beating the champ where he shined the brightest and becoming just the third man ever to win both the French Open and Wimbledon in the same year.
In 2009, Nadal continued his run by winning the Australian Open, and many thought that the torch had been passed.
Yet Nadal would suffer his only loss at Roland Garros in that same year, falling to Federer. Afterwards it was announced that Nadal was suffering from tendonitis in both of his knees. He would not play in Wimbledon that year and he lost in the semifinal of the U.S. Open.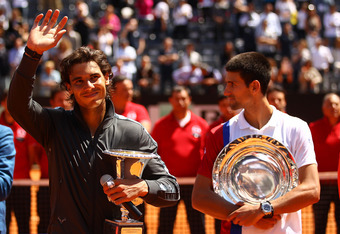 Clive Brunskill/Getty Images
However, many people still believed that Nadal was no longer just a clay court player, but the best tennis player in the world when he was healthy.
In 2010, Nadal withdrew from the Australian Open with knee trouble, and people began to doubt that he would ever be the same.
He proved all of his critics wrong, however, winning the French Open, Wimbledon, and then the U.S. Open for the first time. Federer had faded, and it seemed that Nadal could not be touched by anyone in the tennis world.
Novak Djokovic emerged as a threat to Nadal in 2011. Djokovic had won the Australian Open title in 2008, but had not done much in any other majors since. Nadal and Djokovic had played U.S. Open final in 2010, with Nadal winning in four sets.
Djokovic won the Australian Open again in 2011, where Nadal had been knocked out in the quarterfinal and momentum seemed to shift. Djokovic then beat Nadal twice on clay leading up to the French Open, becoming the first man to do so.
Nadal would still win the French Open, but Djokovic could not be stopped. Djokovic won Wimbledon and the U.S. Open in 2011, finishing the year as the No. 1 player in the world. He then won the Australian Open this year.
Nadal has now been number two for a long time behind Djokovic, just like he was number two behind Federer. Djokovic is now going for the career grand slam at the French Open, and the two will most likely face off in the final.
It would seem that Nadal has gone back to being the king of the clay, but cannot win a major on a different surface.
Despite the fact that he is only 25, his body has been holding him back for years. If Nadal were to lose in the French Open many would consider his career essentially over, having had a nice run.
He would no longer be the king of clay, and Djokovic would surpass him in the eyes of many.
Federer still holds the record for major titles with his 16, while Nadal and Djokovic have 10 and five, respectively. However, despite being ranked No. 3 in the world, Fed is no longer talked about as one of the best currently in the game.
If Nadal loses the French Open, he will fall into the same situation as Federer, despite only ever losing once at Roland Garros before this year.
For Nadal to keep his legacy alive as the king of clay, and have any chance at getting back to No. 1, he can not lose the French. If he does, his legacy will never be the same.