French Open 2012 TV Schedule: Why American Tennis Fans Should Tune in on Friday
June 1, 2012

Clive Brunskill/Getty Images
American tennis just ain't what it used to be.
If you hadn't noticed already.
We're just five days into the 2012 French Open and already the Red, White and Blue have been largely flushed from the singles fields, both men's and women's, at Roland Garros.
Not the French tricolour, of course. I'm referring, instead, to the Stars and Stripes.
Serena Williams was sent home in the first round by Virginie Razzano. Venus Williams only lasted one round longer, suffering defeat at the racquet of Agnieszka Radwanska.
On the men's side, Andy Roddick was ousted after four rounds with Nicolas Mahut, who is best remembered for losing to John Isner at Wimbledon in the longest match in the history of tennis back in 2010.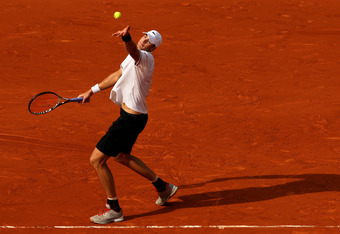 Matthew Stockman/Getty Images
Isner, as it happens, was the last American man standing in Paris, until he succumbed to Paul-Henri Mathieu on Thursday in yet another historically lengthy match.
This one, though, lasted "only" five hours and 41 minutes and was "only" the longest ever played at Roland Garros.
That's barely half as long as it took Isner and Mahut to settle their differences at Wimbledon, wherein they went (nearly) shot-for-shot for 11 hours and five minutes.
In any case, there is but one American in Paris (Sloane Stephens), aside from the ones playing the doubles competitions. So why, pray tell, should anyone back in the states pay attention to the French Open, particularly on Friday?
If patriotism is your ploy, then get to know Stephens. The 19-year-old Fort Lauderdale native will carry the American flag on Friday when she takes on Mathilde Johansson at Court Philippe Chatrier, known otherwise to most Americans (the men, at least) as Le Court de la Mort.
For general tennis fans, there will be no shortage of big names on display. Sticking with the women, there's Maria Sharapova continuing her quest for her first French Open title against Ayumi Morita and Victoria Azarenka aiming to justify her No.-1-in-the-world ranking against Aleksandra Wozniak.
Not to be confused with Caroline Wozniacki, or overshadowed by 2010 French Open finalist Samantha Stosur's faceoff with Nadia Petrova.
Among the men, Roger Federer and Novak Djokovic will both be matched against Frenchmen, Mahut for Federer and Nicolas Devilder for Novak.
Not to mention, Jo-Wilfried Tsonga and Juan Martin del Potro taking on Fabio Fognini and Marin Cilic, respectively.
In other words, there's still plenty of great tennis to take in, even if most of it won't be American made. For a look at the full French Open schedule on Friday, click here.