Clive Brunskill/Getty Images
May 31, 2012
I had yet another great day with picks going 8-2 and taking the weekly totals to 30-10. The action on the court definitely picked up, and I think it will continue to do so as we get further into the tournament.
There should be some great third-round matches Friday. Here's my look at some of the best ones.
Men's
No. 5 Jo-Wilfried Tsonga vs. Fabio Fognini: Fognini is tough, and certainly capable of pulling out the win. However, I think Tsonga will get through at least one more round.
Winner: Tsonga in four sets
No. 9 Juan Martin del Potro vs. No. 21 Marin Cilic: This is the battle of the big men. Remember when we thought these two would eventually be playing for Grand Slam titles? That's not looking so promising these days. Still, del Potro is the more consistent player.
Winner: del Potro in four sets
No. 11 Gilles Simon vs. No. 18 Stan Wawrinka: The French crowd will be firmly behind Simon, and he will need it against the crafty Wawrinka. This could be a five-set classic.
Winner: Simon in five sets
No. 7 Tomas Berdych vs. No. 31 Kevin Anderson: Anderson's big serves should keep this match close. I think Berdych could make some serious noise in Paris this year, and he won't let Anderson get in his way.
Winner: Berdych in three sets
Women's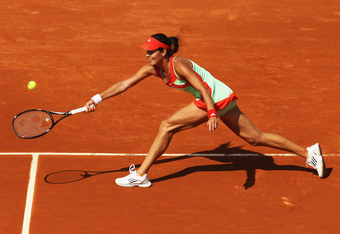 Matthew Stockman/Getty Images
No. 3 Aggie Radwanska vs. No. 26 Svetlana Kuznetsova: If Kuzzie was in top form, this would be a great match. The problem is Kuznetsova rarely plays at the level she did as a champion.
Winner: Radwanska in two sets
No. 10 Angelique Kerber vs. No. 18 Flavia Pennetta: This should be a good match. I picked Kerber to make it to the semis, so I have to stick with her. But this won't be easy.
Winner: Kerber in three sets
No. 13 Ana Ivanovic vs. No. 21 Sara Errani: This should be a good, long battle. Errani has played well throughout the clay-court season, but so has Ivanovic.
Winner: Ivanovic in three sets
No. 6 Sam Stosur vs. No. 27 Nadia Petrova: Petrova is always up and down. You just never know what you're getting with her. Winning two matches at a slam is becoming an accomplishment for her. I think that's all she'll get in Paris.
Winner: Stosur in two sets
Like the new article format? Send us feedback!