WWE 13: Confirmed Roster and Superstars for WWE's New Video Game
May 31, 2012

Even though WWE 13 won't be released until late October, the company has already started pushing the product by showing off the cover featuring WWE champion CM Punk on Raw. Along with that, the initial roster has been officially released.
It's important to remember that more downloadable characters will likely be introduced as the release date nears, but the original roster gives gamers a pretty good idea of what superstars will be in the popular video game this year.
Here's a full list of confirmed roster inclusions (via IGN):
Modern Era Superstars
| | | | |
| --- | --- | --- | --- |
| John Cena | Randy Orton | CM Punk | Undertaker |
| The Rock | Brock Lesnar | Triple H | Chris Jericho |
| Daniel Bryan | Cody Rhodes | Sheamus | Wade Barrett |
| Rey Mysterio | Zack Ryder | Dolph Ziggler | R-Truth |
| Kofi Kingston | The Miz | Jack Swagger | Santino |
| David Otunga | Kane | Kevin Nash | Christian |
| Mark Henry | Sin Cara | Epico | Primo |
| Hunico | Ted DiBiase | The Great Khali | Heath Slater |
| Jinder Mahal | Justin Gabriel | Eve Torres | Kelly Kelly |
| The Bella Twins | Kharma | Beth Phoenix | Alicia Fox |
Attitude Era Superstars and Others (stars also listed above will be separate, vintage characters)
| | | | |
| --- | --- | --- | --- |
| Steve Austin | The Rock | Triple H | Undertaker |
| Shawn Michaels | Bret Hart | Eddie Guerrero | Edge and Christian |
| New Age Outlaws | Road Warriors | X-Pac | Vince McMahon |
| Shane McMahon | Stephanie McMahon | Mankind | Dude Love |
| Cactus Jack | Trish Status | Lita | Big Show |
| Kane | Davey Boy Smith | Vader | Mark Henry |
| Ken Shamrock | The Godfather | Big Bossman | Mike Tyson |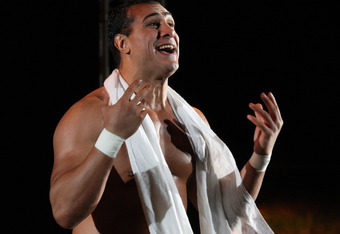 Gallo Images/Getty Images
Most Surprising Omission: Alberto Del Rio
After being in last year's edition of the game, Del Rio is notably absent this time around. Between his Royal Rumble and Money in the Bank victories and two stints as WWE champion, he definitely has accomplished enough to warrant a spot every year.
Even right now, he's working as one of the company's top heels, so leaving him out of the game would be a truly puzzling decision. That's especially true when you consider that low-level superstars like Heath Slater and Justin Gabriel are included.
You have to believe he'll be added to the roster eventually, either before the game is released or as a downloadable character. If not, there will be a gaping hole in the roster.
Best Addition: Chris Jericho
Jericho's return to the ring hasn't been very successful in terms of results, but he's still one of the WWE's biggest stars, and you have to give him credit for helping put over other talent. Putting him back in the game provides a nice boost.
The best thing about Jericho is his extensive move set. Unlike other superstars that tend to get repetitive in video games because players key in on only a handful of moves, Jericho should bring a lot more variety if he's programmed correctly.
Other notable additions include Bret Hart and Mike Tyson. All told, it's one of the deepest rosters in a long time and should provide gamers with plenty of different options once the game is finally released.