Arsenal: How Euro 2012 Could Impact Arsene Wenger's Squad Next Season
May 31, 2012

Alex Livesey/Getty Images
Whenever a major international tournament comes around, I feel like a "recently converted" Chelsea or Manchester City fan.
Being Indian, as I am, the probability of my ever being able to support my country at one of these tournaments is about the same as that of John Terry ever being a perfect gentleman. On second thoughts, maybe, I'm being too pessimistic about India's chances, but you get the drift, I'm sure.
So, given my lack of allegiance to any other country, I end up supporting teams based on the presence of Arsenal players in their ranks. So if, for example, Holland are playing Portugal, I will obviously support Holland because Robin Van Persie plays for them.
Throughout the tournament, too, I look at every incident from an Arsenal perspective, in terms of results, stats, form, injuries, the transfer market, etc.
So switching to the present, it was only natural that when the final squads for all 16 Euro 2012 participants were named yesterday, I immediately put my Arsenal thinking cap on.
If you were to believe the official Arsenal website, nine Gunners are going to be involved at this summer's championships. I would put that figure down as eight, by removing Andrey Arshavin and Nicklas Bendtner—whose Arsenal careers are as good as over—and adding Lukas Podolski, who officially becomes a Gunner tomorrow.
Let's take a quick look at these eight players, and see what their exertions this summer will mean to Arsenal's early squads next season.
NO IMPACT
Wojciech Szczesny is the first player we will look at. Being a goal keeper, I'm not that worried about his fatigue levels, and given that Poland will, in all probability, not make it past the group stages—yes, even with home advantage—he should be back in London Colney bright and early.
Per Mertesacker, the big German, is next on the list. He's been out of action for Arsenal since the Sunderland victory at Sunderland in February. After an extended period of recuperation and rest, the Euros will be an excellent way to ease him back into game action. He will probably not be given any extra summer holidays, so expect to see him fit and raring to go in August.
Alex Oxlade Chamberlain was given an easy ride by Arsene Wenger last season. He barely got any game time over the past three months. While that may have frustrated us Gooners immensely at the time, it now means that this summer's tournament will not cause major burn-out issues. I see no problem with him being back in training well before the season starts.
MINOR IMPACT
Tomas Rosicky was named third in arsenal.com's Player of the Season poll. That did raise a few eyebrows, primarily because he was no more than a bit-part player for the first half of the season. He spent some time out injured during those early months, and was otherwise used primarily off the bench. But given that he started almost every game since February, and that he's 31—never mind his self-proclaimed "football age" of 29—I believe Arsene Wenger will ease him gradually into next season.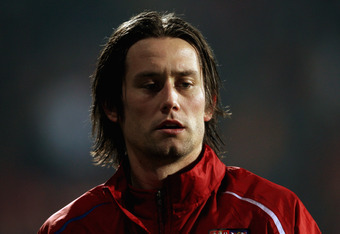 Scott Heavey/Getty Images
MAJOR IMPACT
Laurent Koscielny was arguably Arsenal's most influential and consistent defender last season. His 42 starts placed him behind only Szczesny, van Persie, Song and Walcott in terms of number of appearances, and given that he's likely to play a key role for France this summer, I can foresee Wenger giving him some extra vacation time.
Theo Walcott was almost an ever-present on Arsenal's right, and will probably be likewise for England in Poland and the Ukraine. Given how his game is largely built on pace and sharpness, the manager will want his batteries fully recharged before he embarks on another long campaign with Arsenal. He will remain on the training ground when the season commences. There is, of course, his contract situation as well, but for the moment, I'm assuming that will be sorted out.
Lukas Podolski had a long and heart-breaking campaign for his hometown club, FC Koln, who were relegated from the Bundesliga. Given his sensational strike rate for Germany, and their propensity to reach the business end of every tournament, I don't see him having a relaxed time at the Euros. He also needs to get used to his new surroundings in north London. He's another who will make a late start for Arsenal next season.
And finally, Robin van Persie. With every day that passes without pen being put to paper, the probability of him being a Gunner next season decreases ever-so-slightly. However, ignoring that aspect of the matter, I can't see him playing for Arsenal till the end of August. He's had a grueling campaign last term, looked off the pace during the run-in and will certainly get a much-deserved break after the Euros.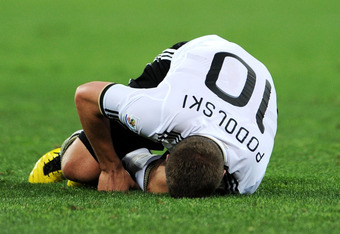 Jasper Juinen/Getty Images
There is, of course, the added distraction of Stuart Pearce and his Olympic circus, but I'd prefer not to voluntarily depress myself and add that to the mix.
And then, of course, the dreaded injury bug will be very much at large as well, so that may upset a few apple carts.
But now for some better news. The list of Arsenal first team players not going to the Euros makes very happy reading indeed: Diaby, Sagna, Vermaelen, Arteta, Santos, Ramsey, Song, Wilshere, Djourou, Fabianski, Jenkinson, Frimpong, Gervinho, Gibbs and Coquelin. Are you smiling, too?
So who can we expect to see running on to the pitch when Arsenal line up for the first time in 2012-13? Here's my prediction:
Szczesny; Sagna, Mertesacker, Vermaelen, Gibbs; Song, Arteta; Chamberlain, Ramsey / Wilshere, Gervinho.
That's not the weakest Arsenal line-up I've ever seen, but it does raise more than those three question marks about our striking options. I can so picture Arsene Wenger sticking with Chamakh and starting next season with him playing up-front, but after the last 18 months, that is a cringe-worthy prospect.
Whatever leniency the club may show towards its fatigued players, if I were the Arsenal Board, I wouldn't be sanctioning any vacation time to Messrs Wenger and Gazidis till all the contracts were signed, sealed and delivered.
Follow me on Twitter @ratanpostwalla