French Open 2012 Schedule: Day 4 TV Schedule, Matches and Bracket Guide
May 30, 2012

Clive Brunskill/Getty Images
The first round is in the books and the Americans already have their collective tail between their legs.
First it was Andy Roddick, then on Tuesday it was Serena Williams, who fell to unranked Virginie Razzano 4-6,7-6, 6-3. Coming into the tournament ranked No. 5 in the world, Serena's shocking first-round exit is a reminder just how badly Americans struggle on the clay surface at Rolland Garros.
With the first round now completely in the books, it's something to consider when making the remainder of your French Open picks: beware of the Americans.
Here are some of the featured matches to keep an eye on Wednesday.
TV Schedule
| | | | |
| --- | --- | --- | --- |
| May 30 | 5 a.m. - 10 a.m. (Live) | Early Rounds | ESPN2 |
| May 30 | 10 a.m. - 3 p.m. (Live) | Early Rounds | Tennis Channel |
Notable Matches
Men's
No. 3 Roger Federer vs. Adrian Ungur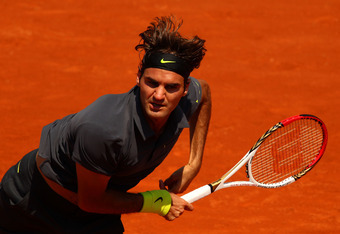 Clive Brunskill/Getty Images
Federer normally breezes in early-round matches to ensure he maintains a high energy level for the second week of Grand Slam events, but had to fend off Tobias Kamke 6-2, 7-5, 6-3 to advance in Round 1.
Okay, maybe it was just the second set that gave him trouble, but Federer displayed slower foot speed than normal, and I wonder how that will translate as the competition gets stronger.
Can Ungur slow him down? Can he shock the world?
This match will give us a strong idea of where Federer's game currently resides and if we can consider him a legit contender to take home the title.  
No. 5 Jo-Wilfried Tsonga vs. Cedrik-Marcel Stebe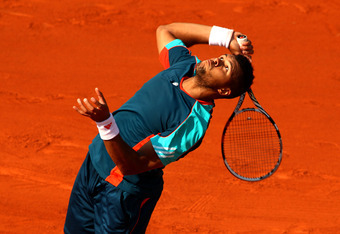 Clive Brunskill/Getty Images
The hometown hero Tsonga has all of the physical tools to win a Grand Slam, yet he seems to struggle leaping over the mental hurdles that plague him on the court.
Tsonga even recently declared that he had no chance of becoming the first Frenchmen to win at Rolland Garros since 1983.
With a mental outlook like that, he sounds like a ripe candidate to get shocked by Stebe, who is a worthy opponent.
Women's
No. 1 Victoria Azarenka vs. Dinah Pfizenmaier
Azarenka showed some extreme rust in dropping the first set in Round 1, and can't afford to play that sloppy again against the up-and-coming 20-year-old Pfizenmaier.
This is Azarenka's tournament to win, and beating Pfizenmaier soundly is a must.
No. 3 Agnieszka Radwanska vs. Venus Williams
Hard to believe Venus is the last Williams sister still standing, but here we are.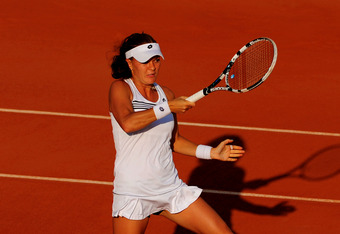 Mike Hewitt/Getty Images
Her comeback after being diagnosed with Songren's Syndrome has gotten off to a terrific start, and she'll have her hands full against Radwanska, who has quietly become one of the most consistent players on the tour.
Radwanska's ground game is outstanding, and she is very even-keeled—an essential trait in an individual sport like tennis.
Yet Venus has a 5-2 record against Radwanska and much more experience, and will have the additional motivation of avenging her sister's loss.
This is going to be the best match of the second round.
Here are two juicy matches that are still in play as we head to the second round.
Men's
4th Round: No. 6 David Ferrer vs. No. 10 John Isner
Ferrer is a clay court expert who glides on the surface smoother than almost every other player on the tour.
Isner has struggled on clay, but has the big serve that can give Ferrer fits. He has showed marked improvements in his movement on the clay and is a wild-card threat to make a deep run.
Beating Ferrer would be a huge step.
Women's
Quarterfinal: No. 2 Maria Sharapova vs. No. 9 Caroline Wozniacki
They have played against each other on clay twice before, with Sharapova taking home wins both times, at Rome in straight sets.
Sharapova has a 4-2 lead all-time against Wozniacki, but this may be the best match of the entire tournament. While Wozniacki hasn't had the greatest 2012, she is oozing with talent and seems ready to seriously contend for a title.
Sharapova might be her biggest hurdle.