Serena Williams Folds at French Open After Meltdown
May 29, 2012

Who said there wouldn't be drama in the first round of the French Open?
Serena Williams, a heavy favorite to win the tournament, suffered an epic upset at the hands of Virginie Razzano of France, the 115th-ranked player in the world.
Razzano won 4-6, 7-6, 6-3 to advance to the second round.
After winning the first set, Williams went to a tiebreak with Razzano in the second. Serena put herself up 5-1 and looked ready to advance to Round 2 before falling apart and allowing Razzano to even up the match. 
Then came the meltdown (via Yahoo Sports).
As Razzano took a bathroom break, Williams broke down into tears. She had to be upset at herself for blowing the set, but a large part of her emotional outburst likely had to do with the crowd.
The French audience, understandably rooting for the local girl, was all over Williams, and the tears overcame her. 
But the drama didn't stop there as Serena's struggles continued into the final set. 
Razzano won the next five games to take an absolutely commanding lead over Williams, and a comeback effort looked all but lost. That is, until Williams decided to ditch the pity-party.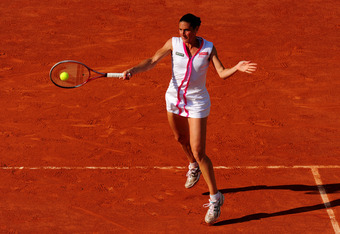 Mike Hewitt/Getty Images
The fire appeared to be back as Williams broke Razzano once and won the next three games. Down 5-3 at this point, Serena looked to break her opponent once more and climb within a game.
I'll let ESPN's Chris Fowler sum up the proceeding action with this memorable tweet.
Crazy finish. Razzano cramping,screaming,Called for hindrance twice. Blows 2 MPts.But Serena ultra tight,too.Wild drama.

— Chris Fowler (@cbfowler) May 29, 2012
The final minutes of this one were the definition of back-and-forth. Neither player wanted to lose, but neither seemed to have enough to win.
There ended up being six more match points before Razzano finally finished Williams on the eighth one. 
The French Open has always been Serena's worst major event (just one win back in 2002, compared to at least three wins in the other three), but she had never been ousted in the first round before.
But this year, Virginie Razzano, the Paris crowd and the drama surrounding an unprecedented upset were all too much for Serena Williams, who entered Roland Garros with plenty of momentum in her favor.