Germany Euro 2012 Roster: Latest on Team's Starting 11 and More
May 29, 2012

Mike Hewitt/Getty Images
On Monday, May 28, 2012, German coach Joachim Löw announced his 23-man squad for Euro 2012. Besides a few anomalies—exclusion of Borussia Mönchengladback keeper Marc-Andre ter Stegen and Borussia Dortmund's Sven Bender—Löw's squad doesn't have other major surprises.
Löw has also opted to travel to Poland and Ukraine with only three strikers—the most notable emission being VfB Stuttgart's Cacau. Veteran strikers Miroslav Klose and Lukas Podolski will team up with Bayern hitman Mario Gomez to lead the offensive. Löw's selection makes sense, as Germany will predominantly play a 4–2–3–1 formation.
Goalkeepers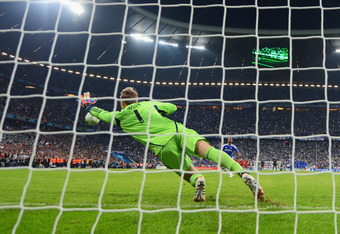 Mike Hewitt/Getty Images
Manuel Neuer of Bayern Munich, Tim Wiese of Werder Bremen and Ron-Robert Zieler of Hannover 96 have been selected as the three goalkeepers. It is a bit of a surprise that Marc-Andre ter Stegen was selected for the 23-man squad, as he was recently given his international debut against Switzerland.
Against the Swiss, Stegen leaked in five goals which might have cost him a place; however, the defence was miserably weak and the midfield poor.
My Prediction:
Manuel Neuer will start all games. Neuer has been in spectacular form all throughout the season, and his form will also be of key success for the team.
Defense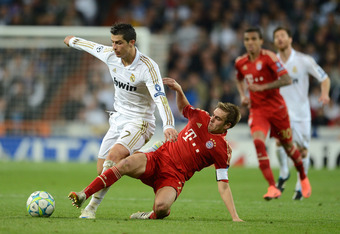 Jasper Juinen/Getty Images
The Mannschaft's defensive woes need to be sorted if they intend to win the crown in 2012. Against the Swiss, they were completely exploited. In fairness, Per Mertesacker is still recovering from his injury and Benedikt Höwdes was played out of position.
However, in the Euros, I don't expect the defence to let them down, as they do have quite capable midfielders. Per Mertesacker and Philipp Lahm are two of the most experienced and capable defenders in the world, while Mats Hummels has really announced himself upon the world stage with his impressive campaign for Borussia Dortmund.
The following players have been called up:
| | |
| --- | --- |
| Players | Team |
| Holger Badstuber | Bayern Munich |
| Jerome Boateng | Bayern Munich |
| Benedikt Höwedes | |
| Mats Hummels | Borussia Dortmund |
| Philipp Lahm | Bayern Munich |
| Per Mertesacker | |
| Marcel Schmelzer | Borussia Dortmund |
My Prediction:
The back four will comprise of Lahm, Badstuber, Hummels and Boateng.  Philipp Lahm is an automatic selection, and he will probably be deployed at left-back, while Boateng will have to perform strongly at the right. In the center, Germany has more solid options. 
Per Mertesacker has regained his fitness, and might feature in a few games. Mats Hummels has been one of the best players for reigning champions Borussia Dortmund, and he will also see a lot of playing time. 
Midfielders: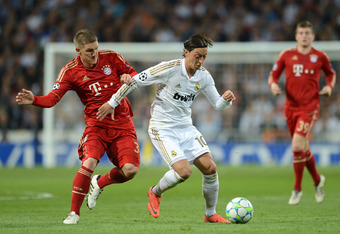 Jasper Juinen/Getty Images
For a team that predominantly plays the 4–2–3–1 formation, it is no surprise that Germany's biggest strength is their formidable midfield. Löw has a plethora of players who can turn the game to their advantage. For comparison, I have used the ratings assigned by Whoscored for the players of their respective domestic leagues for the entire season.  
| | | |
| --- | --- | --- |
| Player | Team | Rating |
| Lars Bender | | 7.27 |
| Mario Götze | Borussia Dortmund | 7.47 |
| Ilkay Gündogan | Borussia Dortmund | 7.23 |
| Sami Khedira | | 6.76 |
| Toni Kroos | Bayern Munich | 7.49 |
| Thomas Müller | Bayern Munich | 7.21 |
| Mesut Özil | Real Madrid | 7.35 |
| Marco Reus | Borussia Mönchengladbach | 7.9 |
| Andre Schürrle | Bayer Leverkusen | 7.13 |
| Bastian Schweinsteiger | Bayern Munich | 7.42 |
With the exception of Sami Khedira, all of the midfielders have achieved a rating of above seven, which is quite remarkable when you realize that exceptional players like Luka Modric and Xabi Alonso have received a rating of 7.58 and 7.46 respectively.
My Prediction:
Expect a bit more rotation in midfield, as Löw has quite some options. However, I feel the combination of Khedira, Schweinsteiger; Podolski, Özil and Reus might be the best one. 
Forwards:
Löw, as aforementioned, has opted to take only a three strikers to Poland and Ukraine this summer. These three, Klose, Podolski and Gomez, have been all excellent this season, racking in a combined total of 71 goals and 16 assists.
My Prediction:
Miroslav Klose has always performed admirably for the German National team, and he will be looked upon mostly. However, with Mario Gomez and Lukas Podolski also in scintillating form, he is not an automatic choice. One poor game, and he might be paving the way for Gomez. 
My Starting XI:
My Starting XI would consist, predominantly, of the following:
Neuer; Lahm, Hummels, Badstuber, Boateng; Khedira, Schweinsteiger; Podolski, Özil, Reus; Klose