French Open 2012: Top American Stars to Watch at Roland Garros
May 29, 2012

Matthew Stockman/Getty Images
The first round of the French Open is underway and it has already been a rough start for the American men on the clay courts at Roland Garros.
Andy Roddick was upset in the first round by Nicolas Mahut—who is most known in the world of tennis for his loss to John Isner in the longest match ever played at Wimbledon a few year's ago—in four sets, continuing Roddick's downward spiral. In addition, top-ranked American Mardy Fish is being forced to miss this major due to a heart ailment.
On the women's side, things are much better for the Americans. On the first day of competition, American women went 10-0 in the first round, but that great day was soured earlier today when Serena Williams was upset in the first round, the first time in her career she has lost in the first round of a grand slam event.
Historically, Americans have struggled on the clay courts of the French Open, which are quite different from the hard-court surfaces they grew up playing on. The last time an American took home a French Open title was 10 years ago, when Williams defeated her sister, Venus, in the finals.
That being said, there is a good mix of Americans left remaining at Roland Garros who are poised to make deep runs in the tournament, so here are four remaining players to watch.
Williams, a 13-time grand slam singles winner, is just tankful in a lot of ways to be playing grand slam-level tennis once again after her battle with Sjogren's syndrome, a condition that can cause fatigue and joint pain.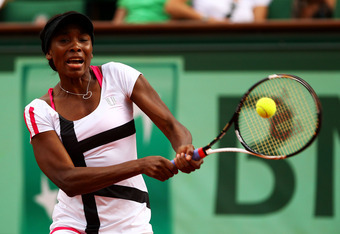 Clive Brunskill/Getty Images
"I just learned how to live with this. It's different. I have a lot to learn still," Williams said. "I learned how to just—just learning. So I think that's my biggest challenge. I learn a lot every week, especially having to play a professional sport."
But that didn't stop her from winning her first-round match over Paula Ormaechea of Argentina 4-6, 6-1, 6-3, allowing her to reach the second round.
It was a struggle in the first set, but Williams rebounded in the second and third and really started to show her championship form late in the match.
The French Open has been the weakest major championship for the elder Williams sister, but she is one of the most talented players in the field and a deep or even a potential championship run is possible for her if she plays her best.
John Isner
John Isner used to only be known for his 6'9" height and his rocket of a serve. But over the last few years he has honed his game and improved his ability to come in and play at the net, and it's paid off. He is now the 11th-ranked player in the world, and the highest ranking American—on the men's side—at the French Open.
Isner's game is well suited for the clay courts at the Roland Garros, as his incredible serve moves even faster on the clay courts. This forces his opponents to play even farther back from the baseline than normal, and Isner should be able to take advantage of that by moving to the net and playing some soft drop shots.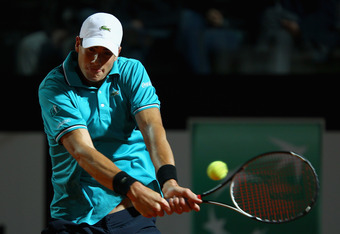 Clive Brunskill/Getty Images
Isner has a favorable path to the semifinals in this year's draw, as he is in the quarter of the bracket with Andy Murry instead of the three favorites—Rafael Nadal, Roger Federer and Novak Djokovic.
Even if Isner reaches the semis and comes up against one of these players, he has the confidence to play them tough. And who knows, if his serve gets hot at the right time, he has the ability to be lifting the trophy in a few weeks.
Bethanie Mattek-Sands
Mattek-Sands is a relatively unknown on the singles tour and is ranked No. 167 in the world. Most of her success has come on the doubles tour, but her scrambling game is well suited for the French Open.
Last year, she reached the third round and is off to another good start this season, as she scored a first-round upset over 12th-seeded Sabine Lisicki (6-4, 6-3) in her match yesterday.
She battled back from injuries for much of the last year, but she is back and finally healthy, just in time for the Open. She is also confident since she is coming off a doubles win at the Brussels Open.
Mattek-Sands isn't the most youthful American hopeful at 27 years old, but she has the experience and the grit to make an interesting run this year.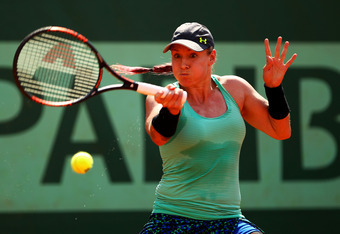 Clive Brunskill/Getty Images
Brian Baker
Brian Baker is exactly what American fans love to watch—a comeback story. In 2005, he was the second-ranked junior in the world and was looking forward to a long and successful career. Instead, in a span of four years, he had five major surgeries, and his career had seemingly been derailed.
But now a 27-year-old, Baker is making a comeback on the biggest of stages at the French Open, after he won a Challangers tour tournament in April, earning him a wild-card spot at the Open.
Baker is capable playing on clay, too. As he showed by reaching the finals of an ATP tour warm-up event for the French in Nice, France last weekend.
He is off to a great start at the French Open, as he swept his first-round opponent, Xavier Malisse, 6-3, 7-6, 7-6 en route to the second round. His next opponent will be a much stiffer challenge, though, as he faces off with 11th-seeded Gilles Simon.
But with what Baker has faced in life, a match against a top-ranked player certainly won't intimidate him.