Serena Williams: Reasons Serena Is Equipped to Win 2012 French Open
May 29, 2012

Clive Brunskill/Getty Images
She has been there so many times before, and it is once again time for Serena Williams to prove to the world that while she may be aging, she is still a force to be reckoned with. Currently ranked fifth in the world of women's tennis, Serena is 17-0 on clay this year, a statistic that bodes well for her chances at this year's tournament.
Recent injuries have proved a deterrent from the form we have come to expect from the American. In 2011 Williams suffered from a life threatening blood clot that put her out of action for last year's French Open and a back problem in March 2012 caused her to pull out of her semifinal showdown with Li Na at the Italian Open.
A series of unfortunate events has caused critics to cast doubt over her ability to compete again on the world stage. However, we will see Tuesday after her first-round match with Virginie Razzano whether or not there are are any cobwebs that need to be dusted off.
Back at full fitness, Serena hopes to not only compete in this year's French Open but also win it, and anyone underestimating her would be silly to do so.
Here are the reasons why Serena Williams is still considered a hot favorite:
Confidence
The BBC reports that Serena is confident that she can win her second French Open title come June 10th at Roland Garros. She said:
"I feel really amazing right now and I feel I can do a lot more and I want to do a lot more."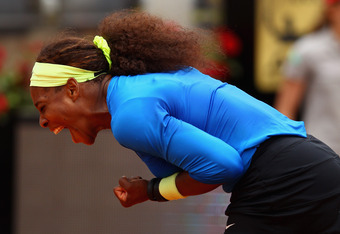 Clive Brunskill/Getty Images
Coming into the tournament off the back of some superb form, the only thing that stands in the way of Williams and victory is the belief in herself. She knows she can beat anyone on her day, now it's time for her to go out and prove it.
Best on clay
Second favorite to hoist the French Open and current world No. 1, Victoria Azarenka, lost to Serena on clay in the final of the Madrid Open on May 14. This gives Williams a distinct mental advantage over her main counterpart that could prove crucial in determining the eventual winner of this years open.
Respected
What Serena Williams has achieved in tennis will be talked of and respected for many years after her eventual retirement. A future hall of fame candidate to say the least, Williams draws the admiration of even some of her main rivals. According to ESPN, Maria Sharapova, another favorite to win the Open, had this to say about Serena:
"It's certainly great to see her back, and playing as the champion that she is. To want to play again and to have the desire is always really good to see, because there are so many other options."
I'm sure Sharapova wishes that the Williams sister wasn't playing this year, but a nice gesture nonetheless.
It is by no means a formality that Serena Williams will win the 2012 French Open. She will have to grind out sets and defeat the worlds best to attain her second title, but she has been doing it her whole career, and that is what champions are made of.