Pacquiao vs. Bradley: 4 Reasons Why Pac-Man Will Keep Rolling
May 29, 2012

Stephen Dunn/Getty Images
Timothy Bradley, Jr. challenges Manny Pacquiao at the MGM Grand on June 9th for the WBC welterweight title. Pacquiao returns from a seven-month sabbatical following a tough majority decision victory against Juan Manuel Marquez last November. Bradley knocked out Cuba's Joel Casamayor in eight rounds earlier that very evening.
Bradley's tough, physical fighting style projects to contrast nicely with Pacquiao's finesse and speed. The undefeated light welterweight champion, (28-0, 12 KOs) Bradley presents a serious chance to usurp Manny Pacquiao's glory and his title in Las Vegas. In 2008, Bradley shocked England's Junior Witter to capture the WBC light welterweight belt.
But the 33-year-old Pacquiao, his discipline re-calibrated outside the ring through devotion to his political commitments, Catholic faith and his family, will unequivocally give Timothy Bradley the fight of his life.
Why will the Pac-man deliver Bradley with the first loss of his professional boxing career?
1. Experience Fighting as a Southpaw vs. Orthodox Practitioners
Bradley understands Pacquiao fights with a southpaw style and will undoubtedly prepare with great cognizance of this aspect of the fight. By simple nature of boxing demographics, while Bradley must prepare specifically for Pacquiao's lefty style, Pacquiao will feel right at home against Bradley's orthodox stance.
As the fighters start to fatigue, Bradley could resort to reaching on his jab or dropping his right hand; either could spell doom for the challenger as Pacquiao will look for these standard southpaw opportunities.
2. Psychological Endurance
While Bradley fights with palpable emotional and mental toughness, the energy of the stage could very likely drain the 28-year-old Bradley. Pacquiao fights in a major Las Vegas title bout for the 13th time, while Bradley finds himself in main event-style spotlight for the first time in his career.
If Pacquiao can survive the early-round onslaught Bradley's adrenaline could produce, the more experienced Pacquiao's counter-punching opportunity will present itself in the late rounds.
3. Physical Endurance
Bradley himself indicated to the media that he felt Marquez lost to Pacquiao because, "if you want to win the championship, you've got to take it to the champion," according to ABS, a Filipino news source.
This soundbite would appear to confirm our theory that Bradley will come out swinging and very possibly looking for the knockout. In this case, Pacquiao's aforementioned experience and patience should combine to give him an opportunity to use his incredible stamina to punish the younger Bradley for any mistakes late in the bout.
4. Pacquiao Has Something To Prove
A congressman and spiritual leader in his home country of the Philippines, Manny Pacquiao looms as a national hero, larger than life. With that notoriety came scrutiny, as controversies personal, professional and political have given Pacquiao every reason to focus an unprecedented level of energy on this title defense.
Following a dubious showing against Marquez last fall, Pacquiao's much-anticipated matchup with Floyd Mayweather again dissipated amid wild allegations of steroid abuse leveled against Pacquiao by Mayweather.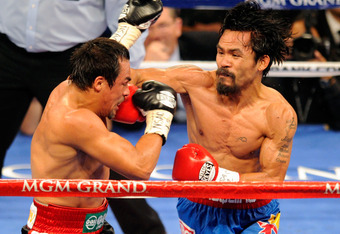 Ethan Miller/Getty Images
Pacquiao's wife, Jinkee, insisted in an HBO interview for 24/7 that their marital problems distracted her husband in his November 12th fight. Pacquiao looked vulnerable opposite a fighter five years his senior, and boxing insiders whispered among each other that the Filipino icon could be vulnerable against a young gun like Bradley.
In the past month, Pacquiao again endured a rough news cycle as his religious and political views prompted sufficient backlash that the fighter deemed it necessary to publicly state his tolerance of homosexuals. Pacquiao's religious convictions preclude him from supporting same-sex marriage, a position for which he drew substantial criticism from the public and media alike.
No doubt, Manny Pacquiao will relish the simplicity of the ring on June 9th.
You can follow me on Twitter: @StepanekButton