Roger Federer: Ranking Fed-Ex's Greatest Career Moments Ever
Clive Brunskill/Getty Images

Roger Federer reached another milestone on Monday as his straight set victory in the first round of the French Open was his 233rd career Grand Slam victory, thus tying Jimmy Connors, who set the open era record.
With arguably the most successful tennis career ever, it is difficult tough to narrow down Federer's illustrious career.
That said, here are five achievements from the tennis career of Roger Federer that prove he is one of the most durable and dominant players to ever play.
Begin Slideshow

»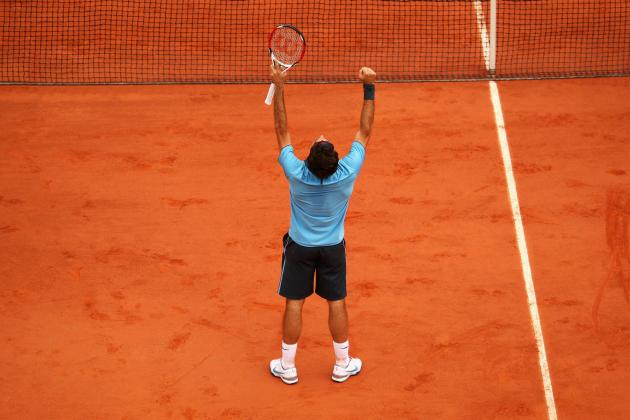 Clive Brunskill/Getty Images

Throughout his career, the least successful major for Federer has always been the French Open.
In 2009 though, Federer finally ripped the monkey off his back with a straight set victory over Robin Soderling to secure his first French Open title.
The victory was Federer's 14th career Grand Slam, tying him all-time with Pete Sampras. More importantly though, the 2009 title gave Federer the career Grand Slam (a title won at every major).
The career Grand Slam, a feat unaccomplished by Sampras who never won the French Open, speaks volumes of Federer's skills and shot-making abilities as player. His ability to win on grass and hard court surfaces was never in question--with his 2009 French Open victory, he proved to the critics his true clay court abilities.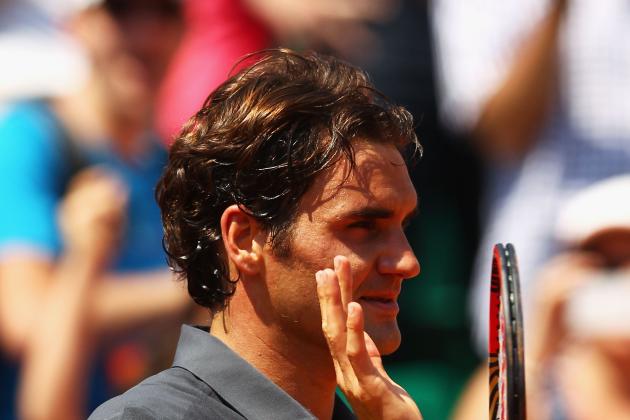 Clive Brunskill/Getty Images

By tying Jimmy Connors on Monday, Federer finally achieved the statistic that many of us already knew—he's consistently awesome in majors.
With his 233rd career win at Grand Slams, Federer put a statistic to the longevity and durability that he has maintained throughout his career—especially at the Slams.
Overall, Federer is 233-35 in majors, yielding a winning percentage 86.9%.
Along with that, Federer has never missed a major due to injury during his entire professional career.
What does this all add up to? If you draw Roger Federer in a Grand Slam, start praying, because he is one of the toughest outs in sports.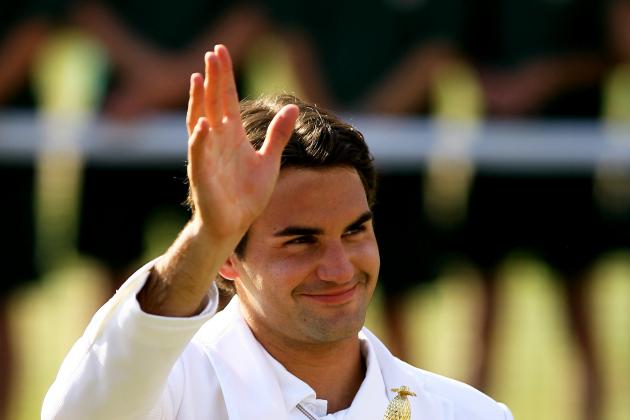 Ryan Pierse/Getty Images

From 2003-2007, Wimbledon was owned by Roger Federer.
During his streak of five straight Wimbledon championships, Federer beat the likes of rivals Andy Roddick and Rafael Nadal multiple times.
Although this is surprisingly not a record (it actually ties Bjorn Borg who accomplished the same feat from 1976-1980), Wimbledon long seemed like Federer's home, which makes it truly fitting that Federer maintained such a long championship streak there.
Just as a reminder to the tennis world after having his streak broken in 2008 by Nadal, Federer exacted his revenge by winning the 2009 Wimbledon championship over none other than America's lovable loser, Andy Roddick.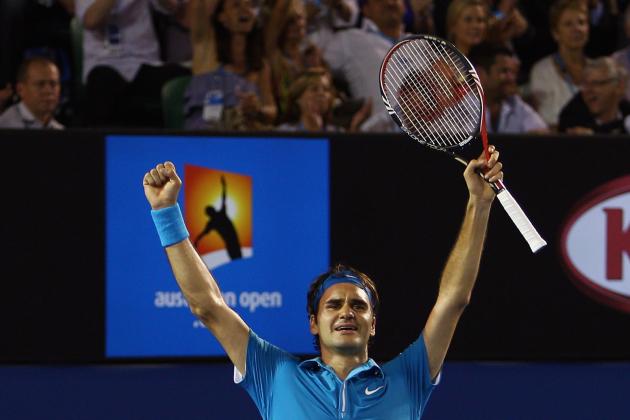 Mark Dadswell/Getty Images

Forget for a second the Federer will soon be the winning-est Grand Slam player in the open era after he handles his second round French Open match. There is a more telling fact that speaks to Federer's dominance of majors.
Federer holds the longest and second longest streaks of consecutive Grand Slam finals.
He accomplished this with 10 appearances stretching from the 2005 Wimbledon to the 2007 US Open and eight from the 2008 French Open to the Australian Open in 2010. Look deeper; that means in the 19 majors from Wimbledon in 2005 to the Australian in 2010, Federer was in the finals for 18 of them.
There was one time he didn't make the finals, the 2008 Australian Open, where he lost in the semi-finals.
The mentality every player from 2005-2010 took to EVERY Grand Slam: if I want to win, I have to go through Federer.
His record in those 18 finals appearances during that ridiculous stretch: 12-6.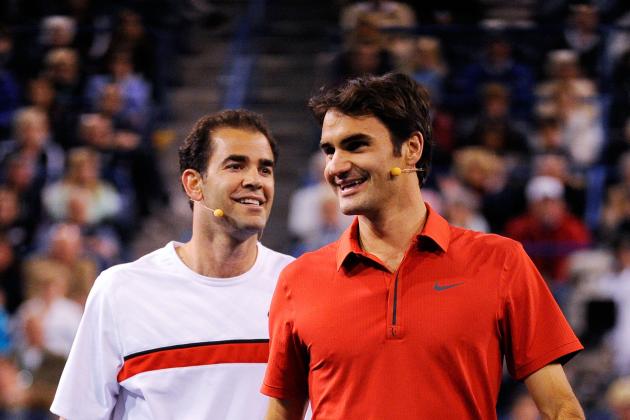 Kevork Djansezian/Getty Images

Federer raises trophies.
The most, in fact, is with 16 career men's singles Grand Slam titles; Federer is slightly ahead of former record holder, Pete Sampras.
Federer, who surpassed Sampras with his 15th Slam at Wimbledon in 2009, followed that up with a victory at the Australian in 2010.
Although there is a Sampras-Federer argument, most point to the time period when Grand Slams were won as the most telling fact of their dominance.
Sampras won 14 titles stretching from 1990-2002, while Federer won more titles, 16, in a shorter period, 2003-2010.
For nearly eight years, Federer dominated tennis as he won at least one Grand Slam every year between 2003-2010.
Roger Federer has won the most Grand Slam matches and championships ever—why is there still a debate?