Andy Roddick: What a-Rod Must Do to Restore Fanbase in 2012
May 28, 2012

Julian Finney/Getty Images
Andy Roddick is slipping—literally. In the first round of the 2012 French Open, Roddick could not keep his feet on the ground, nor could he keep a firm grip on the match that he lost to France's Nicolas Mahut—6-3, 6-3, 4-6, 6-2.
Roddick has been struggling to stay in the world tennis spotlight, with another breaking point Sunday at the 2012 French Open.
The 29-year-old American has been losing a lot lately.
He is 7-10 in his last few matches and is 0-4 on clay. Roddick did suffer a hamstring injury during the 2012 Australian Open, but the red clay of the French Open has always given him trouble. Some are saying he has an "allergic reaction" to Roland Garros, and some are saying his career is coming to an end. Even Mahut said the Roddick he played in the first round of the 2012 French Open "was not the No. 1 Roddick, the No. 1 player in the world that we know."
So, what can A-Rod do if he wants to continue to be known for more than just his famous model and wife, Brooklyn Decker?
First, Roddick needs to fix the part of his game that brought him so much success: his serve.
When the former No. 1 in the world had his major breakthrough in 2003, winning the U.S. Open, everyone was talking about his serve. Roddick would routinely ace his opponents, giving him easy, non-stressful points. In 2004, Roddick set the world-record for the fastest serve—clocked at 155 miles per hour in the Davis Cup—which he held until just last year.  
Let's look at Roddick's service performance in 2012.
In the first round of the French Open against Mahut, A-Rod had only eight aces compared to Mahut's 13 aces and only won 69 percent of his first-service points. Conclusion: Andy Roddick is playing a lot more points, and running normally doesn't favor Andy. It is pretty obvious that Roddick's serve needs something else if he wants to blow away his competition.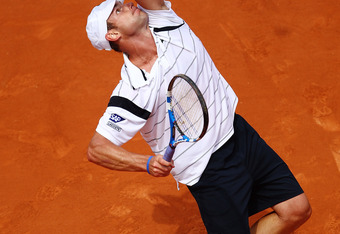 Julian Finney/Getty Images
Here are a few ideas for A-Rod's serve:
Roddick needs to work on the consistency of his serve. His first-serve percentage was 61 percent against Mahut, and if he can increase that just a bit, Roddick can begin to put his biggest weapon back in his arsenal.
In addition, Andy needs to both regain the speed of his 2003 serves and work on placement. A fast serve can be ineffective if it is easy for the opponent to reach, so Roddick should work on varying the angles and stretching out his opponent. 
Before Andy Roddick can make a strong comeback, he needs to get healthy. A-Rod suffered a partial tear in his right hamstring tendon in the 2012 Australian Open, and although he says he's fine, his agility on the court says otherwise.
Along with getting healthy, A-Rod needs to get really fit.
The world's top men are all incredibly fit. After his match against Mahut, he said that his biggest fault was his horrendous footwork. After making a big fitness push, Djokovic was able to rise in the rankings to No. 1, so if A-Rod works to increase his agility, speed and side-to-side movement, he should be able to push his way back toward the top 10.
One very positive thing that Andy Roddick is doing to restore his fan base is launching his wonderful youth tennis program focused on building health, wellness and confidence in American youth. Hopefully, this type of program will boost his public image as well.
Roddick's career has been fading for some time, but if he can reestablish his signature serve to its former glory, heal his hamstring, improve his fitness and footwork and rekindle his desire, his fans and his ranking will continue to rise.