Novak Djokovic: Why Djoker Is Guaranteed to Win 2012 French Open
May 28, 2012

Matthew Stockman/Getty Images
If Novak Djokovic wins the 2012 French Open, he'll get more than just a trophy: he will become the first man since Rod Laver in 1969 to win all four majors in a row.
However if the Serbian-born player wants to win the elusive "quad," he will have to find the rhythm that allowed him to dominate the competition in the past year's Wimbledon, the U.S Open and the Australian Open.
There is no doubt that the 2012 French Open will be the toughest slam that Djokovic has ever played in, and for good reason. The Djoker will most likely face off against No. 3 Roger Federer, who famously ended Djokovic's 43-match winning streak in last year's French Open.
If Djokovic gets through that, he will face the only man who truly stands in his way from achieving greatness: Rafael Nadal. Djokovic is currently 2-11 against Nadal on clay, and Rafa is going for a record of his own. If the Spaniard wins this slam on clay, he will surpass the great Bjorn Borg with seven French Open wins.
Although there are two great story lines in the 2012 French Open, the spotlight will continue to shine on Djokovic, as he wins his fourth consecutive major.
Here's why.
First, Djokovic has a history of playing on clay. Djokovic grew up playing on dirt because up until recently, it was the court of choice in Serbia. Great clay court players know that because a little pace is taken off on the clay, the matches are far more strategic, making the games longer than on hard courts. So, to win, players have to be quick side-to-side and dig down deep to come up with energy for the possible fourth and fifth sets.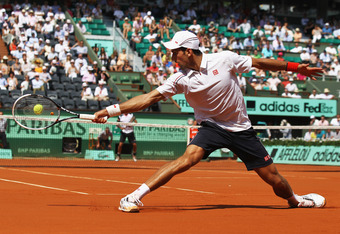 Matthew Stockman/Getty Images
Djokovic is one of the quickest players in tennis with great movement (not to mention a great drop shot that plays well on clay), and looking at his statistics, he is great at rallying back. After winning the first set, Djokovic has won 100 percent of his matches and after splitting sets, Djokovic has won 83 percent of his matches.
One of the biggest reasons why Djokovic can win the 2012 French Open is because he has trained harder than in past years. When he first came on the scene Djokovic would get worn down by the end of a three-set match, which is a detrimental flaw to have on clay. To overcome this, Djokovic hired a new fitness coach, Gebhard Phil-Gritsch, who worked with him to increase his flexibility (the Djoker took to the yoga mat for that one), his lateral movement and his stamina. Djokovic also started spending time in a specialized fitness "egg" (called a CVAC pod) that increases circulation and adds oxygen-rich blood cells to the body.
Djokovic said this really helped him to improve his stamina, and ultimately after applying all of his new fitness techniques, Djokovic rose to No. 1 in the world. Obviously Djokovic won't win the 2012 French Open just because he spends time in a specialized fitness pod, but his increased fitness level will be crucial in this year's grand slam.
Djokovic will most likely face off against Roger Federer in the semi-finals, but the Swiss player won't end the Djoker's run for the 2012 French Open. Why? Djokovic has more momentum coming into the match, and obviously, a bigger incentive to win. Federer has not won a major title in over two years, which is the longest he has gone since 2003 when he won his first slam at Wimbledon.
The 30-year-old is also known for his play on grass, which provides quick play. However, clay courts changes the pace of the game, and Federer seems to struggle when the momentum of the match slows. Djokovic, though, is great at taking things one point at a time, which will be a big advantage for him against Federer.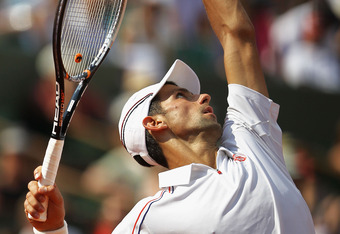 Matthew Stockman/Getty Images
The odds are favorable for Djokovic against Federer, but he will have to battle when he faces Nadal in the final. While it's true that Nadal as been King of Clay for the past six years, Djokovic has a few advantages over him that could help the Djoker clinch the 2012 French Open.
For example, Djokovic's strike zone is larger than most other players. He has no trouble getting a ball by his ankle—a shot most players would consider to be too low—which makes Djokovic an incredibly consistent player. Nadal's lefty spin causes most of his opponents to flail after the ball, but because of Djokovic's expanded range, he will be able to return those shots. When he does, Djokovic is able to get Nadal off of his rhythm, and put him on the defense.
It's also important to note that Djokovic has beaten Nadal on clay before. In the 2011 Italian Open, Djokovic took down the then top-ranked Nadal 6-4, 6-4. He also beat Nadal earlier in 2011 at the Madrid Open. How? Nadal was a little too predictable with very similar shot patterns, and Djokovic was able to figure them out and break him down. Who's to say Djokovic can't do the same in the 2012 French Open?
So yes, Djokovic definitely does have a tough road ahead, specifically in the semifinal and final, but the incentive pushing him is so great, that he can definitely add the 2012 French Open to his collection of grand slams.