USA vs. Brazil: All Eyes on American Attack Before World Cup Qualifiers
May 28, 2012

Gary Bogdon/Getty Images
A 5-1 drubbing of a depleted Scotland squad is hardly something to be excited about. A win over Brazil on Wednesday, on the other hand, would be a huge step for Jurgen Klinsmann's USA squad.
The Americans have struggled to score goals since the German national took over as coach. Whether it be a combination of injuries, missing stars, unbalanced play or adjusting to a new situation, the Americans simply haven't been their best since the 2010 World Cup.
Landon Donovan's hat trick against the Scots is something to be excited about. The potential to finally see Donovan and Clint Dempsey together under Klinsmann is definitely something to be excited about. But seeing what the Americans can do against a legitimate world power, with World Cup qualifiers on the doorstep in the coming weeks, is the thing to be most excited about.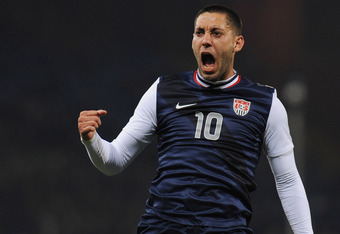 Valerio Pennicino/Getty Images
And that all comes down to Donovan and Dempsey, because they're the two guys that have yet to go on the same pitch with Klinsmann on the sideline. The United States' two most important players, all eyes will be on the duo (Dempsey is hopeful to make it back from his groin injury) against the Brazil back line.
Donovan linked up beautifully with Michael Bradley and Jermaine Jones throughout the night against Scotland, and it would be great to look at the full-force American attack with Dempsey on the pitch too.
Brazil's electrifying 20-year-old, Neymar, will be on hand, as will Hulk and Alexandre Pato. We know the Brazilians can put any number of players on the pitch and score goals with ease. The question is whether or not the US can match that or even create opportunities against their back line.
The defenders announced for this friendly include the likes of Dani Alves, David Luiz, Marcelo and national captain Thiago Silva.
Even if Alves and Luiz are late scratches (which is a possibility) the Brazilians still have a formidable unit poised to keep the US out of the back of their net, and we also know the best defense is a good offense—the Brazilians have that in spades.
So it will be on the American midfield to control the ball, and on their attack to make the most opportunities and they don't come often against five-time World Cup winners.
The USA's first World Cup qualifier will come against Antigua and Barbuda on June 8th in Tampa, Florida and four days later they'll play Guatemala in Guatemala City.
Another friendly with Canada looms before the qualifiers, but a showdown with Canada is more like playing Scotland than playing Brazil.
Wednesday's showdown at FedEx Field is a one-of-a-kind opportunity, so let's hope the Americans don't waste it.