Mark Webber, Formula One 2012's Record 6th Winner at the Monaco Grand Prix
May 27, 2012

Mark Thompson/Getty Images
The 2012 Monaco Grand Prix was certainly a record-breaker.  Never before had the top four cars finished so closely together around the tight street circuit, and the victory of Mark Webber marked the first time in history that a Formula One season has had six different winners in the first six races.
However, close as it was at the end, in many respects the 2012 Monaco Grand Prix illustrated a return to normality at the street circuit, which has traditionally provided little in the way of position changes. 
Qualifying provided some of the closest action of the weekend and was frankly fantastic from the first green light to the final checkered flag.
There were severe traffic problems for everyone in Qualifying 1 (Q1) as the cars all fought for clear air.
Five minutes in, we lost one of the main contenders for an exciting final-session challenge, when Sergio Perez's Sauber suffered a mechanical failure going into the turn 14 chicane.  Perez's Sauber bounced off of the barriers as the driver struggled to get the car to turn, a rear tire flew off and Perez had no option but to stop on track.
This signaled a red flag and for all intents and purposes concluded Q1.  Don't get me wrong—the opening session did develop into a close battle for survival, but ultimately the new teams still don't have the pace to make it into Qualifying 2 (Q2) unless faster cars suffer with problems.
Q2 seemed to set the scene for the rest of the day.  Interestingly, the Mercedes cars were both clearly fast, and for the first time this season, Felipe Massa looked as if he was going to reach and be competitive in final qualifying (Q3).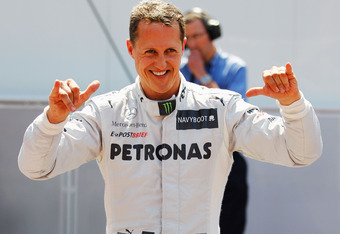 Paul Gilham/Getty Images
In fact, both Ferraris looked much more like contenders this weekend and arguably were punching with the same strength as McLaren.  Red Bull were very quiet in the Q2, and so were Lotus.
The big excitement of Q2 came with seconds to spare when three huge names all found themselves in a lot of difficulty.  Kimi Raikkonen, Jenson Button and Sebastian Vettel all looked in real trouble as the rest of the pack desperately fought for survival.
Vettel and Raikkonen were eventually OK, but Button suffered yet another disappointment when he set a time only good enough for P13.
Q3 was one of the best this season with a real shootout between the Mercedes drivers, Lewis Hamilton and Mark Webber.  The session was made even more interesting by the fact that two drivers taking part would be taking grid penalties.
Pastor Maldonado would be dropping 10 places after a hugely un-sporting bit of behavior in practice when he used his car to bump Perez to show his frustration.  Michael Schumacher would be demoted five places for his crash with Bruno Senna in Spain.
Q3 was tight and exciting, and the final few times all qualified pole before being knocked back down.  It was honestly edge-of-your-seat stuff and as the final seconds counted down and it became clear the battle was between Webber and Schumacher.
Webber was the first of the two men to cross the line, and he did so with immense speed, firmly asserting himself in P1.  Surly Schumacher had no answer.  As the seven-time World Champion took to the final few corners, I think everyone, no matter their opinion of the man, held their breath...he did it!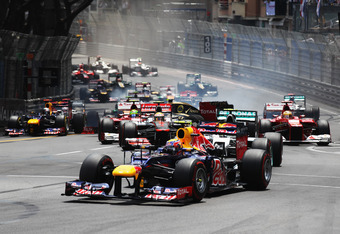 Mark Thompson/Getty Images
It won't go down in history as a Schumacher pole, but the Mercedes man finally found some good fortune when he was the fastest man of the day for the first time since 2006!
Of course, with the penalty corrections, Webber would in fact start in front, but this was no bad thing for fans, as many were left wondering if the Red Bull man could overcome his traditionally weaker starts and hold off Nico Rosberg into Turn 1.
As the lights went out, it looked as if we were in for a relatively clean start.  Webber and Rosberg pulled away fine, and both Ferraris had positive getaways.  
However, there was a shunt going into Turn 1 when Roman Grosjean simply ran out of space and collided with Schumacher.  The Mercedes seemed OK for now, but the Lotus was totaled.  A little further back, Maldonado's terrible weekend was ended after he drove into the back of Pedro de la Rossa.
The safety car was brought out, and the positions were as follows:
Webber, Rosberg, Hamilton, Alonso, Massa, Vettel, Raikkonen, Schumacher, Hulkenburg, Senna, Di Resta, Ricciardo, Kovalainen, Button, Glock, Pic, Vergne, Perez, Petrov, Karthikayn, Kobayashi, di la Reasta, Maldonado, Grosjean
I'm afraid after the safety car returned to the pits on Lap 3, very little changed for a very long time.
Both Ferraris began putting immense pressure on Hamilton's McLaren before backing off to preserve their tires. The drivers out of position, such as Button, Perez and Kobayashi, struggled to make much progress in the tight corners.
Rain was threatened throughout the race and, frankly, would have been very welcome for the action.  It never really came, but the teams began furiously broadcasting their fears as early as Lap 18.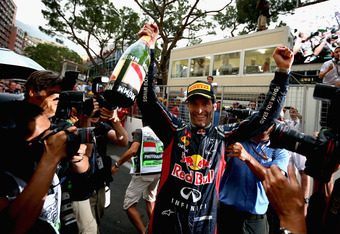 Clive Mason/Getty Images
Honestly, the first significant race-changing event happened on Lap 26, when Raikkonen backed the pack up from P7 backwards so much that the top six cars could probably stop and rejoin without any drama.  Lotus were clearly off their game this weekend.
We had to wait until Lap 30 for the first real game-changing pit stop, when Fernando Alonso's fantastic hard work paid off as he rejoined ahead of Hamilton's McLaren after a superb in-lap from the Ferrari man.  
Vettel came into play around this point, too, as he was the only man in the top 10 to have started on the harder tire and was currently still running when all the other drivers around him had stopped.  The Red Bull man finally stopped on Lap 46 and was able to rejoin in front of Hamilton after a good period of strong laps.
And that was that, really. The top six were Webber, Rosberg, Alonso, Vettel, Hamilton and Massa, and although the cars bunched up toward the end, when rain became a stronger possibility, nothing really changed.
There were a few retirements, but I can't really see the point in listing them.  
Of course, the Monaco Grand Prix is never dull, as we all honestly expect a bit of a procession, but I do think we've been a bit spoiled in Monte Carlo from about 2009.
It was great to see Schumacher find some redemption before being demoted by a penalty (same old Schumi), and it was great, too, to see Webber take his second victory at this track.
I think I'll come away from Monaco with a smile on my face, but probably more because of the result than the race itself.  We've had six winners from five teams in the first races, and the man currently leading the World Championship is in far from the best car.
This season could really turn into something special.
Drivers' Championship Top Three
Alonso 76
Vettel 73
Webber 73
Constructors' Championship Top Three
Red Bull 146
McLaren 108
Lotus 86
Monaco Grand Prix Results
1 Mark Webber Red Bull-Renault
2 Nico Rosberg Mercedes GP
3 Fernando Alonso Ferrari
4 Sebastian Vettel Red Bull-Renault
5 Lewis Hamilton McLaren-Mercedes
6 Felipe Massa Ferrari
7 Paul Di Resta Force India-Mercedes
8 Nico Hulkenberg Force India-Mercedes
9 Kimi Raikkonen Lotus-Renault
10 Bruno Senna Williams-Renault
11 Sergio Perez Sauber
12 Jean-Eric Vergne Toro Rosso-Ferrari
13 Heikki Kovalainen Caterham-Renault
14 Timo Glock Marussia-Cosworth
15 Narain Karthikeyan HRT-Cosworth
DNF Jenson Button McLaren-Mercedes
DNF Daniel Ricciardo Toro Rosso-Ferrari
DNF Charles Pic Marussia-Cosworth
DNF Michael Schumacher Mercedes GP
DNF Vitaly Petrov Caterham-Renault
DNF Kamui Kobayashi Sauber
DNF Pedro de la Rosa HRT-Cosworth
DNF Pastor Maldonado Williams-Renault
DNF Romain Grosjean Lotus-Renault