Roger Federer: Examining Fed's Brutal Road to 2012 French Open Finals
May 27, 2012

Matthew Stockman/Getty Images
Roger Federer's road to the 2012 French Open Finals isn't a smooth one. He was handed a brutal draw, and it will take every ounce of talent and energy within him to overcome the tough odds.
Federer isn't known for backing down from a challenge, though, and he will take on this one with the same class and dignity he has shown to the sport of tennis for years.
Thankfully, Fed's first challenge should be an easy one when he takes on Tobias Kamke—the 78th-ranked player in the world—in the opening round of the tournament. Kamke should be quickly dispatched by Federer, but that's the last gimme he's going to get.
Federer's second-round opponent is likely to be David Nalbandian, a player who can't be overlooked. Nalbandian has won on the ATP World Tour 11 times in the past, and his experience against top-10 players hasn't been completely one-sided.
Should Federer handle Nalbandian, his third-round opponent should be the world's No. 33 ranked player, Andy Roddick. Roddick and Federer have a long history of playing one another extremely tough, and it's never a given that either one will be victorious.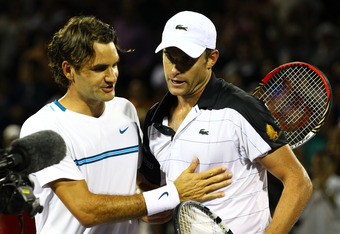 Al Bello/Getty Images
Remember, it was Federer's loss to Roddick at the Miami Masters at the end of March that prompted him to take a month-and-a-half break from competition to rest his tired body. This match could be one of the best ones in the first few rounds to watch.
If Federer is up to the task and wins against Roddick, his next opponent could then be Spaniard Feliciano Lopez, the No. 17 ranked player in the world. Lopez could be a walk in the park compared to Roddick, but he won't go down easy.
Provided Federer wins against Lopez, his quarterfinals opponent will be Tomas Berdych, unless Berdych falls well short of expectations. Berdych is the world's No. 7 ranked singles player, and he is a truly dangerous opponent. 
Berdych's overall match record this year is 31-10, and he will offer up a tough challenge for Federer in this one. He has a big serve and forehand—just like Federer. If he can get a bit quicker on the court and learn to overcome top-level talent he will be a force to be reckoned with in the future.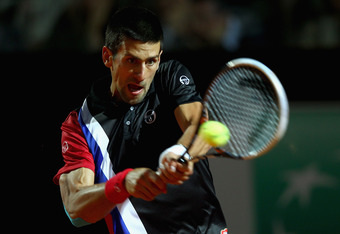 Clive Brunskill/Getty Images
Federer's final opponent on his side of the men's draw would be Novak Djokovic. Djokovic is the No. 1 player in the world, and he is on a mission to win his fourth-straight Grand Slam title. 
Djokovic is also fresh off a victory against Federer in the semifinals of the Italian Open. He clearly outplayed Federer in that match, and he will be tough to overcome at this year's French Open. That being said, he did lose to FedEx last year in the semifinals, so it's not crazy to think it could happen again.
Federer's draw is beyond brutal: It's downright nasty.
If anyone can pull it off looking as fresh as a rose, though, it's Federer. I'm looking forward to watching him give it his best shot.