Norway vs. England: 6 Things We Learned About England's Euro 2012 Chances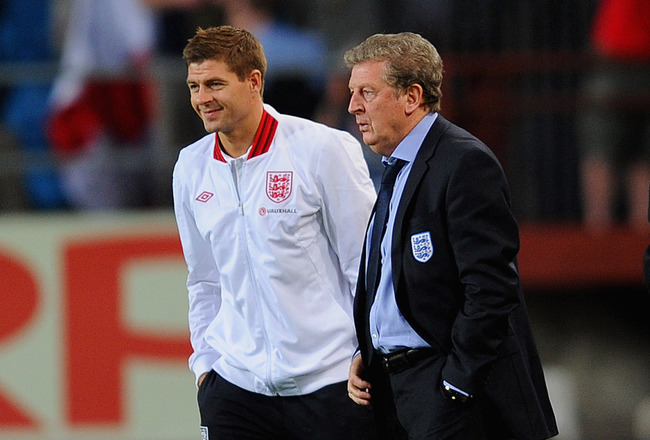 Michael Regan/Getty Images
Roy Hodgson led England to victory in his first match in charge of the national side, and after only a couple of weeks in the job it is certain he is still learning plenty about his new set of players.
Norway were the opponents, a team England hadn't beaten away from home since the year they won the World Cup (1966), but an early Ashley Young strike, the only goal of the game, ensured that statistic changed.
With players rested from Chelsea, the early withdrawal through injury of third-choice goalkeeper John Ruddy and several stand-by players having to be called up to make up the numbers, it was always going to be an interesting occasion for Hodgson to get through.
There were a good few positives for the new manager to take from the game, more than a few areas of improvement to work on before the start of the tournament—but above all else, England won and kept a clean sheet, and that will be of great satisfaction to Hodgson.
Here are six things we learned about England's chances in Euro 2012 after the 1-0 win over Norway:
With Wayne Rooney Absent, Ashley Young and Andy Carroll Are the Best Option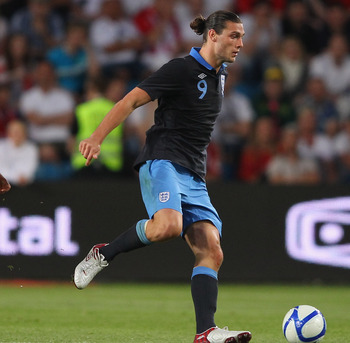 Alex Livesey/Getty Images
Wayne Rooney will be missing for England's first two group stage matches during Euro 2012, leaving Roy Hodgson searching for an alternative to see England score enough goals against France and Sweden to amass some points.
He may have found it in his first game in charge.
In the first half, Ashley Young played just off Andy Carroll, the lone forward, and the two linked to good effect on a number of occasions—most notably for Young's goal after just eight minutes.
Carroll planted his only chance of the game, a header two minutes into the match, wide of the near post but he found Young several times between the centre circle and the edge of the area, allowing Young to utilise his pace and run into space from deep.
Carroll also held up the ball well and worked the channels in the face of an extreme lack of service in the second period.
If Young Plays Behind Carroll, Does Frank Lampard Sit on the Bench?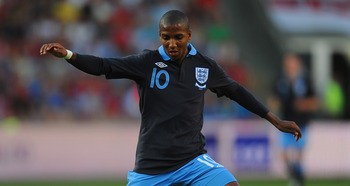 Michael Regan/Getty Images
If Roy Hodgson does indeed go with Ashley Young behind Andy Carroll, it must be assumed that captain Steven Gerrard will play a deeper central midfield role.
In that case, one of Gareth Barry—if he is fit enough to be included in the squad after his injury during the Norway game—or Scott Parker will play the holding role alongside him.
Where does that leave Frank Lampard?
The simple answer is on the bench.
Lampard can't play a wide role like Young can, but if Young is forced out wide, then England lose the impact of pace through the middle.
Hodgson needs to balance his side's need for each game.
Chelsea Defensive Trio Have No Worries, Despite Not Playing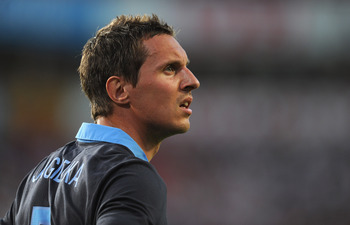 Michael Regan/Getty Images
Ashley Cole, John Terry and Gary Cahill missed out on Roy Hodgson's first game as England manager, but they will not be unduly worried at missing out on a starting spot for England's first group stage match against France, despite the clean sheet their deputies kept against Norway.
Along with Glen Johnson at right-back and Joe Hart in goal behind them, the Chelsea trio will form England's defensive wall at the Euros.
Phil Jones was a little hot and cold, winning the ball and supporting in attack a couple of times in wide areas, but also losing possession cheaply in both halves of the field.
Joleon Lescott was relatively solid but lacks the leadership to be England's main defender without a John Terry-figure beside him, while Phil Jagielka will not even be heading for Poland and the Ukraine unless there is an injury.
On the left, Leighton Baines was thoroughly unadventurous, cementing his status as a No. 2 rather than pushing for the top spot.
Barring injury, England will line up Hart, Johnson, Terry, Cahill and Cole against France in their Group C opener on June 11.
No Michael Carrick or Tom Huddlestone? Don't Expect England to Dominate Games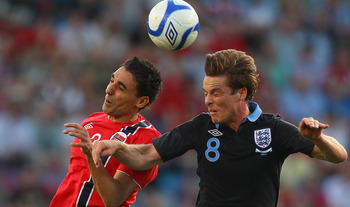 Alex Livesey/Getty Images
There was a certain amount of criticism aimed the way of England for the second-half performance, namely their lack of control of the game and failure to retain any kind of possession.
Let's be clear here: Roy Hodgson didn't include Michael Carrick in his squad for a reason.
With neither Carrick nor injured Tom Huddlestone in the team, this England side are not going to be one who looks to win games by way of retaining possession and dominating teams.
They are going to sit deep, counter-attack at pace and, when they do have periods of possession, build up in wide areas before attacking with the centre-forward and runners from the second line of midfield.
Don't expect any or many games where England have over half the possession, because it's not going to happen.
Any success that the Three Lions have in this tournament will come as a result of a sound, tight defensive unit and clinical, pacey attacks.
Even in the First 2 Weeks of Hodgson's Reign, Injuries Are a Mounting Reality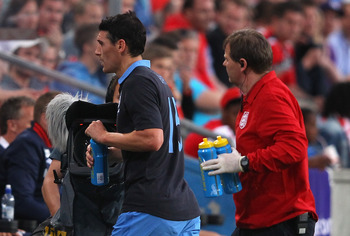 Alex Livesey/Getty Images
Roy Hodgson only named his preferred 23 for Euro 2012 a week ago, but already he has lost players through injury.
Third-choice goalkeeper John Ruddy is out entirely with a broken finger, forward Danny Welbeck is struggling with a ligament injury, right-back Glen Johnson is still not recovered from a calf injury—and now Gareth Barry is facing a scan to determine whether he can remain as part of the squad after playing just 20 minutes against Norway.
Barry entered the field at halftime in place of Steven Gerrard, but was ushered down the tunnel shortly afterward with a suspected groin strain.
Stand-by midfielder Jordan Henderson played the remainder of the match in place of Barry and may be called up if the Manchester City player cannot continue in the squad, while Michael Carrick or Phil Jagielka could be alternatives too.
A Win Is a Win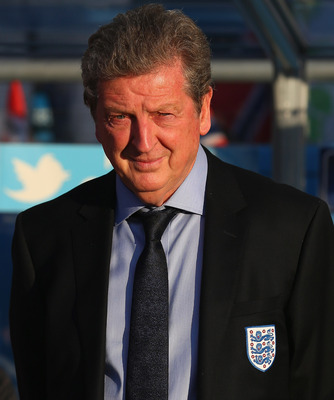 Alex Livesey/Getty Images
It wasn't pretty, it wasn't a game which will live long in the memory, and it wasn't even a competitive match.
But England won.
Expect plenty more of the same for England under Roy Hodgson.
This might draw criticism from those who feel England should impose themselves more on teams, dominate tournaments or whatever else...but England won.
If this was a performance and result in a Euro 2012 group stage match, England would have three points on the board right now.
And does anything else ultimately matter?
Onto Belgium now.
Keep Reading

England (National Football): Like this team?