French Open 2012: Andy Roddick Has Most to Prove on Sunday
May 26, 2012

Mike Ehrmann/Getty Images
As impressive a career as Andy Roddick has had, the French Open has never been a tournament that has been kind to the American tennis player. The Omaha, Nebraska native will face off against Frenchman Nicolas Mahut in the first round of the 2012 French Open—a bout Roddick needs to dominate.
While Roddick was able to overcome a personal demon of his by defeating Roger Federer for just the third time at the 2012 Sony Ericsson Open, his next performance at the World Team Cup tournament was disappointing. Roddick failed to win a single match at the aforementioned tournament.
While Roddick may own an impressive career win-loss record at the other Grand Slam tournaments, the French Open has been the American's Achilles' heal for years now, with zero semifinal appearances in nine appearances at Roland Garros.
Mahut is an opponent that Roddick has defeated in all four of their previous meetings, but the two have not shared the same court since 2008. Also, Mahut comes into the French Open hot off a solid performance at the Bordeaux Open. He made it to the semifinals at the Bordeaux, before falling to Slovakian tennis player Martin Klizan.
With just a .500 record to show for his efforts on the prestigious clay at Roland Garros, Roddick must channel his 2009 performance at the tournament and at least fight his way into the fourth round. 2009 marked just the second time that the outspoken tennis player made it past the first two rounds of the French.
I'm not trying to talk anyone into thinking that Roddick somehow pulls off the impossible and wins this tournament—that's simply not going to happen. But it's no secret that arguably the best American player in professional tennis is close to hanging up the racket for good, and it'd be nice to see him somehow find his way into the third or fourth round.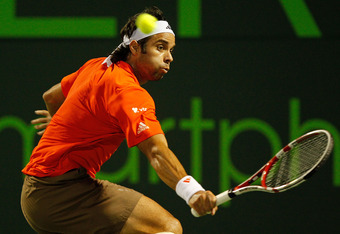 Mike Ehrmann/Getty Images
Roddick needs to defeat the hometown hopeful in Mahut and give his fans something to cheer about this year at the French.
Last year, he didn't compete due to injury, and he is only two years' removed from making it to the third round. The last two times that the Nebraska-born player has participated in the event, he put together two of his best French Open runs in his career. If Roddick can get out of the gates and notch a victory over Mahut come Sunday, perhaps he can put together another solid run.