French Open Tennis 2012: Why American Stars Will Fail at Roland Garros
May 27, 2012

Mike Ehrmann/Getty Images
The days where American tennis stars dominated Grand Slam competition are long gone. We will see yet another example at the 2012 French Open.
Novak Djokovic, Roger Federer or Rafael Nadal will win the French Open on the men's draw. There is no doubt in my mind.
Do you really believe John Isner will be able to win the crown? Dare I mention Andy Roddick?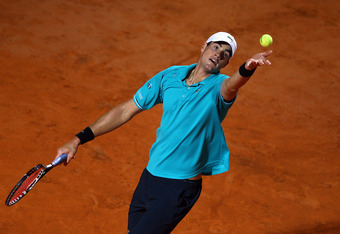 Julian Finney/Getty Images
I would doubt that either of these players would make it to the semifinals, let alone win the entire thing.
You can forget about it.
One of the big three are winning this tournament. No American is going to be in sight.
On the women's side, however, things are wide open. Serena and Venus Williams are two players who should never be counted out.
Despite being two of the greatest female tennis players of all time, however, neither are extremely likely to win the event. I would give the edge to Serena, but I don't think she's ready to win the French Open.
She hasn't won the French Open since 2002. Her last Grand Slam victory came at Wimbledon in 2010.
Is she ready to have a good tournament at Roland Garros? She hasn't seen Grand Slam success in almost two years.
As much as I want to believe it, I can't.
No American will win the 2012 French Open on either side. The men will get dominated, and the women won't be too far behind.
It will be an epic fail all around.