Federer, Nadal, Djokovic: Previewing Their 2012 French Open Hopes
May 26, 2012

Dan Istitene/Getty Images
The 2012 French Open draw is out. We can finally put an end to speculations and prognoses, that whirlwind of 'Rafael Nadal is a set at the French', or 'Roger Federer will never win the French'-type articles. What we now have before the tournament begins are a few hours to reflect scientifically with the hard evidence of justified probability.
As it happens again in 2012, Novak Djokovic, Rafael Nadal, and Roger Federer are the top three seeds again at the French. It is perhaps remarkable to realise that this has been the case since 2006, even when such personalities as Andy Murray and Juan Martin Del Potro turned on the heat. Yet it is also testament to hard realities—these are the top three men on clay, and Roland Garros has really been their impregnable precinct.
It is worthy to note, too, that Roland Garros remains the only grand slam tournament to have had only Rafael Nadal and Roger Federer as champions since 2004, something which makes it more of a bastion of traditionalism, in a sense, than its trans-Channel neighbour Wimbledon. As it is, we could hardly be surprised to learn that Rafael Nadal enters as the second seed, and as the defending champion, in 2012 – indeed he has only one by virtue of the other.
It remains to examine and forecast more accurately the tournament hopes of our six-time top three seeds.
Novak Djokovic, World No. 1
Djokovic nears his first full year as the world number one player, and at the French will aim to achieve the last thing that could make it a historic one – a fourth consecutive grand slam. He won Wimbledon, the US Open, and defended his Australian Open crown in 2012, and is bidding to be the first man since Rod Laver in 1969 to have achieved his fourth major running.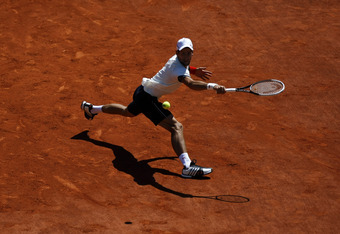 Dan Istitene/Getty Images
Of course, he isn't the first man since to have been in a position to have done so – Sampras was in 1996 (French), Federer twice in 2006 and 2007 (French), and Nadal in 2011 (Australian Open). The scarcity of that company means that he will be one of the very few in history to experience that rare, fourth slam pressure. Being the champion he is, however, he will have noticed that he is in an excellent position, draw-wise, to make it to the semis.
None of the men in his quarter seem capable of stretching him to more than a fourth set in this mood— Hewitt, Gulbis, Davydenko, Verdasco, Wawrinka, Tsonga are all possible opponents, and he's dismantled them all at Masters Series level, to say nothing of a five-set match. He might be under pressure, but nerves are unlikely to be a disabling issue when he knows he is likely to make puppies out of the fiercest bulldogs sent at him.
Whether he will make the big cut, and beat possible opponents Roger Federer and Rafael Nadal in the last two rounds, to claim the title seems like a story for another tournament in itself. It would be a massive undertaking. He has lost to Nadal in their last two clay meetings, and the sharpness of his game, critics claim, has lagged in 2012 somewhat. He will have to prove that it has all been a bluff, a veil over plans long meditated to claim the French Open, to conquer his critics and, tennis history.
Rafael Nadal, World No. 2
The specialty of 2012 is that another man stands to conquer tennis history, and in a big way. Rafael Nadal, already a six-time champion, is at the threshold of a career-defining seventh title, which would see him sweep past his current record sharer, Bjorn Borg, and claim the, what many had long believed destined, 'Greatest Clay Court Player. Ever' title.
As it stands, should Nadal not manage this feat, he will perhaps find satisfaction in knowing that he already stands ahead of Borg at the French, having won six in seven tries, while the Swede managed six in eight. Should he not manage this feat, he is unlikely, however, to find satisfaction in this. He is a stupendous 46-1 in his lifetime at Roland Garros, and is unlikely to want this going in the wrong direction anytime soon.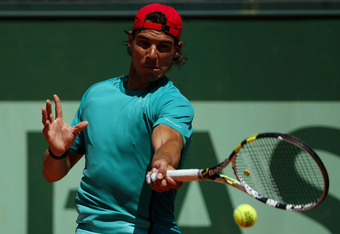 Dan Istitene/Getty Images
It is unlikely, one has to surmise, that this is likely to happen, either. Nadal's draw seems to present the proverbial piece of cake to the Spaniard, as much as he is almost never to think that way. Raonic, Almagro, Kohlschreiber, Tipsarevic, Baghdatis, Monaco are all potential threats. Nadal could win several Barcelona trophies just making his way to the semifinals.
Is Nadal a stronger favourite than Djokovic? Probably, but if only because Djokovic is set to face Federer, and Nadal Murray, in the semis – the latter a tame affair in comparison, should 2011 have taught us anything (when the very scenario transpired). In a Nadal-Djokovic matchup Nadal goes in as the six-time champ, holding the mental edge from their most recent meetings, while Djokovic will only be the questionable first-time finalist, and 0-3 against Nadal at the French. But they said similar things about Federer and Nadal at Wimbledon in 2008, and look what happened there.
 Roger Federer, World No. 3
As things go for Roger Federer, it must be tough having to be seen from the outset as a mere third party player out to spoil the destined Nadal-Djokovic epic. Having done so last year only seems to have made it more unlikely in a sense, if only because it never was going to happen even then, in 2011.
Much less, some suggest, in 2012. Yet even though Federer enters Roland Garros having lost his last meeting against projected semifinal opponent Novak Djokovic – a dismal straight setter at Rome – he has just as much to gain. It isn't just that he stands to add to his all-time record 16 grand slam championships, but also that he stands, as he will at every French Open until he retires, to become the only man alongside Rod Laver to have won every grand slam at least twice in the Open Era. It may be trivial, but is actually ridiculous, when one considers that these are statistics comparable to the domination in the women's game (think Steffi Graf and Martina Navratilova, who won every major at least three times).
Then, there is the relatively pedestrian challenge of reclaiming the No. 1 ranking, for which he will have to at least defend his finalist ranking points from 2011. It would very likely provide yet another edition of Federer-Nadal at the French Open (it would be the sixth, in fact, which is probably another record for the most match-ups at any one slam event).
The pressure, by and large, seems to be less on Federer, nonetheless—its clear that he's accepted leaving the heavy shoving to his younger successors. He's also played sage so far in dealing out some useful empathetic comments on this very pressure. One wonders if Federer actually even considers himself as a possible champion—deep down, one suspects he doesn't, if only because the only way he knows he might is through an upset of Nadal at the least, and maybe of Djokovic.
His draw isn't as favourable as theirs, too; Nalbandian, Del Potro, Berdych, Ferrero are all possible, alarming threats, breeds of that clay court cruncher that might overturn his elegant game. On paper, Federer stands as the top seed most likely to fall before the semis, although on recent form he could well at the same time bounce them all out in consecutive masterclasses.
For him to progress beyond the semifinals is probably going to take something more than mere masterclasses, however. He will need grit, determination, and raw desire as well, as we saw in 2011. Then it wasn't enough even to win the title, because Federer in Nadal, one wonders, came up against destiny. It must be a nightmare to which he is resigned knowing he is never to cast out—facing what seems like two Nadals to win the French.
Federer's hopes of history seem by far the most incidental and deluded – it must seem like two Nadals standing in his way to grand slam glory, with impenetrable baseline games and testing groundstrokes. Yet should he manage it and win the whole thing beating them both, his is likely to be the story we'll remember for decades to come.