NHL Playoffs 2012: New Jersey Devils' 4th Line Delivers for Playoff Run
May 26, 2012

Bruce Bennett/Getty Images
When the NHL playoffs started in mid-April, not too many people predicted the New Jersey Devils going to the finals. Well, the Devils completed the unlikely feat by beating the New York Rangers in Game 6 in overtime.
However, even those Devils' faithful who believed in the team probably did not expect Ryan Carter, Stephen Gionta and Steve Bernier playing such a large role. Oh, how they were wrong.
Those three players, who have comprised the Devils' fourth line throughout the playoffs, have played significant roles in game after game. They've scored game-deciding goals, added early-game support, and forechecked to no end.
How good have they been? Check out the below table:
| | | | |
| --- | --- | --- | --- |
|   | Steve Bernier | Ryan Carter | Stephen Gionta |
| Goals | 2 | 4 | 3 |
| Assists | 4 | 2 | 4 |
| Plus/Minus | +4 | +6 | +7 |
| Hits | 45 | 23 | 27 |
| Takeaways | 4 | 4 | 7 |
| Game-Winning Goals | 0 | 2 | 0 |
| Average Time-on-Ice | 10:41 | 8:15 | 8:41 |
| Shots | 22 | 15 | 18 |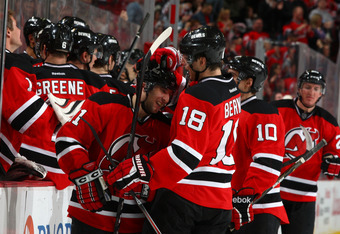 Chris Chambers/Getty Images
The nine goals and 10 assists are impressive, but this is the fourth line. Few teams are lucky enough to see production like that from their theoretically-worst players, and it's not that hard to see why the Devils are succeeding.
After all, the Devils have a great team, but they are not the best. On paper, there's at least three or four teams and probably more that are better no paper.
The problem with roster comparisons is that they don't account for lines like this.
Ryan Carter has led the way, with four goals and two game-winners. All of the players have impressed though, averaging minimal time while still each having at least six points.
Their plus/minus ratings are equally impressive, given that the team's leading goal scorers, Travis Zajac, Ilya Kovalchuk and Zach Parise, are minus-four, -three and -one, respectively.
But most importantly, they are physical. They've combined to contribute almost 100 hits, giving a physical edge to a team without much physicality. They check, they poke, and they annoy, all while giving more talented players valuable resting time.
These three players have proved incredibly valuable and if the Devils are looking to keep winning, they'll need to keep seeing great play from their bench-warmers. The Kings have a dangerously deep offense, but when all four lines are producing for the Devils, they'll match up pretty favorably.
Frustratingly, you likely won't see much more ice-time from these players, since that would go against their very purpose on the team. But as long as they keep adding that kick to the Devils' already-talented roster, they give the team a great chance to compete in any given game.