French Open Tennis 2012: Odds and Updates on Top Women Contenders
May 25, 2012

Julian Finney/Getty Images
Maria Sharapova heads a list of French Open favorites, who hope to survive two weeks of grueling tennis on the clay courts of Roland Garros.  She also hopes to alter the course of history, which has been mostly forgettable for her in Paris. 
Sharapova, who is well known for her prowess on hard courts and grass, arrived in France, less than a week after winning the Italian Open on clay for the second year in a row. Couple that with a German clay-court win in April and Sharapova looks like a clear-cut favorite to the win the French.
It all sounds enticing, but odds-makers know better. According to WashingtonPost.com, no women's champion in Rome has gone on to win that year's French Open since 2002, when Serena Williams did it. The French Open has also been a thorn in Sharapova's side.  Not only has she never won it, she has never reached a final in her career.
Normally, Williams would stand everybody's way, with an ever improving clay-court game that rivals Sharapova's.  But her dominance may be shaken in France due to a lower back injury that forced her to withdraw from her last match.  Coincidentally, the flareup occurred in Stuggart, Germany, at the WTA Porsche Tennis Grand Prix, which Sharapova won in impressive fashion over World No. 1 Victoria Azarenka.  Sharapova's 6-1, 6-4 victory was payback for a pair of earlier losses to Azarenka this year.
Here's a look at the latest odds for the top contenders on the women's side, courtesy of yahoo Sports' Chris Chase.  I agree with the odds for four of the top five, but I've downgraded Serena Williams from a 5-2 favorite to win to 12-1, due to her injury.   
1. Victoria Azarenka - 4 to 1.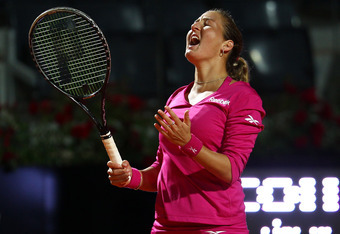 Julian Finney/Getty Images
Azarenka enters the tournament still ranked No. 1 and she'll be on a mission to set things straight if she meets Sharapova again.  TheSpread.com doesn't give her much of a chance because Azarenka has won one grand slam in her career and has never made it past the French quarterfinals in six ties.  But I beg to differ.  I say Azarenka gets over the hump in Paris and adds one more Grand Slam Title to a trophy case that already holds a shiny one from her 2012 Australia Open Championship. 
2. Maria Sharapova - 5 to 1.
Nobody is playing better than Sharapova right now on clay, but can she keep it up in a tournament that is well-known for its brutal weather conditions. SportsIllustrated.compoints out that Sharapova beat the three most recent Grand Slam champion in succession to take the Stuttgart title.  That, right there, shows how hot Maria is, and I'm not just talking about her looks.
3. Petra Kvitova - 8 to 1.
Kvitova was ecstatic after winning her first and only Grand Slam title of her career at Wimbledon in 2011. But her luck has been fleeting in Paris.  According to SportsIllustrated.com, she has never gone past Round four three attempts and Wimbledon was the only time in her career that she has reached a final..
4. Li Na - 10 to 1.
Li Na has the guts to compete with the French Open's best and the hardware to prove it.  As the defending tournament champion, she would love to go back-to-back.  According to WashingtonPost.com, she was the first tennis player from China to win a Grand Slam singles title. Na also made it to the Australian Open Final in 2011 and the Italian Open final the same year, before losing to Sharapova in a driving rain.  
5. Serena Williams - 12 to 1.
Like Sharapova, Serena Williams has two wins on clay this year. According to Topspin, she's actually 17-0 on the surface this season. One things for sure.  She'll get past the first round, unless she withdraws again.  In 46 Grand Slam tournaments, Williams has never lost a first-round match.