French Open Tennis 2012: Dark-Horse Contenders Who Will Surprise
May 25, 2012

Julian Finney/Getty Images
The men's final at the 2012 French Open will more than likely feature Rafael Nadal and Novak Djokovic, or Rafael Nadal and Roger Federer.
The three are simply dominant, and the last time someone other than Nadal, Djokovic or Federer won a Grand Slam event was Juan Martin del Potro at the US Open in 2009. And even that is an outlier, as the only other player to win a Grand Slam since 2005 is Marat Safin at the 2005 Australian Open—that is 27 of 29 won by three different people.
It simply doesn't get more dominant than that.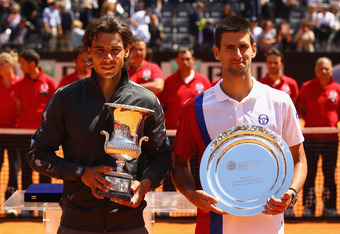 Clive Brunskill/Getty Images
As for the women, well, that is as wide open as the ocean. For starters, the last time a women won the French Open in back-to-back years was Justine Henin-Hardenne (now just Justine Henin) between 2005 and 2007.
The most dominant player in the women's game in recent years has been Serena Williams, and she's only won at Roland Garros once, all the way back in 2002.
So with all that in mind, here's a look at dark-horse contenders in both the men's and women's bracket of the 2012 French Open.
Men's Bracket
Anyone outside of the top four (we'll cut Andy Murray some slack here) can be considered a dark horse in any men's Grand Slam event.
Tomas Berdych (No. 7 Seed)
In the bracket that will ultimately lead to a likely showdown with Roger Federer, Berdych is an interesting threat to the field who advanced to the semifinal of the French Open in 2010.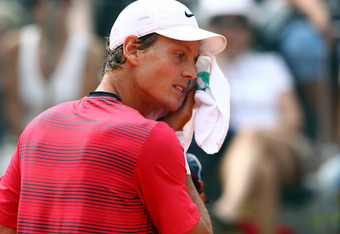 Julian Finney/Getty Images
He's yet to win a Slam in his career and has beaten Federer only four times in 15 tries in his career, but he has been playing well this season and could continue that on the red clay at Roland Garros in the coming weeks.
He'll be one to watch.
Richard Gasquet (No. 17 Seed)
The 25-year-old Frenchman made it to a career-best fourth round last year at the French and is poised to do better this time around.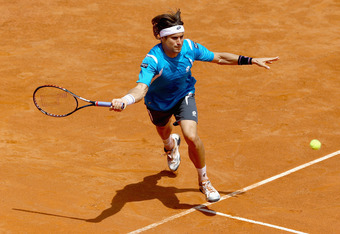 Clive Brunskill/Getty Images
He has a relatively easy draw early on, too. He'll take on a qualifier in the opening round and could potentially land in a contest with Andy Murray to get out of his bracket. 
He can't ask for much more than that.
Women's Bracket
Caroline Wozniacki (No. 9 Seed)
The 21-year-old Danish star never found victory as the No. 1 tennis player in all the world. Now she's dropped all the way to No. 9, and with the pressure off of her to produce, she might be better off.
She'd eventually have to battle with Serena Williams in her bracket, but we know she's capable of being great at times.
It wouldn't be surprising if she finally found her form.
Francesca Schiavone (No. 14 Seed)
Last year's runner-up to Li Na, and the 2010 winner, Schiavone has also fallen in the rankings.
She's extremely comfortable on this court, and the women's field is so wide open that it wouldn't be surprising at all if she were to make another push. 
She'll be one to watch.