Euro 2012 Bracket: Top Dark-Horse Teams in Each Group
May 25, 2012
Claudio Villa/Getty Images
There are more countries in the Euro 2012 tournament than just Germany, Netherlands, Spain and England.
These are hands down the most talked about countries present in Poland and Ukraine this summer, but 12 other countries will be on hand to compete as well.
Some have a great chance of succeeding and making a new for themselves while others are simply lucky to be involved at all.
Here's a look at the top dark-horse teams in each of the four groups.
Group A
(Poland, Greece, Russia, Czech Republic)
Russia and Greece are the two favorites to make it out of this bracket.
Russia has superior talent and made it to the semifinal in the 2008 tournament and Greece actually won the entire thing back in 2004. The Greeks also went undefeated in qualifying and tied for the lowest goal difference. Greece struggles to score goals, but they're still contenders.
This makes the hosting country of Poland the dark horses in Group A.
Led by Borussia Dortmund superstar and goal-scorer Robert Lewandowski, the Poles just need to get lucky a time or two off the foot of their best players.
With Arsenal keeper Wojciech Szczesny in net, they should be able to defend long enough to steal goals and games.
Group B
(Netherlands, Denmark, Germany, Portugal)
The Group of Death features two favorites to meet again in the final, Germany and Netherlands, thus making Portugal the strongest dark horse in the tournament.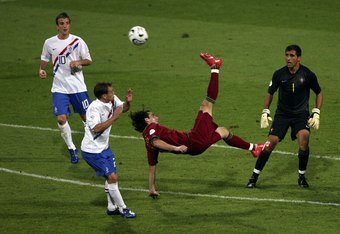 Michael Steele/Getty Images
Featuring otherworldly goal-scorer Cristiano Ronaldo, Chelsea midfielder Raul Meireles and Manchester United winger Nani, the Portuguese are hoping to regain the form they showed in 2004 when they reached the Euro Cup final against Greece.
They'll have their work cut out for them, and they struggle with consistency, but if Ronaldo and Nani are on point, they'll be incredibly difficult to stop.
Group C
(Spain, Italy, Ireland, Croatia)
The reigning Euro and World Cup champions, Spain are a lock to make it out of group play.
The same cannot be said of 2006 World Cup champions Italy as they've fallen pretty hard in recent years. Their competitive nature and experience should be enough to carry them out, though.
If they falter, it will be because Luka Modric and Croatia make something happen.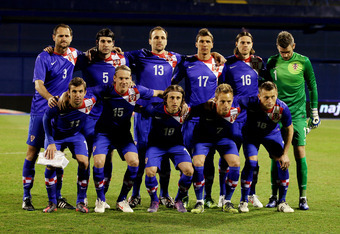 Scott Heavey/Getty Images
The wantaway Tottenham star will likely get his wish of a bigger club this summer, and hopes he can pair it with Euro success. They'll need some luck, but Italy is far from a sure thing and Ireland is playing in their first international competition in 10 years.
Group D
(Ukraine, Sweden, France, England)
Despite France's utterly horrific performance in the 2010 World Cup, and England's nearly as embarrassing showing, they're still the two favorites in Group D.
There's plenty of turmoil surrounding the Three Lions, and they've failed to perform well in any international competition in recent years, but Sweden and Ukraine don't have much to show for themselves, either.
Both France and England are liable to implode at any moment, so anything is possible in this group, but the Swedes are the dark horses in this situation.
With Zlatan Ibrahimovic and Sebastian Larsson leading the attack, they could easily challenge England and possibly steal a game from them here in the group stage.
Group A and Group D are the two most intriguing in the tournament.