Novak Djokovic: Italian Open Loss a Sign of Things to Come for World's No. 1
May 23, 2012

Julian Finney/Getty Images
The typically cool, calm and collected Novak Djokovic looked anything but this past week at the Italian Open. He broke not one, but two rackets during the tournament and ultimately lost to a surging Rafael Nadal in the final tuneup before the French Open.
Djokovic, who had previously owned Nadal with seven wins in head-to-head finals meetings, has now lost two straight to the Spanish superstar at the worst possible time.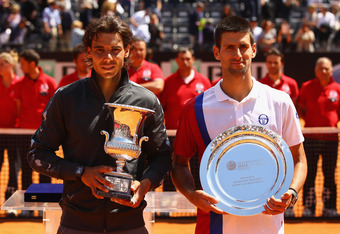 Clive Brunskill/Getty Images
The second Grand Slam tournament of the year is upon us, and any psychological edge the Djoker had on Rafa has completely disappeared. Now back to No. 2 in the world rankings, Nadal returns to Roland Garros—where he's won six French Open titles since 2005, including the last two, while Djokovic has yet to reach a final on the red clay in Paris.
The 25-year-old Serbian isn't showing the typical poise we're used to seeing and the pressure of winning at Roland Garros may become a problem in the coming weeks.
Unfortunately, the only way he can get back on track is by winning because another trip to the semifinals simply isn't going to cut it.
With Nadal back to No. 2 in the rankings, Djokovic will not have to see Nadal or even Roger Federer until the final, should he make it there.
Andy Murray, whose best finish at the French Open is also a semifinal appearance last year, is the most likely candidate to take on Djokovic in the semis.
The two treated us to an epic clash in the semifinal of the Australian Open, and if Murray's playing close to that level Djokovic will be in trouble this time around.
The world's No. 1 has four of the last five Grand Slams under his belt for a reason, but he needs to get his head right if he's to capture his sixth.