The Doctor's WWE over the Limit Recap: 239 Things We Learned, Loved and Hated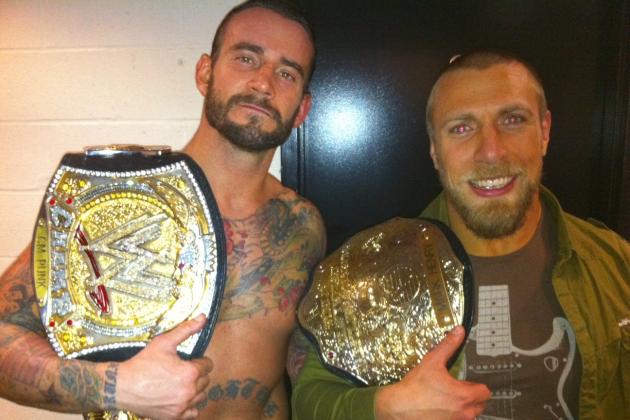 Photo: bryandanielson.net (Original photo from CM Punk's Twitter)
Hey, everyone! You're friendly neighborhood Doctor is back with another long recap list for Over The Limit 2012. The show was incredible, as almost every match was way above par for a mid-level PPV.

Daniel Bryan and CM Punk had the match of the night with their clinic of amazing wrestling, but there were more gems on the card as well.

I wasn't sure I would be able to do this recap; fortunately, I made it home from what was an incredibly fun vacation in time to see Over The Limit and write up a list.

I truly appreciate my loyal readers, but for those of you who are new, each month I recap the PPVs with a long list.

The entries are made up of equal parts humor, recap, play-by-play, revelations, speculations, questions, answers and anything else I notice during the show. I sometimes comment on commercials too just because I get bored during them.

When the lists end up this long I try and split it into section based on the matches so people can skip to the parts they are most curious about as well as provide more videos and pictures to go along with the entries.

I try and interject some fun into these lists, so I hope you have fun reading this week's list of the 239 things we learned, loved and hated from the show.
Begin Slideshow

»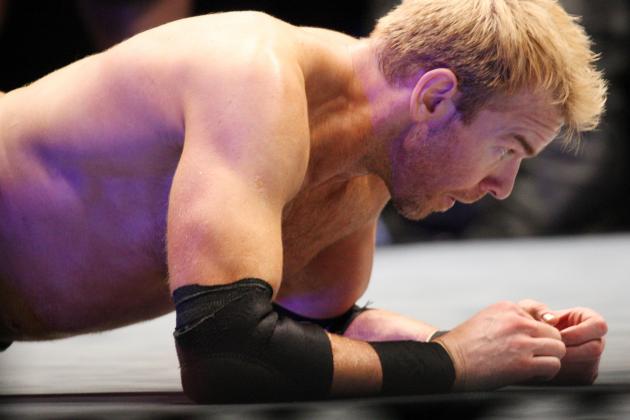 Gallo Images/Getty Images

1. I am watching this is SD right now and it really makes me realize the massive difference between SD and HD. HD is worth the extra five bucks.
2. There is a battle royal in progress as we open the show.
3. The winner will get to decide if they will face the IC or US Champion at the PPV tonight.
4. Sweet! Christian is back!
5. Yoshi Tatsu may have been hurt during his elimination as the ref looked like he signaled for help for him.
6. I kind of like how WWE started the PPV with this match in progress instead of wasting a few minutes on introductions and entrances. Smart move.
7. Wow! Michael Cole actually calls Jinder Mahal Khali's brother-in-law. I guess Cole has a good memory because I had forgotten about that storyline.
8. William Regal is still in there, and at this point he would be my favorite to see. Not a joke. He is underrated.
9. I think I can actually hear a small Regal chant.
10. Damn! There he goes at the hands of Christian.
11. I guess now I want Tyson Kidd to win. Christian should not drop to the mid-card by competing for one of these titles. He needs to stay in the World Title picture.
12. Right after I say that Tyson Kidd gets in a lot of offense on Otunga and Miz.
13. Crap! There he goes, too.
14. It is down to Otunga, Christian and Miz. Let's go Otunga!
15. Otunga and Miz gang up on Christian, who is getting somewhat of a baby face reaction from the crowd.
16. Christian throws out Otunga. I cannot pick 'em tonight.
17. Christian gets the win in a way I have never seen in a battle royal, where he shoulder-blocked Miz while they were both on the apron with a turnbuckle between them.
18. The crowd pops huge but he picks Santino, which would be the heel decision.
19. I hope he becomes a face again. I think the crowd would love it based on that reaction.
20. An awesome video plays for John Laurinaitis and John Cena following the match.
21. I have said it before and I will say it again. WWE's editing team who creates these videos are the best in the world at what they do.
22. Sorry, Chris Jericho. I didn't mean to steal from you like everyone else.
23. Vickie is out next, which means the Tag Team Titles will be contested next. I just want to say that I am glad Rosa is OK following her recent car accident.
24. She is making some speech about how she should get the job if JL gets fired for losing to Cena.
25. She brings out Jack "The Teal Ordeal" Swagger and Dolph "I have no idea who designed this jacket" Ziggler.
26. I want these guys to win. If Ziggler is not going to be used right in the singles division then he at least deserves to be Tag Champions with Swagger.
27. Little Jimmy comes out with R-Truth and Kofi "What's my gimmick?" Kingston next.
28. Cole asks, "Why wouldn't you want to see more of Vickie?"
29. Jerry Lawler responds with "That's a loaded question." Classic Lawler.
30. Kofi and Truth are rocking the colors of Rams tonight. Probably not on purpose.
31. The first few minutes of this match are filled with great back and forth action.
32. Swagger and Ziggler seem to be taking control after Swagger hits a Vader-style splash on Truth.
33. Lawler is obsessed with Vickie's dress.
34. Ha, As I typed that Cole calls him out on it, too.
35. Ziggler comes in and puts on a show with Truth before bringing Swagger back in.
36. Ziggler almost gets the pin at one point after a very creative double-team move on Truth.
37. Another show off move from Ziggler as he does his now trademark headstand headlock.
38. Truth hits a huge Tornado DDT on Swagger to come back.
39. Both men make the tag and Kofi starts taking it to Ziggler.
40. The crowd is really into this match and I am loving it, too.
41. Kofi misses the Trouble in Paradise and the S.O.S. but hits a huge flying cross-body for a near fall.
42. Ziggler hits a fame-asser on Kofi but Truth breaks up the pin.
43. Ziggler jumps into a Trouble in Paradise and the champs retain.
44. Damn! That match was effin' awesome!
45. All four men did an amazing job. That was honestly a WrestleMania quality match, in my opinion.
46. If WWE does not see the value in the tag team division after the crowds response to this match then I do not know what will do it. The people in the crowd were going nuts throughout the entire match.
47. Lawler, Booker and Cole all make sure to mention how great the match was, too.
48. Tyler Reks and Curt Hawkins are backstage with Eve.
49. Hahaha. They actually tell these guys to go take negative John Laurinaitis signs from the fans.
50. WWE has taken flack for actually doing that before so I am shocked to hear Lawler condemn it on the air.
51. Beth Phoenix is out for her match with Layla next.
52. Some kid holding sign that just says "BOO" gets a kiss from Layla. Lucky kid.
53. Layla takes control early on after a nice arm drag.
54. Some people are chanting, "We want Kharma."
55. Beth takes out Layla's knee with a unique move in the corner and she goes to work on Layla right away.
56. Ha. Cole says something really obvious, Booker call him on it and Cole says "Yeah, I pulled a Booker there." How did Lawler not laugh at that?
57. This is a good Divas match, but the crowd is dead. It would be hard for anyone to follow the tag match.
58. Beth puts on a single-leg Boston Crab to punish Layla's leg some more.
59. Layla comes back and almost wins with a roll-up.
60. Layla kicks Beth off the apron and then acts like she hit her face on the way down even though her head came nowhere near the apron on the way down.
61. Beth comes back in and Gorllia Presses Layla, who counters with a great DDT-like move.
62. I am loving every match we have seen so far. This is going to be a great PPV for being one of the smaller ones.
63. Beth almost hits the Glam Slam and Layla reverse for a series of near falls.
64. Layla hits a beautiful, textbook neckbreaker and wins the match out of nowhere.
65. What a great Divas match. Everyone is performing very well tonight.
66. Hahaha. I give props to the little kid who yelled "I want a kiss, Layla!"
67. Matt Striker interviews Randy Orton in the back.
68. Jericho walks in and interrupts.
69. The World Title match is next as Alberto Del Rio is out first, followed by Chris Jericho, Randy Orton and Sheamus.
70. Orton gets the biggest pop during his entrance, but Sheamus got a respectable reaction as well.
71. It takes awhile for all of the in-ring introductions, but we finally get going at about an hour into the show. This match features men from four different countries: Ireland, Canada, Mexico and the United States. I wonder if a USA chant will break out for Orton at some point.
72. The bell rings and everyone is weary to get started.
73. Del Rio goes after Sheamus and Orton goes after Jericho to start things off.
74. The faces clear the heels out of the ring and Orton and Sheamus square off, but the heels come back in before they can do anything.
75. Somehow, Sheamus looks even whiter in SD.
76. Del Rio and Jericho end up teaming up on Orton once Sheamus is down outside the ring.
77. Hey, guys! You are supposed to throw Sheamus into the Spanish announce table, not the one with King and Booker.
78. Nice. A small Lionheart chant breaks out for a few seconds.
79. Everyone ends up in the corner and we almost get one of those cool three-person spots, but Sheamus breaks it all up when he runs back in.
80. Sheamus calls for the Brogue Kick but Ricky Ricardo provides enough distraction for Del Rio to hit a perfect enziguri kick for a close two-count.
81. Sheamus hits a powerslam that would make the British Bulldog proud for another near fall.
82. Orton and Jericho have been down on the outside for too long.
83. Right after I type that Orton and Jericho come in and take out both men.
84. Way to make me look like an idiot, guys.
85. Del Rio ends up with the Cross-Arm Breaker on Orton.
86. A series of near misses from Orton and Sheamus with their finishers leads to Orton putting Sheamus into the ring post.
87. Orton hits a double rope-hung DDT on Del Rio and Jericho.
88. Jericho breaks out of the Cross-Arm Breaker and puts the Walls of Jericho on Del Rio to a nice pop from the crowd.
89. Sheamus breaks it up but Jericho hits him with a Codebreaker for a very close fall.
90. Sheamus ends up in the Wall of Jericho and Orton comes in with an RKO to Jericho.
91. Too many moves to mention later we see Sheamus get the win with what is apparently called White Noise.
92. Sheamus retains in another great match. The ending was awesome with all the back and forth action. Nobody missed a beat throughout that entire match.
93. This PPV is shaping up to be one of the best non-major PPVs in a very long time. I mean that in terms of match quality.
94. Cody is talking to Eve about how he would have beaten Christian had he chosen him to face when Christian walks up.
95. Cody sucks up to Christian and he gets called on it.
96. Yes! Christian changes his mind and decides to face Cody for the IC title. I hope this means he will be a baby face going forward. Maybe WWE realized the crowds reaction means they really want to cheer for him again.
97. Miz is out next and he has a mic in his hand, this should be good.
98. Lawler does not agree.
99. He gives a great promo about how he will defeat Brodus Clay tonight.
100. Whoa, whoa, Miz. Let's leave Cameron and Naomi out of this.
101. Haha. Miz says he is the best dancer in the WWE for some reason.
102. Wait, is he really going to do this?
103. What the hell is this? I take back my earlier statement. This is not great.
104. The sound got messed up during Clay's introduction and we could still hear Miz's music until Clay was done introducing the Funkadactyls.
105. Clay uses his power to get the early advantage.
106. Credit where credit is due. Miz is selling this match the way Shawn Michaels sold to Hulk Hogan.
107. Miz and Clay are doing their best, but they cannot compete with the great lineup of matches we have seen up to this point.
108. Clay takes Miz from the top turnbuckle and throws him most of the way across the ring.
109. Clay gets the win after a big splash.
110. That was easily Clay's best match to date, but it falls a little short to what we already saw earlier.
111. Compared to the rest of the card, this match felt like the center piece of a square cheese pizza. Wait, that sounds delicious. I am the center piece of a square cheese pizza and this match is Jim Belushi.
112. Shouldn't WWE have shown the "Don't try this at home," video at the beginning of the show?
113. Reks and Hawkins are shown taking signs from people.
114. Booker and Lawler talk about freedom of speech. I hope WWE remembers this the next time they actually take away unoffensive signs at a show.
115. Cody Rhodes is out for his match with Christian next.
116. Dr. Doom does the same thing as The Miz and delivers a promo during his entrance.
117. I know I said that Christian should not drop to the mid-card by competing for a mid-card title, but I do hope he wins this match.
118. Cody starts off with some hard strikes to take Christian down.
119. Christian hits a nice running dropkick to Cody on the outside and lands on his feet. Impressive.
120. Cody puts Christian into the steps and rolls him back in the ring for another near fall.
121. Christian hits his neck pretty hard on the bottom rope after a dropkick from Rhodes.
122. Cody hits a Disaster Kick off the steps but can't get the pin after rolling Christian back in.
123. This is another great match and the crowd is dead. What gives?
124. Christian starts to mount some offense.
125. Christian goes for the tornado DDT but Rhodes throws him off.
126. Rhodes hits a nice moonsault for another near fall.
127. Rhodes starts yelling at Christian after he kicks out, and the crowd starts booing him.
128. Christian ends up hitting a Killswitch for the pin and the win.
129. The crowd pops for Christian winning the IC title.
130. I feel like the IC title has undergone a bit of a metamorphosis lately. It feels like it matters again since it had been held by some bigger superstars like Big Show, and now Christian.
131. Cole plugs No Way Out in four weeks.
132. CM Punk is being interviewed backstage by Josh "I hate Brock Lesnar!" Matthews.
133. I can hear a "Yes!" chant in the background while Punk is talking.
134. Punk is a pro and he gets the crowd to pop by mentioning John Laurinaitis possibly getting fired.
135. Punk does a funny impression of Vince McMahon.
136. AJ walks up and flashes her big, doughy eyes at Punk, who walks off looking confused.
137. Daniel Bryan comes out and the "Yes" signs are everywhere.
138. I love that this match is finally happening for the WWE Championship.
139. Both men get nice reactions during their introductions by Justin Roberts.
140. Cole actually talks about their time in the Indy circuit.
141. Both men are testing each other early on.
142. Dueling Punk and Bryan chants break out and last for quite awhile.
143. Punk takes control after some back and forth action.
144. These chants are lasting way longer than normal. This is awesome.
145. Bryan starts hitting European uppercuts and kicks to take back control.
146. Punk kicks the leg he has already been working on to get Bryan down.
147. Punk puts on a nice submission, the name of which escapes me at the moment.
148. Bryan reverses and hits a series of elbows to Punk's face. That looked vicious.
149. More dueling chanting.
150. Punk ties up Bryan in a modified stretch and then drives Bryan face first into the mat for a near fall.
151. Punk ends up putting Bryan over the top rope but missed a sliding dropkick and Bryan shoves him into the barricade.
152. Bryan starts working over Punk near the time keeper's area.
153. Punk almost gets a figure-four on Bryan in the ring but Bryan rolls up Punk for another near fall.
154. Bryan puts Punk in a different modified surfboard, and he switches up his position a couple times to add more pain to the hold.
155. He finally pulls Punk all the way back for the full surfboard and then he pulls Punk's head all the way back to make it a totally different submission.
156. This is an awesome series of holds from Bryan.
157. Bryan hits a flying headbutt, Dynamite Kid-style for another near fall.
158. Both men collide with a double cross-body in the middle of the ring.
159. The ref starts counting as both men start to move.
160. Punk hits a series of moves before getting yet another near fall after a powerslam.
161. Punk runs and hits a suicide dive on Bryan.
162. Bryan is back in the ring and Punk springboards into a dropkick for a close two-count.
163. Punk gets on the Figure Four and the crowd yells "Woooooo!"
164. Bryan gets to the ropes and Punk utilizes the entire five-count to hold it on.
165. Some roll-up attempts lead to Bryan kicking Punks head off for a close fall.
166. A "This is awesome" chant breaks out.
167. Bryan gets crotched on the top rope and Punk springboards to clothesline him for another near fall.
168. This is an incredible match thus far.
169. Punk and Bryan with some more back and forth before Punk kicks the camera while kicking out.
170. Bryan almost puts on the Yes Lock but Punk is able to launch Bryan over the top rope.
171. Bryan skins the cat and gets kicked in the head for his troubles.
172. Punk climbs the ropes to deliver the Macho Man elbow and he connects.
173. Punks injured ribs prevent him from making the cover quick enough to capitalize.
174. A Randy Savage chant is heard for a few seconds—nice.
175. Bryan ends up going to work with a ton of knees to Punk's ribs.
176. He then gets a "Yes" chant before getting the Yes Lock on Punk.
177. Punk rolls over and the ref counts Bryan down while Punk taps.
178. Punk is declared the winner and Bryan is pissed as he yells at the ref that Punk tapped.
179. Punk tapped after the count according to the replay so he is the rightful winner.
180. What a great match. That totally lived up to my expectations.
181. David Otunga is backstage with Eve and they walk up to Teddy, who looks pretty happy at the possibility of JL losing his job.
182. Teddy makes Eve and Otunga think about what might happen if JL actually loses his job.
183. Wow! It's Hunico and Camacho. I would not have expected to see them tonight.
184. Lillian messed up and said Hunico is in action when it is actually Camacho.
185. Ryback is his opponent and the crowd seemed to not care one bit.
186. A Goldberg chant breaks out immediately.
187. Ryback squashes Camacho.
188. A video airs after the match for a DVD highlighting Clash of the Champions.
189. I loved this event as a kid because it was like a free PPV.
190. I am a little shocked to see Sting on the cover of the DVD.
191. Johnny Ace comes out looking more like Super Dave Osborne than ever before.
192. Cena gets a mostly positive reaction when his music hits and he comes out, but there are still some boos out there.
193. I wonder if Brock Lesnar is going to attack Cena tonight, since he already quit they can't fire him.
194. Cena is laughing at Funkman when he reveals his skin-tight attire.
195. Ace tries to run into the crowd to escape Cena and Cena pulls him back into the ring and lays him out.
196. Cena lifts up Johnny's shirt and slaps his chest and back very hard.
197. Cena puts JL in a fireman's carry and spins around several times.
198. Ha. Johnny stumbles right out of the ring.
199. Cena rings the bell right next to Johnny's head a bunch of times. That has to be loud. I was less than thirty feet from that thing at Extreme Rules and it was loud as hell.
200. Cena puts himself and a dazed JL in the Spanish announcer's chairs and they do some commentary.
201. Hahahahahahahaha. Cena tells JL to be Booker and JL says "Five time, five time, five time" before almost passing out.
202. Cole is beside himself at how funny that was.
203. Cena rolls JL back in the ring and starts going to work on him.
204. This is definitely not the darkest timeline anymore.
205. Cena grabs a mic and tells everyone he is about to put JL in the STF.
206. He reminds everyone that JL will be fired if he taps.
207. Cena says he will let go if JL can last 10 seconds and the crowd counts it out for him.
208. Ace survives and Cena actually lets go.
209. Cens says he is going to do it again and the crowd counts another 10 seconds and Cena lets go again.
210. Cena goes to get a drink while JL is down in the ring.
211. Cena grabs three bottles of water.
212. Hahaha. I love Cole's deadpan delivery of, "If he drinks three bottles of water, he is going to get cramps."
213. Cena dumps them all over JL. Not as effective as Austin dumping beer on people, but the crowd likes it.
214. Cena grabs a fire extinguisher and threatens to blast Johnny in the face with it.
215. The crowd really wants him to do it and he finally does.
216. Johnny's face is really red because he was covered with water and then got hit with a cold blast from the extinguisher.
217. Cena dumps some garbage on him before JL tries to escape again.
218. JL actually gets in some offense by slamming Cena's injured arm on the barricade.
219. Ace starts to work over the arm as Cole cheers him on.
220. Suddenly Booker and Lawler are not laughing so much.
221. Johnny grabs a steel chair and starts hitting Cena with it.
222. Cena kicks out of a pin attempt, but he is still down.
223. Cena ends up with the chair and he delivers a chair assisted Five-Knuckle Shuffle.
224. JL hits a low blow and puts Cena down again.
225. Johnny Ace starts to run away through the crowd and Cena is still in the ring.
226. Big Show ends up bringing JL back through the crowd and since he was fired he cannot be punished.
227. Laurinaitis realizes he is between a rock and a giant.
228. Big Show steps on his hand as he tries to crawl away.
229. I knew it. Big Show hits the WMD on Cena as Cena lifts up JL for the AA.
230. Lot's of initials and acronyms in that last one.
231. Big Show turns heel and gets rehired was a pretty obvious outcome to this match as soon as he appeared.
232. Laurinaitis pins Cena and wins the match.
233. There is not a whole lot of response from the crowd as Big Show stands over JL before helping him up and raising his hand.
234. I expected this match to be a lot worse than what we just saw, so I am happy with how it turned out.
235. I was wrong, this is the darkest timeline. JL wins.
236. Big Show even has the goatee!
237. Ninety percent of that PPV was five-star caliber action. Well worth the money, especially considering that this was the third PPV in seven weeks.
238. Punk and Bryan had to be match of the night, but there were plenty of great matches to highlight.
239. Tomorrow's Raw should be very interesting.


Thanks for reading and feel free to share your thoughts and additions to the list below.