Netherlands Euro 2012 Roster: Analyzing Team's Starting 11 and More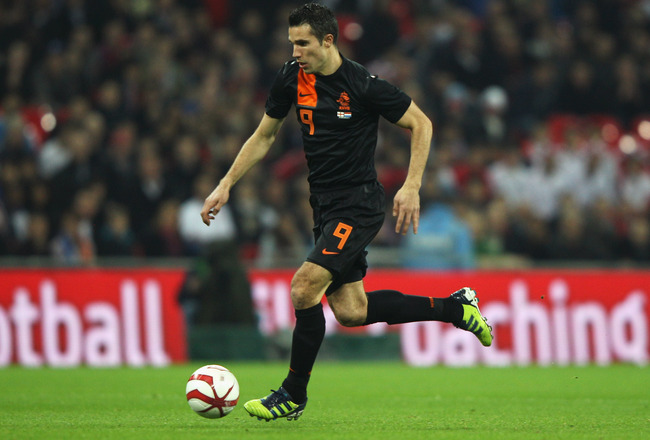 David Rogers/Getty Images
Holland are the fourth-ranked team in the world, according to FIFA's world rankings.
Clockwork Oranje is hoping to make the most out of a toughly-drawn Group B in this summer's UEFA European Championships with a run towards the final and a return to European national glory their target.
Their starting opposition of Germany, Denmark and Portugal represent a monumental test, but the Dutchmen have always been known to bring their best to national tournaments.
With the final squads set to be completed in the coming days, we take a look at the possible 23-man squad for the nation, as well as their tactical approach and the believed starting 11.
Goalkeepers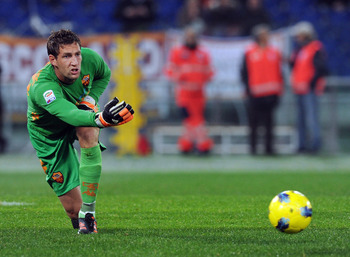 Giuseppe Bellini/Getty Images
The Netherlands possess three excellent keepers in the likes of AS Roma's Maarten Stekelenburg, Swansea City's Michel Vorm and Newcastle United's Tim Krul.
While Stekelenburg is still likely to remain the starting man between the sticks, both Vorm and Krul had excellent seasons in the English Premier League and could earn a chance in the first team at any moment.
Defenders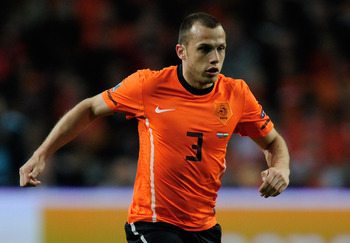 Jamie McDonald/Getty Images
Urby Emanuelson was cut from the squad last week, according to ESPNsoccernet.
The remaining defenders are likely to be John Heitinga (Everton), Jeffrey Bruma (Chelsea), Joris Mathijsen (Malaga), Erik Pieters (PSV Eindhoven), Ron Vlaar (Feyenoord), Gregory van der Wiel (Ajax Amsterdam) and Khalid Boulahrouz (VfB Stuttgart).
The major strength of the Netherlands squad has and almost always will be its midfield and forwards, leaving the defensive unit usually with only six to seven due to the Dutch total football approach that routinely uses three defenders.
Midfielders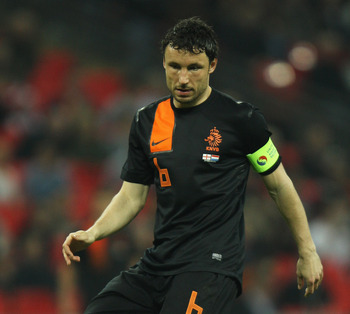 David Rogers/Getty Images
The Dutch national team is famous for their midfield maestros in attack and their strong defensive-minded holding midfielders.
With a routine five-man midfield, it is common for the Dutch side to have eight to nine players that can rotate throughout the midfield.
Holland's captain, Mark van Bommel (AC Milan) leads the national midfield collective followed by Nigel De Jong (Manchester City), Ibrahim Afellay (FC Barcelona), Rafael van der Vaart (Tottenham), Wesley Sneijder (Inter Milan), Stijn Schaars (Sporting), Kevin Strootman (PSV Eindhoven) and Arjen Robben (Bayern Munich).
Forwards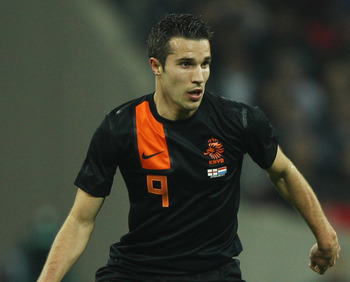 David Rogers/Getty Images
Holland have some of the best attackers in the world, and at the moment their two most potent weapons are coming off the best campaigns of their careers.
Both Robin van Persie (Arsenal) and Klaas-Jan Huntelaar (Schalke 04) have been on fire all season and top the list of their national team's attackers.
Veteran Dirk Kuyt (Liverpool) is also expected to return. Although Kuyt had a rough club season, his desire, fitness and hard work are indispensable.
The two other forwards are looking to be Luuk de Jong (FC Twente) and Eljero Elia (Juventus), both of whom are expected to make summer transfers following the tournament this summer.
Tactics and the First XI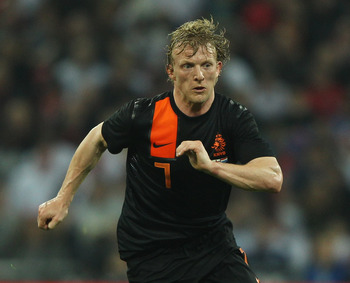 David Rogers/Getty Images
The Netherland's are the creators of modern total football and their lineups almost always reflect that background.
It is expected that the club will have a formation that morphs between a 4-2-3-1, 3-5-2 or a 3-2-3-2.
All can easily flow together with the right players on the pitch.
Another tactical characteristic that will be seen from the Dutch is that they will attack, attack, attack until they wind the net.
However, that leaves their one weakness as the defense being exposed. If they are in a tight match, pushing for the win could see them ship a few to many goals if they are not careful.
GK: Maarten Stekelenburg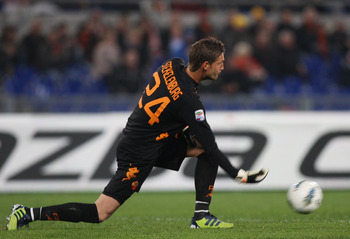 Paolo Bruno/Getty Images
The 29-year-old AS Roma shot-stopper has 45 caps for his nation and is settling in for the long-term job as he hopes to fill the boots of Edwin van der Sar.
Stekelenburg is not the former Manchester United legend, but he is great in his own right and should be the first choice for the foreseeable future unless he tanks this summer.
RB: Gregory Van Der Wiel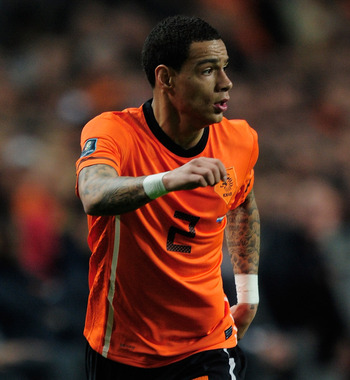 Jamie McDonald/Getty Images
Ajax Amsterdam defender Gregory van der Wiel is fighting to help bring a trophy to his nation after being part of a great run to the Eredivisie title with his club.
Not only is he hoping to succeed with his nation, but he is also looking to make an impression on the eyes of all those watching, as the 24-year-old could be eying a move to a bigger club later this summer.
CB: John Heitinga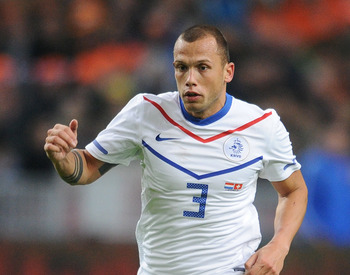 Jasper Juinen/Getty Images
Everton's John Heitinga continues to be the solidifying force at the back of the Netherlands machine.
The 28-year-old vice-captain had a strong club season yet again for David Moyes in the English Premier League and will hope to carry that success over to his play for Holland this summer.
CB: Joris Mathijsen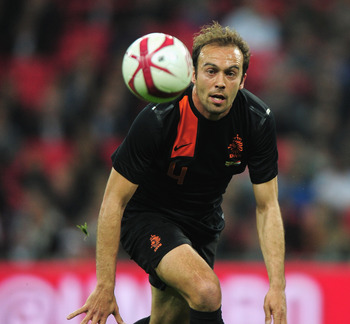 Shaun Botterill/Getty Images
Joris Mathijsen is the oldest member believed to be headed for a starting place in the back four for Holland.
The 30-year-old had a great club season in Spain with rising club Malaga, who have gone from 17th in 2001-10 to the UEFA Champions League places this year.
Mathijsen will be much like his partner Heitinga in the fact that he will hope a positive club season gives him the boost to play out of his boots for Holland this summer.
LB: Erik Pieters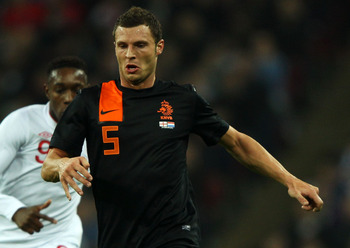 David Rogers/Getty Images
PSV Eindhoven's Erik Pieters is working his way into a solid left fullback role with his national side.
At the moment, it is the only defensive place that is truly even up for grabs, with the central defenders and right side already spoken for.
CDM: Mark van Bommel (Captain)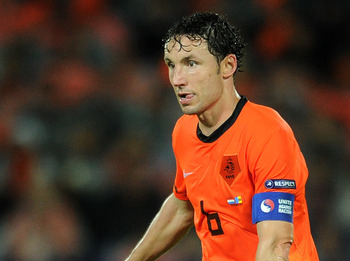 Jasper Juinen/Getty Images
At the age of 35 years old, AC Milan midfielder and Netherlands Captain Mark van Bommel is looking at perhaps his last major tournament for his nation.
His skill and touch are still there and his leadership is top notch, and this is certainly a major chance for Holland to march themselves to the top of Europe for the first time since 1988.
CM: Wesley Sneijder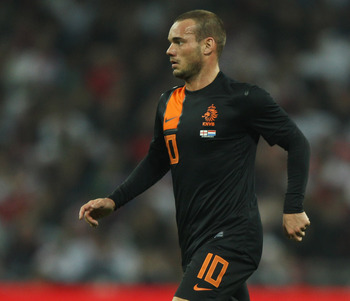 David Rogers/Getty Images
Where Mark van Bommel is the steel in the central midfield for Holland, Inter Milan's Wesley Sneijder is the orchestrator.
Their combination in the middle of the park will be an interesting one to watch throughout the summer tournament.
RM: Dirk Kuyt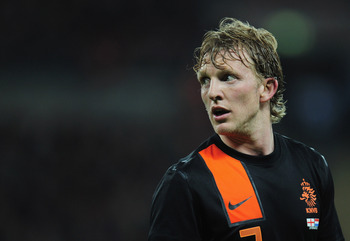 Shaun Botterill/Getty Images
There is no replacement of the industrious endeavor of Dirk Kuyt on the right side of the attack.
The Liverpool man endured a tough club season, but his fitness has never faulted and he will be in prime condition to make a difference for Holland.
LM: Arjen Robben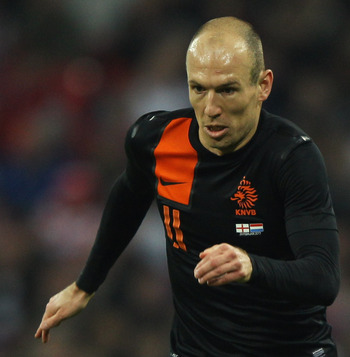 David Rogers/Getty Images
Arjen Robben has been excellent all season and despite his frustrations with Bayern Munich at the end of the season, he is still a top-class winger and will be hugely influential during Holland's European Championship run.
CAM: Rafael van der Vaart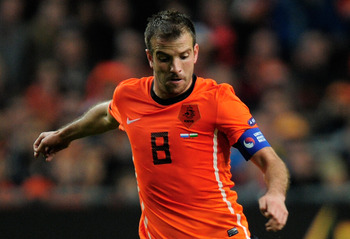 Jamie McDonald/Getty Images
The attacking second forward role has been one to bring the best out of Rafael van der Vaart in the past seasons with Tottenham.
He is likely to be utilized to do so once more this summer as the supporting attacker for Robin van Persie.
ST: Robin van Persie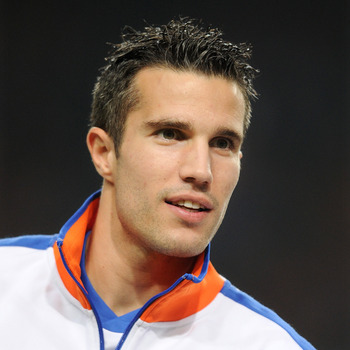 Jasper Juinen/Getty Images
Is there another attacker more qualified to lead the line for the Netherlands aside from Robin van Persie?
There truly is not, and even with his current form, Klaas-Jan Huntelaar is just not on the level with RVP right now.
The Arsenal forward is likely to be the X-factor for the Oranje this summer and he will hope to test all the defenses and goalkeepers that stand in his way.
Conclusion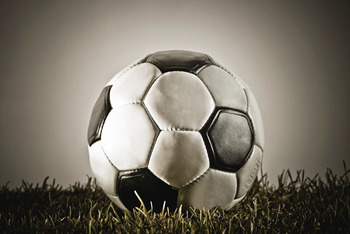 The Netherlands have a strong chance to finally get past Spain and push for a chance to reclaim their one-time title of UEFA European Champions.
What are your thoughts on Holland's chances this summer?
Thanks for reading, you can follow me on Twitter @thedailyatz, Facebook and Pinterest.
Keep Reading