Greatest Men's Match in French Open History: Chang Shocking Lendl Eclipses All
May 20, 2012

Simon Bruty/Getty Images
In the French Open or any Grand Slam tournament, there are two key elements that make a tennis match great: drama and quality, meaning that the contest must clearly be a thriller, and that both players played well enough at times for fans to recall specific shots that made their head spin. 
Looking down the list of great French Open men's matches in the Open era (1968 to present), there are a couple dozen that qualify. Unfortunately, because Rafael Nadal has been so dominant since he won the first of his six titles in 2005, the Spaniard has only contested one five-setter: a rousing win over American John Isner in the first round last year, but it just doesn't measure up as a top-five contest. 
The other so-called greatest clay court player ever, six-time Roland Garros champ Bjorn Borg, contested more five setters, but only one of those is permanently etched in the memories of fans: his last match in Paris in 1981, when he wore down a fast rising Ivan Lendl 6-1, 4-6, 6-2, 3-6, 6-1 in the final.
But while that match had its dramatic moments, it still doesn't compare to two other heroic and nail-biting contests: Andre Agassi coming from two sets down to shock Andrei Medvedev 1-6, 2-6, 6-4, 6-3, 6-4 in the 1999 final, and the 2004 final, when Argentine Guillermo Coria was unable to contain his nerves, began to cramp and finally fell to his inspired countryman Gaston Gaudio 0-6, 3-6, 6-4, 6-1, 8-6.
Even though I covered three of the aforementioned matches on site and recently re-watched Borg and Lendl's great battle, there is another contest that stands out more to me, just because of the sheer improbability of it: American teenager Michael Chang's miracle in 1989.  In the fourth round, the 5-foot-8, 125-pound Chang overcame serious cramps, served underhanded and left the legendary Lendl in the dust 4-6, 4-6, 6-3, 6-3, 6-3 in a four-hour, 39-minute sweat fest. 
"I always tell people that under the situation, the French Open with Tiananmen Square going on [in China], the way the last four matches were played, it is in many instances very memorable," Chang told me in Paris a few years ago. "I've had so many people come up to me and say they were actually there watching it on Centre Court. That's pretty remarkable. There are 17,000 seats in that stadium, but so many people from around the world say they were there. Either they're lying or it's a pretty incredible thing. I would think that people would say, 'I saw the final against Edberg.' So many more people say, 'I saw your Round of 16 match against Lendl,' which is odd."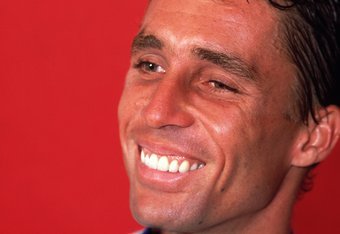 Getty Images/Getty Images
What was all-together strange was watching an exhausted Chang serve underhanded, moonball and then sprint sideline to sideline and blast winners.
Chang, who would eventually reach No. 2 in the world but never win another major despite making it to the final of three more, recalled some key moments: "The second to the last point when I hit the backhand down the line for the winner; going back to get a drink of water during the middle of one of the games because my cramps were stinging. I knew I wouldn't be able to play the point; I remember lunging for a backhand, having a cramp in my right calf, kind of limping back, then Ivan missed a forehand; the match point. The underhand serve."
Chang psyched Lendl out on his first match point, standing nearly on the service line to return serve. The shaky Czech double-faulted. "I was going to try to pick it off," Chang said. "My mentality the whole time I was cramping was just to keep the ball in play, to lob it as high and deep as I could. If I got a chance, just go for it... I had two match points. I picked off one or two serves before, so I was hoping maybe I would be able to do the same or maybe coax him into a double-fault."
The persuasions of the tireless baseliner continued in his next three matches, but he had to hammer them home. He had to save a set point in the fourth set in his 6-4, 2-6, 6-4, 7-6 (8) victory over Ronald Agenor; had to rescue another set point in the fourth in his four-hour, five-minute 6-1, 5-7, 7-6 (4) 7-5 semifinal win over Andrei Chesnokov; and then had to come back from 0-2 in the fifth to stave off Edberg 6-2, 3-6, 4-6, 6-4, 6-2 for the title.  
After 21 hours, 18 minutes of clay court heaven and hell, he became the youngest title winner in Paris history at 17 years, seven months. 
Lendl was the dominant player at the time, so the upset became a modern day David and Goliath story and one that has not been surpassed in the last 23 years. It may not be for the next 23 French Opens, either.
Matt Cronin is a Contributor for Bleacher Report. Unless otherwise noted, all quotes were obtained first-hand.

Longtime tennis journalist Matt Cronin is a columnist for Tennis Channel, a reporter for Tennis.com,a radio analyst at all the Grand Slams and the author of the book, "Epic: John McEnroe, Bjorn Borg and the Greatest Tennis Season Ever."