French Open 2012: Key Storylines for Novak Djokovic, Rafael Nadal, Roger Federer
May 23, 2012

Clive Brunskill/Getty Images
The 2012 French Open has the making of a blockbuster. With his wins in Monte Carlo, Barcelona and Rome, beating Novak Djokovic twice in the process, Rafael Nadal has reestablished himself as the clear favourite heading in.
Nevertheless, there are several key historical storylines in this particular French Open, and here are the most important. 
Chasing the Novak Slam
Novak Djokovic has the chance to do what no man has done since Rod Laver in 1969: win four consecutive slams. 
It would be a historical feat deemed almost impossible to achieve in this intensely competitive era. Roger Federer and every other great player failed to do it. Can Djokovic thrive where the rest of them fell? 
He's got one thing going for him: winning seven out of the last nine matches against Rafael Nadal, the man who usually holds the key to the trophy. 
If he wins it, Djokovic will have six slams in total, but a career Grand Slam and a unique Novak Slam. This feat will leapfrog him above all-time greats like Boris Becker, Stefan Edberg and Mats Wilander. 
The downside? He has suffered two defeats on clay to Nadal this season, one as he was still grieving after the loss of his grandfather, the other a close fought battle in Rome, where Djokovic didn't take his chances and Nadal was clutch, when he needed to be.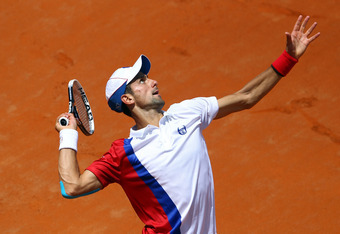 Julian Finney/Getty Images
Usurping Borg as king of the French
Two men stand tied with six French Open trophies each in the Open Era: Björn Borg and Rafael Nadal. 
Nadal has the chance to run away from Borg and sit alone at the top with seven French Open titles. That would tie him with Pete Sampras for most wins at any slam in the Open era (Sampras has seven Wimbledon trophies). 
Given just how dominant Nadal is on clay, it seems likely that this feat will happen sooner or later. But can he derail Novak Djokovic, his main rival, and win his seventh French Open title in a mere eight attempts? 
It's a big ask, but given how the clay season has panned out, you would have to like his chances. 
After all, only one man (Robin Söderling) has beaten Rafa in a best-of-five on clay and he's not even in the tournament. 
The upside? He's just turned a seven-match losing streak against Djokovic into a two-match winning streak, probably erasing whatever doubts he may have had going into the clay season.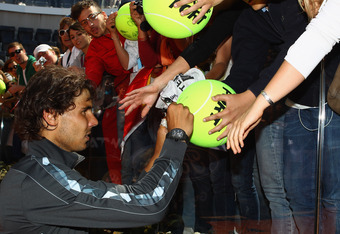 Clive Brunskill/Getty Images
The double career Grand Slam
Roger Federer, as usual at this stage in his career, is flying a bit under the radar. Federer is the only man, who has at least five final appearances behind him in each of the four slams. 
But, as it is well known, he only has one French Open trophy courtesy of Rafael Nadal, who has beaten him a commanding five times in Paris. 
Federer, now 30 years old, has enjoyed a tremendous run going back to last year's US Open, winning seven out of the last 11 tournaments he has entered.
In last year's French Open final, he was dead even with Nadal for the first three sets, but a drop-shot that landed just wide cost him the first. 
Few believe he can actually conquer Nadal in Paris at this stage of his career. 
But if he does—or wins it without going through Nadal—he will once again have written his own unique piece of tennis history. 
Two slams or more at each of the majors has only been done by Laver, and Federer would be the first to achieve two of each in the Open Era. 
A unique feat indeed. 
The downside? He didn't get to be second seed, thereby potentially avoiding Djoko-Rafa in consecutive matches, as Rafa beat Djokovic in Rome and got back to world No. 2 spot.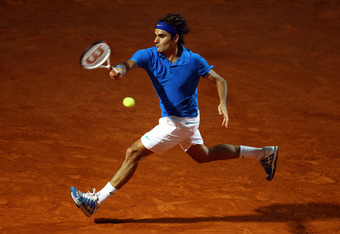 Julian Finney/Getty Images
Breaking the British spell
Oh, have they waited. Not since 1936 has a British man won a slam title—that was Fred Perry winning Wimbledon. 
Andy Murray has made it to a slam final three times, but is yet to win a set once there.
Last year, he showed great improvement on clay, playing Rafa close in Monte Carlo and almost breaking Djokovic's run in Rome. He also made it to his first French Open semi, falling to who else but Rafa. 
It will be a massive surprise if Murray breaks the spell at this year's French Open, especially given that he's failed to do much damage in this year's clay season. 
However, if he wins it, imagine how the UK will crown him as the second coming of Christ. 
History is, as always, on the line for Murray in a slam. 
Surprise winner
Anyone not named Rafa winning the French Open these years is a minor surprise. But some more so than others.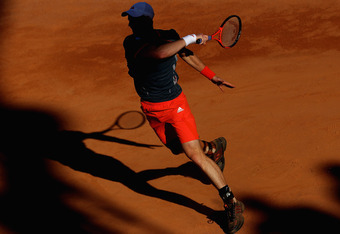 Julian Finney/Getty Images
Djokovic winning it would not constitute a massive surprise. Federer, perhaps a bit more so, but he still has five French Open finals to show. 
But Murray, Juan Martin del Potro, Tomas Berdych, David Ferrer–or even a John Isner or Milos Raonic–would be a almost unheard of in this day and age, where Rafa and Djokovic seem to divide the slams between them with Federer having the chance to play the role of the spoiler. 
Two more days to go before the draw is out. 
Four more days and play will commence.