Eduardo Nunez: Why the New York Yankees Need to Trade Him Now
May 18, 2012

Al Messerschmidt/Getty Images
The New York Yankees need to trade Eduardo Nunez as soon as possible.
Nunez has already shown himself to be a legitimate major league hitter with good speed. He was 15-for-51 with six steals this year before being sent down to Triple-A, but he wasn't helping the team.
He was a defensive nightmare at every position he played. In just 20 games in 2012, he has made errors at second base, shortstop, third base and left field (although he was fortunate enough to have Major League Baseball change his error in left field to a hit).
When the Yankees sent him down to Triple-A following a two-error game at third base, they committed to him being a full-time shortstop so that he could focus on just one position.
In just three games at shortstop for Triple-A Scranton/Wilkes-Barre, Nunez has already made two errors.
The Yankees don't need a shortstop now, obviously, and won't have a need for one until Derek Jeter moves from the position. That likely will not happen until his contract expires at the end of 2013 at the earliest.
They also don't need a bench player who can hit but not play defense.
Despite their offensive struggles, the Yankees use their bench mainly to spell a veteran for a day or as defensive replacements late in games. Basically, their backups aren't needed or expected to do anything spectacular. They're just supposed to not mess up.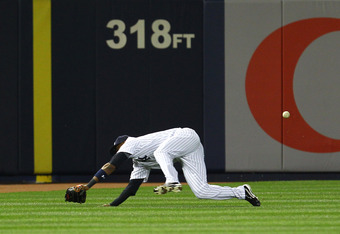 Al Bello/Getty Images
Nunez has already shown that he does not fit in with that philosophy. In his last game before being sent down, he made two errors against the Rays that led to two Tampa Bay runs.
The Yankees don't have a use for him. But others teams will.
There are at least 10 teams that need offense in the worst way and have replaceable infielders or have infielders who are expected to miss an extended amount of time with injuries: Los Angeles (Angels), Los Angeles (Dodgers), Milwaukee, Minnesota, New York (Mets), Oakland, Philadelphia, San Francisco, Tampa Bay and Washington. These teams need a bat like Nunez's and could be willing to overlook his defensive shortcomings.
The Yankees should try to deal Nunez now, before he makes even more errors in the minors and teams think of him as such a liability that his offense would not outweigh his defense.
They should also try to trade him, because they need a relief pitcher, now missing both Mariano Rivera and David Robertson. Nunez's bat now makes him a valuable trade chip to any of the teams listed above.
Brian Cashman should try to trade an asset who is more valuable to other general managers than he is to Cashman in order to acquire an asset the Yankees have a use for right now.