Hurricanes' Loss Highlights Mark Hammett's Need to Blend Flair with Structure
May 19, 2012

Hagen Hopkins/Getty Images
So far this season, the Hurricanes have been one of Super Rugby's big surprise packages.
After a disappointing 2011, they lost eight past or current All Blacks as coach Mark Hammett's hard-line style of coaching proved unpopular with senior players.
Hammett's style introduced a much-needed series of changes.
For most of the Super Rugby seasons, the Hurricanes have had no shortage of talented players on their roster but with only one Grand Final appearance in franchise history to show for it, underachievers is a good word to describe the team.
Their previous style of entertaining, explosive rugby suited the star-studded back lines of old and was usually good enough to get them into the semi-finals.
That kind of rugby, while great to watch, lacks the consistency required to succeed long-term. An expansive style of game allows mistakes to creep in and takes the game away from the forwards, which are needed in the tightly-fought playoff games.
As the saying goes: "the best back line in the world means nothing if you're going backwards."
It's no coincidence that the most frequent Super Rugby winners are the Crusaders, Bulls and Brumbies.
The All Blacks finally won a World Cup last year when their forwards started working hard and focusing on a style of game that relies more on structure than a high tempo.
Mark Hammett was brought in from Canterbury by the Hurricanes' management to bring that style of rugby to Wellington.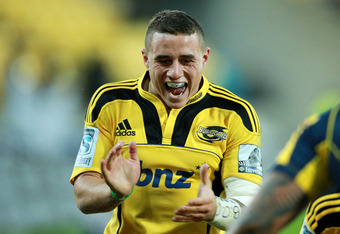 Hagen Hopkins/Getty Images
From day one he emphasised his authority and later told captain Andrew Hore and star second-five Ma'a Nonu they would no longer be required.
Despite the criticism he received, the resulting player exodus actually served to refine the team.
The players left in 2012 were all hard workers with a skill set that works to the game Hammett wants (Nonu made too many mistakes) and rookies with everything to prove.
Contrary to preseason expectations of serving as an extra bye, the Hurricanes have demonstrated signs of longer-term improvement as they sit just outside the top six with a 6-6 record.
Home wins against the Brumbies and Cheetahs would have seen this record at a more impressive 8-4.
Aside from receiving two lessons in not resting players, the 2012 season has been dictated by Hammett's on-going struggle to introduce structure to a team which is still inherently flair-based.
This has always been the Hurricanes' way, and this way of thinking is evident in the way many of them still play. TJ Perenara is a great attacker around the rucks, the back three are among the best counter-attacking trios in the competition and even the loose forwards pride themselves on strong ball-running.
Their ability to quickly score tries has been a real asset this season but this inherent flair got them unstuck around the 50th minute.
Ahead by nine points and firmly in control, they spent 10 minutes trying to push the ball around the field and make line breaks. These attacking runs were often rushed and in that time, the Brumbies were able to get back into the game as two tries put them into the lead.
Had the Hurricanes maintained their composure during that period, they could have worked to take control of the game and close it out in the same way the Stormers have done for much of this season.
This is the biggest problem Mark Hammett will face for the rest of the season and in future seasons.
He needs to harness the team's natural explosive style of rugby that can be so unpredictable and so hard to stop when it works, but he also needs to blend it with a disciplined, controlled style that closes games out and wins high-pressure games.
I can't say I envy his job, but if it works he deserves to be recognized as one of the game's great coaches.