Republic of Ireland Euro 2012 Roster: Projected Starting XI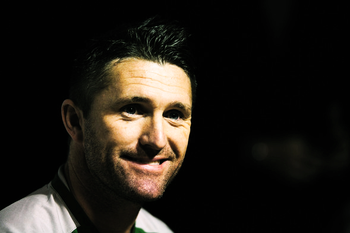 (Jamie McDonald/Getty Images Europe)
Giovanni Trapattoni's Republic of Ireland are tasked with attempting to qualify out of a Euro 2012 group containing Spain, Italy and Croatia.
Having recently released his 23-man roster, this article will project Trapattoni's starting XI for Euro 2012.
Spare a thought for James McCarthy, who has withdrawn from the squad after his father was diagnosed with cancer.
Goalkeeper: Shay Given (Aston Villa)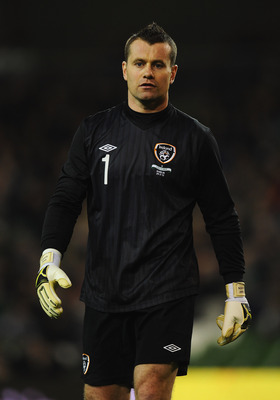 Mike Hewitt/Getty Images
Shay Given has no competition for his starting position.
Keiren Westwood has no business challenging Simon Mignolet, let alone disposing Given.
David Forde is just making up the numbers.
How does Given compare to two of the best goalkeepers in the world in Marc-André ter Stegen and Gianluigi Buffon?
I've thrown in Brad Friedel just to make it interesting.
| | | | | |
| --- | --- | --- | --- | --- |
| League Only | ter Stegen | Buffon | Friedel | Given |
| Saves to Goal Conceded Average | 4.3 | 5.1 | 3 | 2.5 |
| Save Percentage | 80.3% | 83.5% | 75.5% | 72.4% |
| Saves | 102 | 81 | 123 | 113 |
| Goals Conceded | 24 | 16 | 41 | 45 |
| Clean Sheets | 15 | 21 | 14 | 8 |

Given has played decently for Aston Villa, but is he one of the best goalkeepers in the world? No.
In the past year, Chris Brunt and Ivan Tričkovski have both missed penalties when facing Given.
Right-Back: John O'Shea (Sunderland)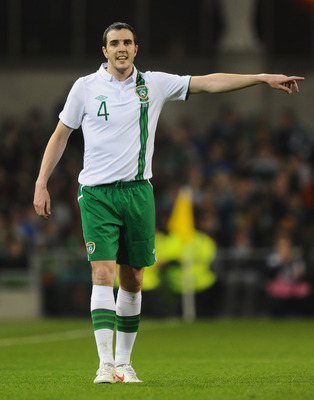 Mike Hewitt/Getty Images
I didn't rate John O'Shea at Manchester United, and I certainly don't rate him at Sunderland.
Throughout his career, he has overachieved and relied on playing a simple game.
His safety-first approach is the reason why he has accumulated 161 clearances this season.
In the three games Stephen Kelly played at right-back, Republic of Ireland had three clean sheets.
So, O'Shea or Kelly?
| | | |
| --- | --- | --- |
| League Only | O'Shea | Kelly |
| Tackles | 52 | 35 |
| Interceptions | 59 | 39 |
| Assists | 0 | 0 |
| Crossing Percentage | 17.9% | 20% |
Neither are standouts, but I'd go with O'Shea.
Centre-Back: Sean St Ledger (Leicester City)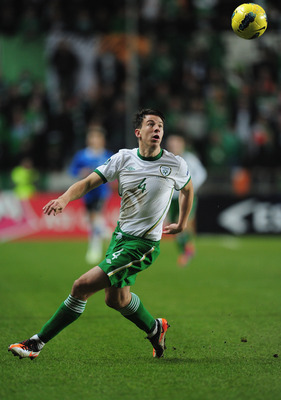 Jamie McDonald/Getty Images
Sean St Ledger has grown in confidence throughout the qualifying campaign, mainly because of playing alongside Richard Dunne.
Euro 2012 could be St Ledger's time to shine, or it'll give Premier League clubs a reason not to sign him.
Centre-Back: Richard Dunne (Aston Villa)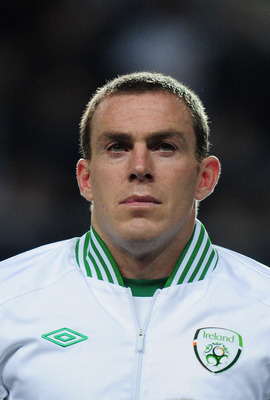 Jamie McDonald/Getty Images
On international form alone, Richard Dunne is easily Republic of Ireland's best player.
In a 0-0 draw against Slovakia, he rendered Filip HoloŠko useless.
Four days later, he did the same, except to Russia's Aleksandr Kerzhakov in another 0-0 draw.
Dunne was impressive against a desperate Estonian side looking to score goals to keep their Euro 2012 dream alive.
Left-Back: Stephen Ward (Wolverhampton Wanderers)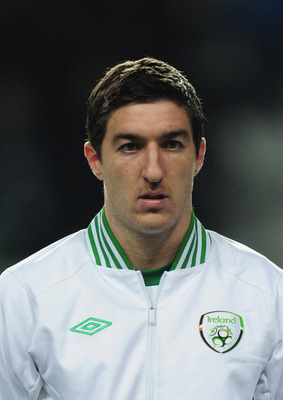 Jamie McDonald/Getty Images
It'll be odd not seeing Kevin Kilbane on the left, but Stephen Ward will probably fill in.
All Ward needs to do is defend well and listen to Richard Dunne. Ward is a modest professional but nothing special.
Although, people said the same thing about Giourkas Seitaridis, who ended up winning Euro 2004 with Greece and was included in the team of the tournament.
Right Winger: Damien Duff (Fulham)
It's been 15 years since Damien Duff participated in the 1997 FIFA World Youth Championship.
Nico Olivera, the Golden Ball recipient, ended up being a journeyman footballer.
Adaílton, who scored the second-most goals in World Youth Championship history, never made the transition into a world-class forward.
Meanwhile, Duff is still chugging along in the Premier League with Fulham.
Defensive Midfielder: Keith Andrews (West Bromwich Albion)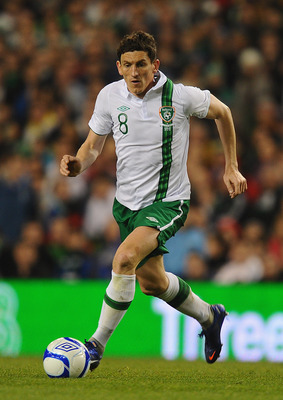 Mike Hewitt/Getty Images
Keith Andrews has had a minor role in West Bromwich Albion's season.
Youssouf Mulumbu is a more dynamic player, stronger tackler and a bigger presence than Andrews, hence why the Irishman has hardly played.
Darron Gibson could be an outside chance of replacing Andrews in the starting XI.
| | | |
| --- | --- | --- |
| League Only | Andrews | Gibson |
| Tackles Per Game | 1.4 | 1.9 |
| Interceptions Per Game | 1.4 | 1.9 |
| Fouls Per Game | 1.1 | 0.9 |
| Passing Percentage | 82.4% | 84.1% |
Centre-Midfielder: Glenn Whelan (Stoke City)
Christopher Lee/Getty Images
With 1.9 tackles and 1.5 interceptions per game, you wouldn't call Glenn Whelan an enforcer in midfield.
He completes 79.4 percent of his passes, so he isn't the most efficient midfielder around.
That being said, he's a vital member of Giovanni Trapattoni's midfield.
Left Winger: Aiden McGeady (Spartak Moscow)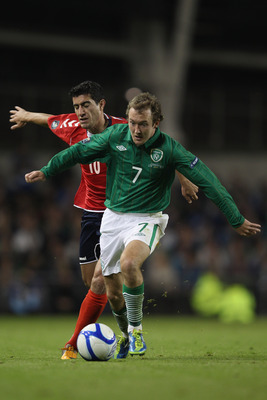 Michael Steele/Getty Images
Aiden McGeady has the X-factor.
His incisive dribbling, dangerous crossing and ability to dance his way past several opposing players is invaluable.
Who provided the most assists during the Republic of Ireland's Euro 2012 qualifying campaign?
McGeady.
Versus Croatia: Vedran Ćorluka isn't a world-class full-back. McGeady may struggle if Darijo Srna plays right-back.
Versus Spain: Sergio Ramos has played the majority of games this season at centre-back. His haphazard defending will give McGeady some openings. Personally, I'd start Andoni Iraola at right-back.
Versus Italy: Christian Maggio will be McGeady's toughest opponent at Euro 2012.
I'm not sure how many minutes James McClean will get, but keep an eye out for him, because he has been excellent for Sunderland.
Deep-Lying Forward: Robbie Keane (Los Angeles Galaxy)
Robbie Keane's loan spell for Aston Villa proved he still has what it takes to play at the highest level.
Euro 2012 will give Keane the ultimate chance to shut his critics up.
The move to L.A. Galaxy has reinvigorated his career. I can't believe it's been almost a decade since Keane shone at the 2002 FIFA World Cup.
Only two players scored against Oliver Kahn that tournament: Ronaldo and Keane.
Editor's Note: This slide has been revised to correct a factual error inserted during the editing process (Ronaldo scored against Oliver Kahn, not Cristiano Ronaldo).
Centre-Forward: Kevin Doyle (Wolverhampton Wanderers)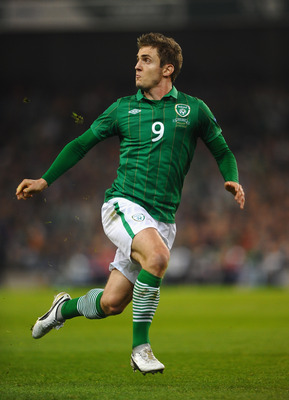 Laurence Griffiths/Getty Images
Kevin Doyle isn't a prolific goal scorer, and he struggled throughout the qualifying campaign. His best games were against cellar dwellers Andorra.
Four Premier League goals from 51 shots is pathetic. John Terry scored more league goals this season than Doyle.
Shane Long, who scored against Chelsea, Newcastle United and Arsenal, should replace Doyle.

Please read Top 10 Eredivisie U-23 Talents Premier League Clubs Must Sign.
Statistics courtesy of WhoScored.com and Fox Soccer.
Keep Reading