Why Rickie Fowler Will Win a Major Championship in 2012
May 18, 2012

Streeter Lecka/Getty Images
This is what we know: The monkey that had been stubbornly sitting on top of Rickie Fowler's shoulders for the past three years is gone. His playoff victory over Rory McIlroy and D.A. Points at the Wells Fargo Championship a couple weeks ago gave him his first-ever PGA Tour win.
It was a victory I saw coming when I made my bold predictions for the 2012 PGA Tour season back in January.
But now I have a new prediction: Fowler's triumph will open the floodgates for his future success, including a major championship title in 2012.
There's really no telling how far this talented and very popular young player can go from here. But I'm guessing there are a lot more wins where the first one came from.
Fowler's debut victory was a moment he had been waiting for a long time—if you consider three years a long time. It's a moment a lot of people had been anticipating.
But the knock on Fowler was that he was overrated. Sure the kid had skills. After all, he had collected 19 top 10 PGA Tour finishes prior to his debut win at the Wells Fargo, including five in second place. And a win on the OneAsia Tour. But did he have the game to match the heavy hype, to finish ahead of the best players in the world?
The answer is now obviously yes.
Fowler followed his victory at Quail Hollow Club with a T2 finish at the difficult and prestigious Players Championship at TPC Sawgrass last week. The 2010 PGA Tour Rookie of the Year is currently playing the best golf of his career and I believe the next logical step is a major championship victory—soon—while the gettin's good.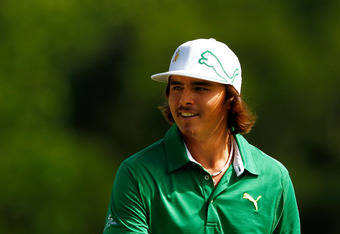 Mike Ehrmann/Getty Images
I always felt that Fowler was not so much overrated as he was streaky. And I don't expect that to completely disappear now that he's a PGA Tour champion. Fowler's scorecards have oftentimes been infamously erratic—running hot or cold with little time spent in between.
The same has been true of his still blossoming career from one week to the next.
Fowler runs in streaks. Take last year's T5 British Open finish as an example. The weeks surrounding his outstanding play at Royal St. George's were similarly impressive, including a T2 at the WGC-Bridgestone Invitational. Then he disappeared, finishing outside the top 50 three consecutive weeks.
If the remainder of Fowler's 2012 season matches the erratic performances of his past—factoring in the extra confidence a PGA Tour victory provides him—I believe he will be primed for something major in the next few months.
It's part science, part gut instinct. OK, it's mostly gut instinct. But I think Fowler can turn 2012 into his year.
Sure, the usual list of suspects will be present at the season's remaining majors—the U.S. Open, the British Open and the PGA Championship. Rory McIlroy, Tiger Woods and Phil Mickelson, a.k.a. the "big three," will continue to grab the headlines.
But Fowler leads—yes, leads—a large group of talented young players with every intention of claiming a first major championship victory in 2012.
Fowler's quest for his first PGA Tour victory is a thing of the past. Now, as he says before every round of golf he plays, it's truly "go-time."