WWE: 5 Ideas That Would Make Mason Ryan Relevant to WWE Fans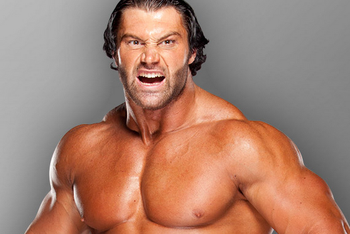 Mason Ryan's immediate future is looking very bright.
The Welsh powerhouse has been accompanying Dolph Ziggler to ringside at WWE house shows while appearing as a potential member of A.W.'s All World Faction on television. Either role would be the most prominent position that Ryan has held since his debut as part of the New Nexus, so this is a great opportunity for him to re-launch his career.
However this does not solve the fundamental issue that holds Ryan back, namely the fact that Mason Ryan is only a generic big-man wrestler.
This is one of the most crowded stereotypes in the WWE, ranging from experienced veterans like Mark Henry and Sheamus to up-and-comers like Ryback and Brodus Clay. All these characters share intensity and lack intelligence, making them near carbon copies of one another under the superficial differences,
Ryan's resemblance to former world heavyweight champion Dave Batista makes the job of differentiating Ryan even more difficult.
The best way to get Ryan over with the crowd would be to downplay his obvious physical assets and play up his unique asset which is the fact that he is Welsh.
Wales is a country whose stereotypes have not yet been explored by WWE Television. These stereotypes would make for new and interesting storylines, and they would highlight Ryan as a unique character.
Here are 5 ideas, inspired by his Welsh heritage, that might make Mason Ryan relevant with WWE fans.
Hatred of the English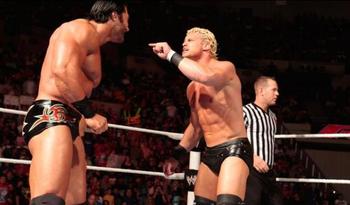 If the WWE insists on keeping Mason Ryan as another intense big-man, then at least give Ryan a good reason to be that way. The best reason from a Welsh point of view is the hatred of the English.
Wales has been subjugated by the English for 800 years, nearly three times longer than either Scotland or Ireland. Every Welshman hates their English counterpart for this, yet is reluctant to do anything about the situation due to the overpowering odds that would rise against them.
This idea is extremely compatible with WWE storytelling, as this national characteristic can be brought to the fore or dropped into the background depending on the feud. Levels of character make a WWE superstar into a person, rather than a series of stapled together stereotypes, so the fans are more likely to relate to the wrestler as they follow his (or her) career.
Ryan could also play a face or heel with the gimmick. Going after English wrestlers like Wade Barrett or William Regal should get a positive reaction in America while stalking Layla (another English wrestler) is likely to get a heel reaction.
The nationalistic stance could always be used in other feuds as well. An off-the-cuff remark that insults Wales could be enough to have the monster start a feud. Once that initial engagement happens then the feud can build and move into many other areas.
If nothing else, this would begin to separate Ryan as an individual.
Self-Depreciating Humour
There is something about being a subjugated nation which is looked down upon by its neighbors, and has to cope with incessant drizzle, that creates a unique sense of humour.
The Welsh have developed this humour into a strand of comedy that laughs at the mistakes in life as easily as the triumphs.
This type of humility would make Mason Ryan really stand out. Having the ability to laugh when caught by a roll-up and being able to shrug off the importance of a title win, would make Ryan a truly unpredictable presence in the WWE.
The danger of such a laidback character would be the WWE falling back to RVD style 'Dude' promos. However, implemented properly, this unique and human trait would make a great character which would add depth to the WWE locker-room.
Rugby More Manly Than Football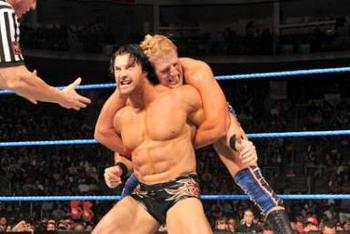 Sometimes a single antagonizing statement can describe everything a fan needs to know about a heel character. Mason Ryan could achieve this in a "rugby is more manly than football" promo.
Rugby is the national sport of Wales and the nation as a whole prides itself on the hard tackling style that they have developed. Many Welsh fans pour scorn on their American counterparts who play a similar game but have to do so in armour. Ryan could tap into this petty dispute and use it as the catalyst for a much greater anti-American stance.
Although the promo is a small idea in itself, this could be the launching pad for a much greater plan.
Nothing's Flat in Wales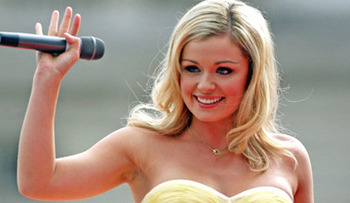 Katherine Jenkins - A Fine Example Of A Welsh Woman
This is a more esoteric idea that would add some Welsh culture into the WWE Universe.
Many travel guides will say that 'nothing is flat in Wales' when referring to the rolling hills and plunging valleys which make up the landscape. However, this expression is often further extended to the women of Wales who are well known for being buxom. Welsh women are proud of this fact and the fashion coincides with showing off these features.
One disadvantage of this idealism over curves is that the women who might be showing of their features can vary in size. Fashion in Wales does not alter if the girl in question is a size 0 or a size 24.
Introducing this stereotype to the Mason Ryan character would see him typecasted as a typical Welsh lad who enjoys chasing women. This opens up a new world of possibilities, such as being managed by a big personality of a Welsh woman to chasing WWE divas who fit that ideal.
One possible scenario would see Mason Ryan chasing Kharma. The look of Kharma might not be everyone's choice but she fits perfectly with the Welsh idealism.
If nothing else, this would give Mason Ryan some personality which his character is sorely missing at the moment.
'Dragon Priest' Mason Ryan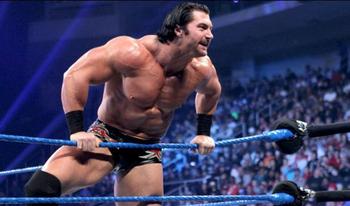 A far more traditional idea could see Mason Ryan base his character on Welsh myth and legend.
The dragon is closely associated with Wales, as it sits in the middle of the Welsh flag, so that is the natural path for such an idea to follow. However, a straight warrior or prince role would be far too similar to Sheamus's current gimmick, so other mythical beings would need to be investigated.
One option would be the ancient Druids who, as noted by Julius Caesar, were based in Wales. These men were arbiters of war, who negotiated peace treaties amongst the tribes and became vicious authoritarian figures to those who disobeyed them.
Merging two traditions of dragons and Druids together creates a unique figure who could represent neutrality in the WWE Universe. A powerful force to equalize uneven situations, Ryan's appearances could be met with a mixed reception as his contributions could help the heels as much as the faces.
Even if Ryan became a simple device that stopped overly-powerful people getting their way, like a physical version of a "WWE Board of Directors letter", Ryan's contribution would still be huge in this role.
Keep Reading